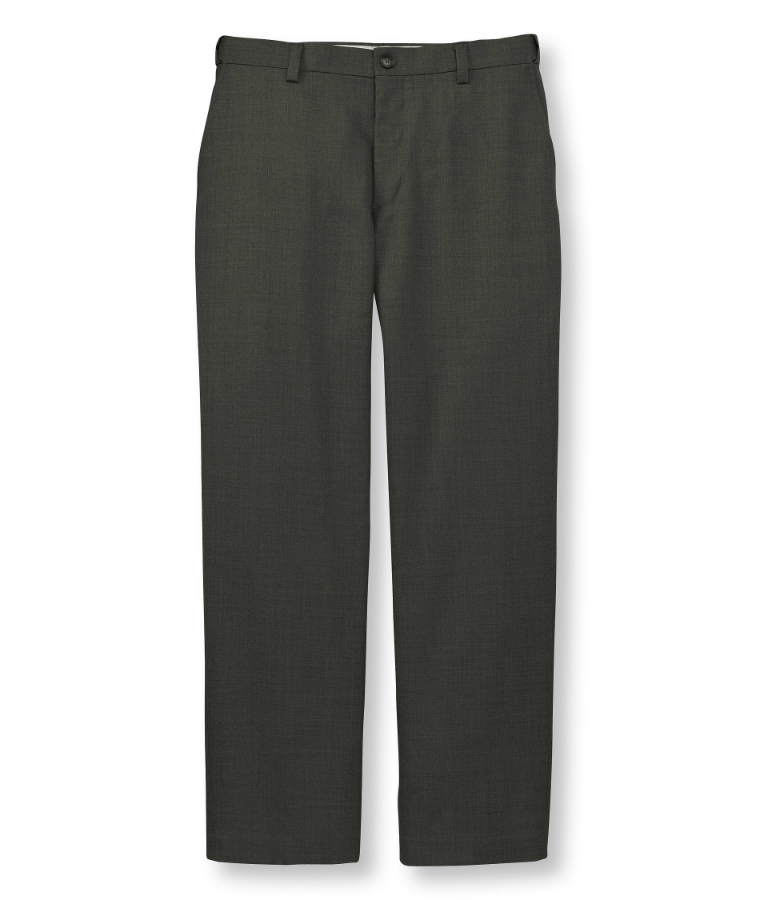 Just about everyone wears trousers, they have been an integral part of male fashion in one form or another for centuries. They are both comfortable and practical, combining protection from the rigors of the elements with a stylish line and the utility of pockets. These are just a few of the reasons why they have spread throughout the world, becoming truly ubiquitous regardless of location and climate. This ubiquity means that not only are new pairs of trousers easily and widely available, second-hand ones are equally available; providing options for those looking to stretch their budget and/or options for those looking for a particular vintage style.
The Origin of Trousers
It can be said that the reason for trousers is the intersection of man and horse. Most non-riding cultures historically wore tunics or some form of kilt over the lower body. These garments are easy to make and can be very comfortable for someone to walk around in during the course of their daily activities. What they are not, is a practical form of attire for a man riding a horse, as they provide neither cushioning nor protection against chafing. Thus, it should come as no surprise that there is a very strong correlation between the historical use of cavalry in a culture and that culture's adoption of trousers. The fact that many cultures associated riding with higher status also meant that the styles of the aristocracy trickled down to the commons, leading to the world of trousers that is seen today.
New vs. Used Trousers
Many people prefer to buy all their clothing brand new. Some do not care for anything that has been previously worn and others may want to wear only this season's style, and think anything that is not fresh off the rack is not fit to be worn. Others take a different and perhaps more practical approach and buy their trousers used or second-hand, knowing that in the vast majority of cases they are getting clothing that is just as good as new and often at a fraction of the price. There are two main reasons as to why people may wish to purchase used men's trousers: price and style.
Stretching the Budget With Used Trousers
Buying men's trousers second-hand is a very good way to stretch a family's household budget, as it is often possible to find like-new clothing at a much lower price than they would normally have to pay on the High Street. This can be very important for working people, particularly those with jobs that are hard on their clothing. By buying used trousers for work, they can save quite a bit of money and avoid having to worry about wearing through an expensive new pair. Buying used also brings some of the more expensive brands into the budgetary reach of more people.
Used Trousers and the Vintage Look
Sometimes a man may have to look for used trousers because the specific ones they want are no longer available new. This is certainly the case for anyone looking for vintage clothing, particularly if it is something in a style that is decades old. Those types of trousers are simply not available new at any price. While the above may be the best example for a vintage case, it is far from the only situation where buying used may be the sole option. Perhaps the firm that made the desired trousers has gone out of business? Perhaps the company has just changed their entire line which now fits differently, and a consumer who once loved the old line can no longer wear the new?
What to Look For In Used Trousers
Regardless of the reasons a person might have for buying used trousers, there are certain things that they should always look for in order to ensure they will be satisfied with the purchase. Some are obvious, while others are less so, but they all come down to the same thing: Buyers should pay attention to what they are buying. Any purchase involves some diligence, and buying used generally requires more than buying new.
Set a Trouser Budget
One side effect of buying used, or at a discount, is that the less expensive things become individually, the more total money a person is likely to find themselves spending. A person who might normally buy a single pair of trousers at the normal price might quite easily buy three pairs at half price, and end up spending more than if they had bought new. By setting a budget, the prospective purchaser can remain in control of their finances and not turn savings into overspending.
Eliminate Prejudices
Some people may think that by buying used trousers they may somehow be exposing themselves to the previous owner's germs, when nothing can be further from the truth. Used trousers are no more likely to be soiled in any way than new trousers. By recognising that all trousers become used after the first wearing, any buyer should quickly realise that there really is very little difference between buying used trousers in good condition and buying new trousers; especially after they have been through the wash a few times.
Pay Attention to the Trousers' Condition
While everyone has the same expectations about buying a brand new pair of trousers, not all used pairs are in the same condition. Some pairs will have more wear than others, and others still, may have one or two small holes. This is not to say that men's used trousers will always show signs of wear or even damage, but only that it is a possibility that can easily be avoided by the simple process of checking out exactly what is offered before buying. If buying in person, the buyer should examine the trousers meticulously, and if buying online, they should take the time to study the listing carefully, so they know exactly what is being promised by the seller.
Pay Attention to Cleaning Instructions
One thing that is worth considering is the care that trousers require. Some trousers can be thrown into the wash, while others require special care and professional cleaning. Knowing how much care a pair of trousers will require can help make the decision of which pair to buy that much easier.
Look for Unworn Trousers Sold as Used
Not all "used" trousers are really used. Sometimes it is possible to find otherwise new trousers that did not sell on the High Street and have now been moved to secondary sellers. For many people, these make an excellent option as there is no worry about condition and they are often much easier on the budget than buying new. While this option may not always be available, it should never be ignored when it is, as this is one of the best ways of finding good trousers.
Where to Buy Men's Used Trousers
Men's trousers can be bought anywhere, and this is as true for used trousers as it is for new ones. Those who prefer to spend their money locally can easily find them at the nearest charity shop, or perhaps at a flea market. Buying used trousers locally is a bit of a catch as catch can, and so those looking for something more specific may be better off looking on the Web. Not only can used trousers be found at a number of Internet retailers, they can also be found at many online auction sites such as eBay.
Buying Men's Used Trousers on eBay
Buying used trousers on eBay is as simple as typing the word "trousers" in the search box that appears on every eBay page, and then using the filters on the sidebar to narrow your search down so that only used pairs appear. You can also use those same filters to limit your results by price range, seller location, or even both. Once you have the results narrowed down, you can then use the sort function to arrange them so the best fit comes up first.
After you have found the right trousers, the next thing to do is decide which seller you want to do business with the most, and the best way to determine that is through their profile page. This is where you can see everything from their seller feedback and location to any shipping policies they may have, such as allowing local buyers to pick up purchases or offering to bundle multiple items in order to reduce shipping costs.
Conclusion
Men have been wearing trousers in one form or another for centuries. They are comfortable and practical, and as a result are worn all over the world in every country and every climate. Trousers are so common, in fact, that it should come as no surprise that used trousers are as readily available as new trousers. While some may have hygienic concerns about used clothing, they are unfounded; used clothing is generally no less hygienic than new clothing. There are a few points to remember when buying used trousers: buyers should be careful not to let bargain pricing draw them into spending more money than they can afford, and they should also pay attention to the condition of any used trousers before they buy them. Beyond that, buying used trousers is really no different than buying new ones.