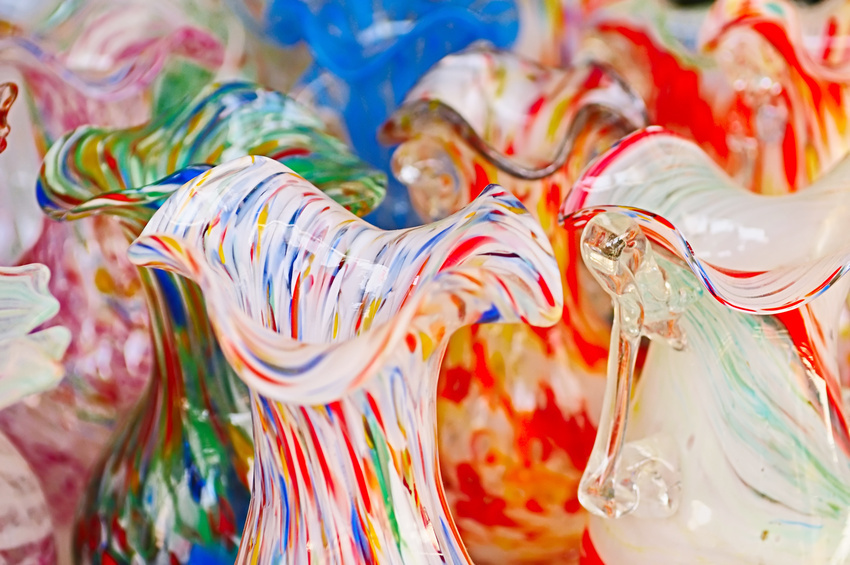 Murano glass originally comes from the island of Murano in Venice where artisans have specialised in fancy glassware for generations. Murano glassmakers still use the same techniques to create glass chandeliers, figurines, souvenirs, and other objects. When buying Murano glass, compare the techniques, materials, and colours to select the right piece.
Murano Glass Materials

Besides glass, artisans often add other materials to the mixture to achieve certain effects. For instance, the more sodium oxide the glass contains, the slower it solidifies, thus giving the artist more time for shaping the object. Artisans could also add colours and opacifying substances. For example, cobalt and copper compounds result in an aquamarine glass colour and gold makes the glass ruby red. Adding sodium makes the glass surface opaque, while arsenic and nitrate eliminate bubbles.
Murano Glass Techniques
One of the popular techniques for Murano glass is murrine, which involves layering coloured liquid glass and then stretching it into long rods. By cutting these canes in cross-section when cold, the layered pattern becomes visible. A substyle of murrine, millefiori, is also popular and includes layers of molten colours in the shape of stars. After slicing, millefiori vases and other pieces look like many flowers. Many artisans also employ the sommerso technique that combines contrasting layers of glass. In this technique, the artists dip coloured glass into another molten glass and then blow the gather into a certain shape. Sommerso is popular for vases as well as sculptures. Other Murano glass techniques include glass engraving, filigree, incalmo, painted enamel, lattimo, ribbed glass, submersion, and gold engraving.
Checking the Authenticity
Murano glass is famous for its quality and design. Therefore, there are also many imitations. If you want to buy a genuine piece of Murano glass, look for the Vetro Artistico Murano trademark that indicates the glass comes from the island. Only the companies who produce the glass pieces on the Murano island can use the trademark. The trademark could be blue and gold or red and gold, depending on the glass making technique. The company's code is at the top of the logo. The trademark comes as a sticker and you can always find it on the glass part of the object.
Murano Glass Items

Murano glassmakers create many different kinds of items. You can find small pieces of jewellery, such as necklaces, earrings, pendants, bracelets, and rings as well as collectible figurines, ornaments, paperweights, centrepieces, vases, and tableware. You could also decorate your home with Murano lamps and mirrors.