The Premier League, also known as the English Premier League or EPL, is the country's most popular and prestigious football system. It includes 20 different clubs from across the United Kingdom and fans across the world who love them. The Premier League patch appears on every player's shirt sleeves as part of their official kit. Buying Premier League patches to wear yourself or as part of an official Premier League kit is a great way to show support for the league as well as your favourite team. However, there are certain facts about these patches that every buyer needs to know.
Versions of the Official Premier League Patch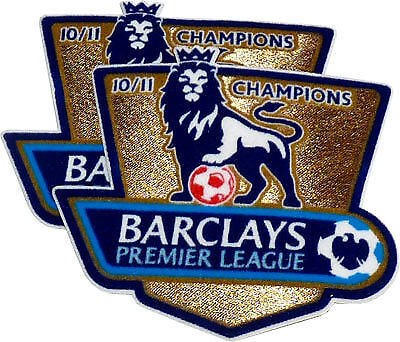 Though there are several types of Premier League patches including champions patches also known as gold badges, and the most popular and recognisable are the official league-issues. Each version of the official Premier League patch is triangle shaped and features a dark blue lion wearing a crown pawing a red football. However, there have been five, distinct iterations of the patch since the EPL replaced the English Football League in 1992. The table below describes each of these versions and the years in which players wore them.
Years

Physical Description

Available to Fans?

1992 to 1995

Green banner reading 'F.A. Premier League' written underneath

Not until after the season

1996 to 2001

The same as the above version with a 'TM' or trademark added above the tail of the lion

Yes

2002 to 2003

Barclaycard began league sponsorship now reflected with a yellow and blue banner reading 'Barclaycard Premier League' below the lion

Yes

2004 to 2007

Banner below the lion is blue and white and reads 'Barclays Premiership'

Patch is less angular at the bottom and now looks more like a shield than a triangle

Yes

2007 to Present

For the first time, the lion faces outward on the patch instead of in profile

Banner reads 'Barclays Premier League'

Yes
When buying a Premier League patch, it is really important to know which version it represents, especially since there is a different value ascribed to each iteration. Using the information in the table above is a simple and effective way to do just that.
Types of Premier League Patches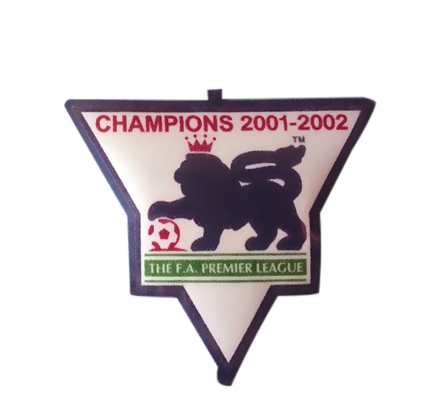 In addition to the physical versions of EPL patches, also called sleeve badges, which you can buy, there are also different sizes and materials. Attached to a shirt or sold separately, these styles exist regardless. Minimally, there are two sizes of EPL patches: player and fan. In addition, there are two different attachment styles: an iron-on patch and an embroider-on patch.