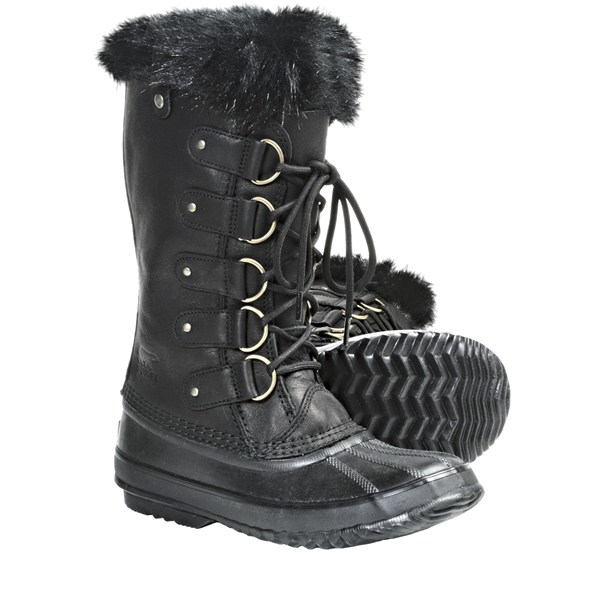 When it gets chilly outside, women that live in a cold, frosty climate may want to consider investing in a pair of snow boots. Snow boots nowadays are not only functional and can help women walk easily on slippery ice, snow, and outdoor terrain, but they are also fashionable and come in a wide variety of styles, colours, and brands. Some snow boots are made to look like sneakers and are less bulky than traditional snow boots, and some snow boots go all the way up to the knees and are made for warmth as well as style.
Snow boots that may be less functional in bad storms but will hold up well for purely cold weather may also be a good purchase for women that are constantly trying to simply stay warm in colder months. Snow boot purchasing really depends on what type of weather the boots will be worn in, what style the consumer would like when looking for a snow boot, and what the budget for snow boots will be. This guide contains information on shopping for women's snow boots, including different styles, functions, and brands.
Snow Boots for Difficult Terrains
For women that live in places where it snows a lot, sleets, hails, and is just plain cold and nasty in the winter, snow boots should be more practical and functional than simply aesthetically pleasing. Snow boots should keep feet dry, warm, and cosy on winter days and nights. Always order boots carefully, because a woman may need a half size larger due to the fact that thicker than normal winter socks may be worn with the boots.
Hiking Boots
If women are spending a lot of time outside for reasons such as hiking or outdoor sports, a hiking boot, also called a mountaineering boot, may be needed. A hiking snow boot will have thick, waterproof bottoms that will also be skidproof to keep feet from sliding around in icy conditions. Some common brands of hiking boots with rubberised soles are The North Face snow boots and Columbia snow boots.
For women in regions where snow gets very high, consider hiking boots that go up to the knee. This ensures that the snow does not get into the consumer's clothing, and keeps her dry and warm.
Treaded Boots
Treaded snow boots are handy for women that may need to walk on icy patches or heavy, rough areas that are rocky or very slick. Snow boots with a thicker, rubber based tread means that the boots are completely slip resistant and will grip onto cold and wet surfaces very well, preventing any accidents. Treaded boots should be well insulated, water resistant or completely waterproof, and ideally, calf or knee length for optimal protection. Treaded boots are perfect for walking. Some brands of treaded snow boots to check out for women are Sorel boots and Timberland boots.
Heavy Boots
Snow boots with a thick, heavy sole aren't ideal for everyday use, but they do have their functions. For women that need to do chores outside such as shovelling snow, a heavy snow boot fits the bill. Heavy boots are more substantial and will help keep feet dry in severe weather situations. Because they are heavy, they may not be as comfortable as everyday, lighter weight snow boots, but they are a great option for women that need a pair of heavy work boots on snowy days.
Snow Boots for Cold Temperatures
When it's simply very cold or lightly snowing, heavy-duty snow boots may stay at home while cuter, more fashionable winter boots can come outdoors. These boots are functional when it comes to keeping feet warm and dry, but they may not have the traction and resistance that hiking or heavily treaded snow boots have. Winter boots can be skid resistant and may also offer lining to keep feet warm, but women may not want to wear them on long hikes or to shovel snow or other more harrowing outdoor chores.
Fashion Savvy Snow Boots
Fashionable snow boots, also simply called winter boots, are great for milder snowy days or very chilly and cold temperatures. Winter boots tend to be a little more stylish than their more practical siblings, snow boots. Winter boots may also be worn in snow, but they may not be as well suited to heavier snow and ice than special hiking boots or heavier snow boots are.
Some well-known brands of stylish winter boots for women are Ugg, Roxy, and Adidas winter boots. While regular snow boots may only come in colours like brown, tan, or black, winter boots come in a wide array of colours such as pink, purple, silver, and red.
Sneaker Boots
A newer and trendier style of snow and winter boots is the sneaker boot. Sneaker snow boots lace up like sneakers and only come up to ankle length or a little higher. They can be waterproof, lined, and skid resistant, so they may be worn in cold and light to moderate icy or snowy conditions. However, they don't offer full leg protection or warmth in steeper snowy areas. The North Face and Teva make stylish sneaker boots that come in an array of stylish colours.
Moon Boots
Trendy moon boots are space age style boots that have a unique look to them. They will keep feet warm and dry in snow, rain, and ice, and they are comfortable to wear. Tecnica is the most popular maker of moon boots, and they come in many colours. Moon boots may be perfect for a cute ski weekend boot, or for running errands during the day with a pair of leggings or jeans tucked into them. Moon boots can be worn with or without socks.
Moon boots are also waterproof. They may be a good option for a woman that wants to be on trend, but needs to stay warm and dry during snowy weather, too.
Wellies/Rain Boots
Wellies are not just for the rain; they are also a good way to keep toes dry in the snow. Although, thicker socks will definitely be needed, rain boots and wellies are completely waterproof and usually skidproof too, so unless you're doing some serious hiking or outdoor sports, a cute pair of rain boots should be perfect for running around town or short trips outside.
Some rain boots are lined and insulated, some are lace up, and some boots pull on with the aid of handles on the sides of the boots. Many brands that make snow boots also make rain boots, or multi-purpose boots, which can be worn for snow, rain, or anything in between. Some of these brands are Columbia, Sorel, and North Face.
How to Buy Snow Boots for Women on eBay
Buying snow boots on eBay is budget friendly, simple, and convenient. Consider before shopping what you will need the boots for. Are you going on a skiing trip? Do you like to hike outdoors in rough, icy terrain? Do you need a great boot to wear while you take your dog on a walk? Or do you simply need a cute, cosy winter boot? Once you've answered these questions, search for snow boots on eBay to get an idea of what's available. Narrow the search further by selecting Women's Shoes, and then you can narrow the search field by new or used boots, sizes, or lengths of boots.
Search particular brand names by keying in North Face snow boots, or Ugg boots. Choose merchants that are Top-Rated Sellers and have high feedback scores. Look for local sellers and see if a pickup can be arranged for a more personalised experience as well as lower shipping costs. Buy more than one pair of boots from the same seller and see if a great deal on shipping is possible.
Conclusion
Winter weather may not be fun for everyone, but it's a lot easier to deal with when feet are protected from the cold, ice, snow, and rain. Purchasing one or two great pairs of snow boots can be the difference between a bad winter and a more comfortable, cosy winter. Although snow boots can be expensive, consider them an investment that can be used year after year. Snow boots are generally well made and sturdy, and may hold up to many winters considering how much use they get. Prevent accidents by ordering some slip resistant snow boots, and make hiking and skiing a lot more fun with treaded snow boots that will keep feet warm, dry, and protected on the coldest of days.
Winter boots can be fun and functional, and can come in many styles, such as cute knee-high winter boots, or cosy, toasty warm, and furry Ugg boots that come in fun and trendy colours and styles. Purchase snow boots before winter arrives so they are ready on that first snowy day to be worn, and don't worry about things like wet feet or falling and slipping on snow or icy patches. Ensure safety, warmth, protection, and style by purchasing the right pair of snow boots for the budget that's available, the specific needs of the wearer, and the style that she likes the best.