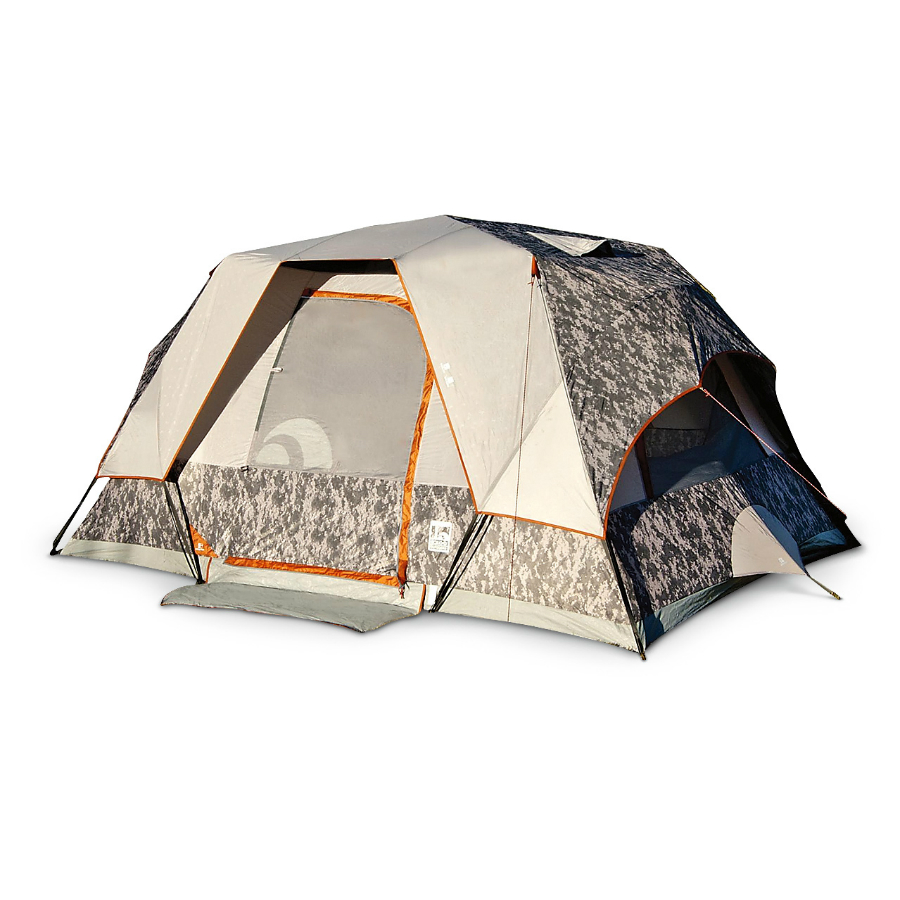 Camping is an outdoor pursuit which can be enjoyed by a wide range of individuals. Families, couples, groups of friends, single persons, young and old alike, camping is a versatile, affordable and fun activity. Camping provides an ideal way to explore new areas of the country, whether walking, biking, sightseeing or simply relaxing and taking in the scenery.
Cold Weather Camping
Many campers enjoy camping in extreme weather conditions such as very cold temperatures and snowy conditions. Camping in such conditions can be extremely enjoyable; camping in the snow is peaceful, picturesque, and of course without the extra hassle of mosquitoes and insects.
Cold weather tents are designed especially for camping in cold and snow conditions, and many varieties can be found easily on eBay.
Types of Cold Weather tents
Cold weather tents are specifically designed to be pitched in snowy conditions and very cold weather. They are also known as "mountaineering tents" or "4-season tents",, although in reality they are really intended for one season, winter. They are heavier than 3-season backpacking tents but offer far better protection from snow and winds.
Typical mountaineering tent features are:
Dome-tent shape with an extra strong pole structure.
Solid fabric materials instead of mesh for increased warmth and strength.
Dual doors for easier access in adverse weather conditions.
Increased number of guy lines to provide stability in high winds.
The addition of a "gear attic" to store small items and to free up valuable floor space.
Large vestibule, or porch areas for wet-gear storage and sheltered cooking.
The canopy and body of mountaineering tents feature much stronger materials than three-season tents, and the body shape maximizes resistance to high winds and heavy snow loading.
Typically, mountaineering tents are either single-walled or double-walled in construction. Each variant has advantages and disadvantages as detailed below:
Single Wall 4 Season Tent

Advantages:

Lighter in weight than double walled tents.

Cooler than a double wall tent.

Easier to set up than a double wall.

Disadvantages:

Potentially more condensation.

Costs more than a double walled tent.

Double Wall 4 Season Tent

Advantages:

Warmer than a single wall.

Costs less than a single wall.

Better ventilation and less condensation.

Disadvantages:

Longer set-up time than a single wall tent.
In general, a double walled tent is more suitable for trips when the camp will be static in a particular place for a few days. Single walled tents are more suitable for lightweight alpine climbs and backpacking ski camp trips.
Choosing the Right Cold Weather Tent
A good cold weather tent needs to be able to protect campers from adverse weather conditions and be easy to pitch in cold, frosty grounds or snowy terrain.
Tent SIze
Tents are commonly described by the number of people that can comfortably sleep in them. The term "berth" or "men", is often used, so a "2-men" or "2 berth" tent can sleep 2 people, a "4 berth" tent can sleep 4 people and so on.
Although a tent berth gives an indication of size, it may also be necessary to consider the amount of luggage and extra equipment needed whilst staying in the tent. Backpacks and equipment for cooking, biking, hiking may mean that more space is needed. Some tents come with porch areas which are covered by a fly sheet, and this will affect the shape and size of the tent. Porch areas may be useful for storage, especially so if the ground sheet covers this area.
Parts of a Cold Weather Mountaineering Tent
A cold weather tent consists of several specific elements.
Poles
Poles are available in a range of shapes and sizes, and most 4-season tents have poles made from glass fibre, metal or carbon fibre. The performance of a tent can rely heavily on the material the poles are made of, although they can look the same at first glance.
Poles are responsible for a large proportion of the costs of a tent, and they are one of the main elements in which money can be saved or invested depending on personal needs and budget.
| | |
| --- | --- |
| Glass fibre poles | Glass fibre poles may not durable and strong enough for heavyweight camping and serious mountaineers, but provide an affordable tent option. |
| Carbon fibre poles | Carbon fibre is a very lightweight material and is extremely strong. This also makes it expensive carbon fibre poles are usually only found on very light high-end tents. |
| Metal poles | Many manufacturers use metal poles as the common choice, as an affordable and effective material. |
Flysheet
The flysheet provides the primary barrier to weather conditions, and a flysheet does not have to be totally waterproof in order to keep a camper dry.
One of the best materials lightweight 4-seasons tent flysheets is nylon.
Nylon has a strong tensile strength it is a very light material, and when coated can offer a very high degree of protection against adverse weather conditions.
The degree of weather protection offered by a flysheet is related directly to the amount of coating on the flysheet - the thicker the coating the more waterproof and durable the tent.
There is always a trade off between better protection and durability versus weight and price, so getting the right combination is important when looking for a 4 season tent.
Pegs
Cold weather tents need strong pegs to hold a tent in pitch against winds and snow.
Most pegs are a compromise between strength, weight and simple holding power and this needs to be considered when choosing a tent and setting a budget. Snow spike pegs are often used for 4 season tents.
Groundsheet
A good groundsheet is a major part in choosing a 4-season tent.
Key factors are how waterproof and durable the groundsheet is.
Nylon is the most used fabric for groundsheets due to it's high strength, lightweight composition and overall durability.
Water resistance is measured in millimetres, being the amount of water, in mm, which can be suspended above the fabric before water seeps through. For most mountaineering tents a 10,000 mm waterproofing measurement is best.
Inner Section
Inner sections may or may not be present on a mountaineering tent, depending on if it is a single walled or double walled model.
Inner sections come in a range of fabrics and constructions.
Inner sections help a tent to effectively vapourise moisture away from the living area.
Choosing the Size of a Cold Weather Tent
Choosing the right size for a cold weather tent can be of great importance when making a purchase and planning a trip. Where weight is an issue, for alpine routes and backpacking ski tours, it can be advisable to get a tent for the exact number of campers.
Some cold weather campers who backpack choose a smaller tent berth than number of people, but this is a matter of personal choice and will depend on how long the intended trips may be.
For mountaineering trips such as a glacier base camp or for spending a week skiing it can be advisable to look at purchasing a larger tent than required. Extra space can be beneficial for cooking areas, luggage storage and possibly "wet" gear areas for drying and airing clothing that has become wet from snow or rain.
New or Second Hand
eBay offers a wide variety of sellers and cold weather tents available for purchase. There is a vast range of both brand new and pre-used cold weather tents, and many are in excellent condition allowing for a real opportunity to snap up a great deal.
When Buying a Used Tent
Check the photos of the item carefully.
Feel free to ask the seller questions if further information or clarification is needed.
Check for any areas of damaged fabric or stitching, or for any missing parts.
A seller may choose to sell a tent for for a number of reasons, and it is often possible to bid on items that are in very good condition which are used and available at a reduced cost.
How to Buy a Cold Weather Tent on eBay
eBay has a huge range of sellers offering thousands of camping and outdoors products such as cold weather tents. It is easy to shop for a required item whilst benefitting from the flexible payment options available by buying on eBay.
To search for cold weather tents, type in specific search terms into the search box provided on every page.
Type in specific searches such as "mountaineering tent", "4 season tent", or a particular brand required, and available listings that match the criteria will appear.
Check reviews of sellers and their activity when considering a bid, and check reviews of the product where possible by other tent owners to get a balanced viewpoint of a particular product.
When searching through listings, carefully review all the data. Make sure the item matches the product required. Look over the photographs a couple times, and feel free to ask the Selleraa question. When ready to buy, either place a Bid,, Buy it Now,, or put down a Best Offer. Buying with PayPalwwill ensure the transaction will go smoothly. eBay users are protected by the Buyer Protection Program..
Conclusion
Cold weather tents are designed for use in very cold weather climates and snowy conditions. They are available in a variety of budgets, sizes and brands; different materials and build quality should be considered when making a choice.
A range of new and secondhand cold weather tents are available on eBay and can be searched for and browsed easily using specific search terms.