The
HTC Desire
was perhaps the first truly great Android smartphone, earning tons of accolades and selling by the truckload in the process. Initially launched in 2010, the Desire was a classic handset and can now be obtained on the cheap, with limited expenditure. It's a great one for collectors and anyone looking for a little pocket-able retro cool from their smartphone experience.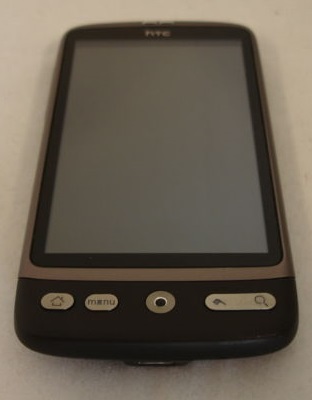 What is a Cheap HTC Desire and why should I be interested?
Of course the original HTC Desire has been succeeded multiple times over by other phones in the range, including the Desire X. Since then the HTC One X, HTC One and HTC One (M8) have been the company's top line phones.
So why would you consider picking up a HTC Desire? Well for a start, it's a classic piece of tech that can be found for very low cost. If you're looking for a bargain buy, or just something to stick in your personal gadget hall of fame, the inexpensive HTC Desire won't put too big a dent in your budget.
The HTC Desire runs on a much older version of the Android software compared with today's flagship devices, but you're able to access Facebook, Twitter and many of the top apps in the Android Market (now called the Google Play store).
Also its worth considering that some of the newer HTC handsets have giant displays 5-inches or more inside. The HTC Desire has a dinky-by-comparison 3.5-inch display, making it a slim, light and portable handset that won't stretch your jeans pocked out too much.
But beware, it doesn't have 4G connectivity, NFC and only runs a single core processor. By today's standards, it is a very basic smartphone.
Buying a Cheap HTC Desire: What to look out for?
Locked vs Unlocked:
Second hand phones have a nasty habit of being locked to a particular network, which their previous owner was a patron of. Check your SIM card works in the phone if you're buying from a physical store.
Some handsets will have already been unlocked, whereas others were SIM free out of the factory, meaning you should have no problems. You can get them unlocked pretty easily if necessary either buy buying codes online or taking it to your local retailer.
Version of Android:
If you're buying a cheap HTC Desire, you should hold no illusions with regards to getting the latest version of the Android software on your phone. The phone shipped with Android 2.1 Éclair, which is primitive compared to Android 4.4 KitKat available now.
You may be able to boost yourself to Android 2.3 Gingerbread, but that'll be it. Go to the Settings menu to search for software updates, but don't expect to see the latest and greatest features.
Take a look around:
Remember, this is an old phone, so finding one in pristine condition may be a tough ask. Standard procedure is to check for cracks in the casing, loose battery connections, worn out buttons and volume keys and any scratches and cracks in the screen. The touch-sensitive centre button has a nasty habit of giving out on these phones.
Listen and learn:
If you're indenting to use this phone to listen to music, make sure you test the headphone port whenever possible. On older models, these can be susceptible to breakage, wear and tear, while collecting all manner of fluff dust and dirt.
Use the phone:
Give the phone a good solid test before you hand over any cash. Make a call to test the microphone and earpiece still work, adjust the volume keys, test the screen brightness and the camera.
Battery life:
Compared with the newer handsets, having a Desire might actually work in your favour. The less powerful insides, smaller, less advanced display and limited amount of memory means the battery won't be as taxed.
However, remember this battery could be up to four years old so is unlikely to be operating at full capacity anymore. Batteries are removable and replaceable and can be obtained quite cheaply.
Cheap HTC Desire: What apps can I get?
It's easy to load apps on to a cheap HTC Desire thanks to the Android Market (which is now known as the Google Play Store). The store is linked to your Google account which you created/added when you first set up the phone.
There are hundreds of thousands of free and paid apps available to load on to the HTC Desire. You can keep up with social networks like Facebook and Twitter, download news apps, games like Angry Birds.
To download apps:
Head to the Android Market/Play Store icon on your phone, hit the Search icon and take a look around. You can also browser categories and charts. Once you've found what you wish to download you can do so easily be entering your password. It'll then automatically download to the device.
As we mentioned above, however, most Android apps are only compatible with devices running at least version 2.3 (codenamed Gingerbread) and above. Some apps are only friendly with Android 4.0 and others require Android 4.4. Unfortunately, if you buy a Desire, 2.3 is the best you can do, so your pool of apps will be significantly diminished.