Signet rings symbolize wealth and power and most of them feature valuable precious metal construction that exudes prestige. Signet rings typically do not have any gemstones. Only the precious metal band carries the significance of owning the ring. However, in addition to the metals used to construct a signet ring, you have several other factors to consider.
Budget
Signet rings, especially antique signet rings that date back centuries, can take a substantial chunk out of your budget. Before purchasing this type of jewellery, you should set a strict minimum and maximum spending amount. The addition of gemstones on modern signet rings can cause the ring to escalate in value quickly. However, do not forget that many jewellers negotiate on the final price, and may accept trade-ins.
Signet Ring Style
Most signet rings contain sterling silver and one of three shades of gold. If you choose gold, you must not only decide between yellow, white, or rose gold, but also between 9, 14, or 18 carats. The heavier the style, the more expensive the ring will be on the open market. Some jewellers offer platinum and less-expensive grades of silver rings, although most experts understand that the material tarnishes easily and possesses short lifespans.
Engraving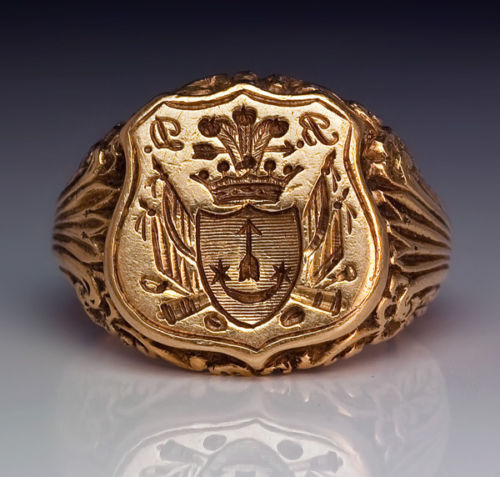 When you buy antique signet rings, you must consider the significance of a coat of arms or other type of engraving on the ring's face. Some engravings possess such historical relevance that the engraving itself can boost the price of the signet ring beyond the reach of most buyers. Buyers of contemporary signet rings pay a little more for personalized engravings that signify a seminal event in their lives. You need to ensure that any jeweller under consideration for engraving has vast experience with signet rings.
Signet Ring Size
No other factor plays more of a role in choosing the right signet ring than size. Knowing the exact ring size is even more crucial when buyers go online to purchase a signet ring. Even if you shop online, you should receive a fitting from an experienced jeweller. Obtaining an accurate ring-finger size ensures that you do not have to spend money for refitting. You can self-measure your ring finger using the yarn method, but that method does not ensure accuracy.
Personal Style
The ultimate signet ring-buying factor is personal choice. Some buyers prefer to buy a signet ring to display societal status, while other buyers place more emphasis on the design and engraving of the ring, which produces a more subdued signet ring. Personal style may also involve your desire to start a signet ring collection to enhance the value of your jewellery inventory, be it men's or ladies' signet rings.