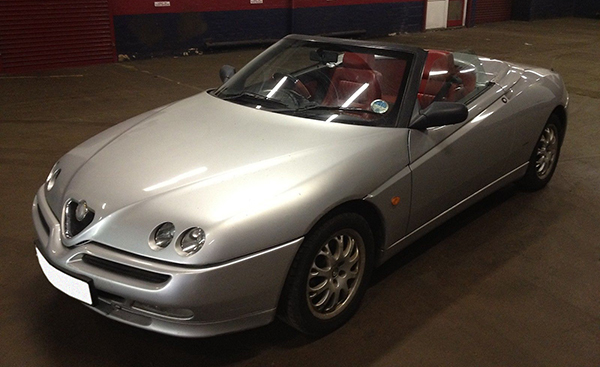 The Alfa Romeo 915 is a two-seat roadster made by Alfa between 1995 and 2006, after the classic Alfa Romeo Spider originally from 1966. As a two-seater, it is not the perfect car for families, but for singles and couples; the Spider makes a stylish vehicle option that is hard to beat in terms of quality or popularity. While not available new, you can still purchase your own Alfa Romeo 915 Spider used. Learning about different things to look for in a used car ahead of time helps you to make a better buying decision.
Condition of the Used Alfa Romeo 916 Spider
Condition is the most important thing to consider when buying a used car, and especially so when buying a sports car like the Alfa Spider. You most likely want the car in as close to mint condition as possible, but keep in mind that mint cars come at a premium. If you are on a budget, consider buying a car in reasonably good condition, or purchase one in need of refurbishment and then do it yourself. Items to watch out for that affect the value of the car include major body damage, rust in the body or frame, transmission issues, and major interior damage. Each of these problems is costly to repair, so you should avoid them whenever possible. Another thing to keep in mind is that the convertible top on some Spiders might suffer from rips, tears, mould, or other damage. Car tops are costly but not impossible to replace, just keep it in mind when looking at the car.
The Engine in the Used Alfa Romeo 916 Spider
All Alfa Romeo 916 Spiders feature high-power engines, as they are sports cars, but pay attention to the model you are buying and get the specific engine you want. Most 916 Spiders feature a V6 or an I4 engine. These range from the least powerful AR 32201 1.8 TS I4 engine with 1747 cc's of displacement, 106 kW of power output, which goes from 0 to 100 kilometres an hour in 9.2 seconds. The most powerful engine is a 936A6000 3.2 V6 24V with 3179 cc's and 176 kW engine that goes from 0 to 100 kilometres per hour in 6.3 seconds.
Age of the Used Alfa Romeo 916 Spider
The age of the used 916 Spider affects your purchase in a couple of different ways. The first and most important is that different Spiders feature new or old amenities. The 2006 Spider includes more modern technology than the 1995 version. Age affects the condition, the interior, and the amenities, so pay attention when buying an older Spider to ensure that it includes everything you need in a car.