Jewellery boxes function much like a treasure chest in that they store and keep valuable items to prevent loss. Glass jewellery boxes are both practical and decorative, protecting the jewellery whilst allowing the beauty of the pieces to shine through. Ornate or minimalist, a used glass jewellery box can add function and style to your dressing table.
Selecting a Used Glass Jewellery Box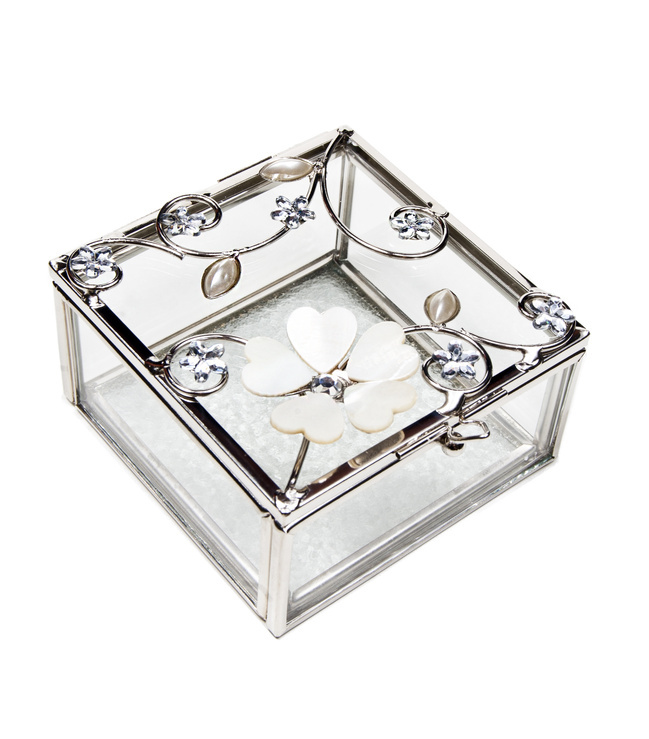 People store jewellery in a box to keep it clean, untangled, and safe from bumps, nicks, and scratches. Determining which style of glass jewellery box works for you is a matter of knowing what you intend to store in the box and how much space you need. Safety is also a consideration. You should consider whether the used glass jewellery box should have a lock that is functional and can serve as an additional decorative feature.
Jewellery Box Compartments
Some used glass jewellery boxes are simply boxes and you store all of the pieces together in one area. While still functional and pretty, tangled chains and broken pieces can be the result if you do not place the jewellery in the box carefully. Compartments create areas where you can store different items like rings, earrings, and necklaces separately. Separate storage protects delicate items and makes locating your jewellery more efficient.
Style of Jewellery Boxes

Available in many different styles, including high tech modern, traditional, and Victorian, antique glass jewellery boxes can fit in comfortably with any style of decor. Many vintage boxes feature glass set into wood and are highly ornate. Popular steel-framed boxes contain glass panels that can feature decorations or have semi-precious or precious stones set into the exterior.
Glass Jewellery Box Interior
A primary consideration for the consumer is whether the interior is all glass or contains an interior lining, usually of felt. Glass boxes are usually plain but can contain drawers lined at the time of manufacture or lined by the consumer. Fine jewellery benefits from being in a glass jewellery box with a lining, but for costume jewellery or trinkets, an unlined box may serve just as well.
Mirrored Boxes
You can often find glass jewellery boxes with mirrors contained in a pop up or mirrors attached to the lid. The mirrored box not only assists with locating the item you want, but also reflects the glittering of the jewellery within the box.
Checking the Condition of a Used Glass Jewellery Box
When selecting a vintage jewellery box, it is important to check the condition of the box. The glass should be unbroken and without scratches, dents, or gouges. The welding, if there is metal, should be clean and free of burrs or flanges. If the box has glass inlaid into wood, the glass should fit solidly without movement. Check the lining for rips or tears and that it is firmly attached and not curling up at the edges.