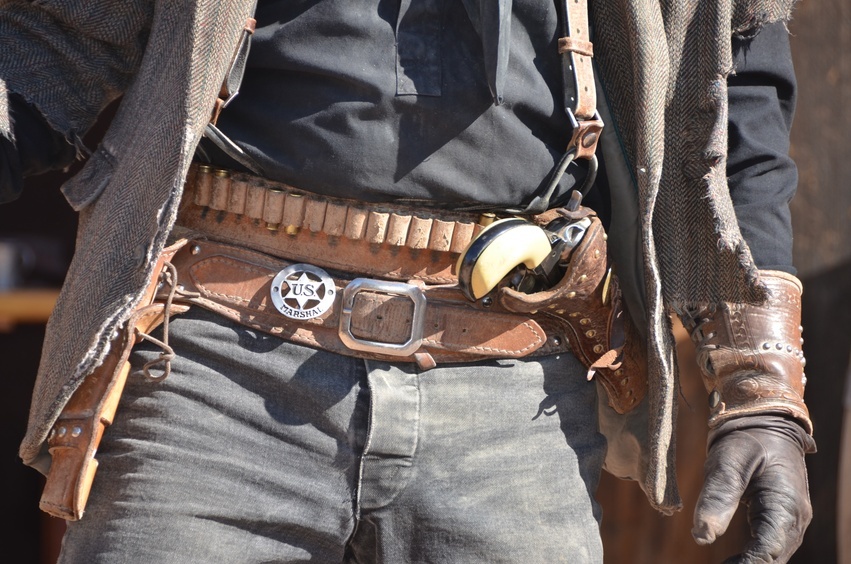 For history buffs, gun enthusiasts, and fans of the wild west, a vintage leather holster can be a treasured addition to a collection. Whether looking to add a vintage leather holster to a collection or wear it regularly, there are several different types to choose from. Becoming familiar with these types can help consumers choose the right vintage leather holster for their needs.
Belt Holsters

Belt holsters are gun and pistol holsters that attach to a belt, and are one of the most common types of holster. The George Lawrence Company is one brand that offers consumers everything from the plain and simple to the beautifully ornate, dating between the 1940s and 1980s. Additional high-quality vintage companies include Hermann H. Heiser and S. D. Meyers holsters. Consumers should ensure the company imprint is clear and authentic before purchasing, and should also be aware that not all holsters fit all guns. In addition, some vintage holsters may not adequately hold the gun inside, causing the gun to fall out during wear. These gun holsters should remain collectibles, not in active use due to these safety issues.
Shoulder Holsters
A shoulder holster allows the consumer to wear their gun at the side of the rib cage, using a basic harness design to keep it balanced and secure. Consumers can often see this style in both modern day and antique variants. Some shoulder holsters allow the wearer to carry two pistols, one at each side. Consumers more commonly use a gun shoulder holster for a concealed carry. Reputable makers of vintage shoulder holsters include the Al Furstnow and R. T. Frazier companies. Holsters from these companies date around the late 1800s to early 1900s.
Pommel Bag Holsters
Pommel bag holsters, originally designed for European military forces, allow carriers to transport several small arms and ammunition in these leather pouches while keeping the contents safe from weather elements and dust particles that can jam a gun. Consumers can find a wide variety of the round pommel bag holsters, ranging from very plain and simple exteriors to those heavy with decoration, embroidery, carvings, and more.
Purchasing Tips

Consumers should always research any vintage items they intend to purchase. Different companies may use different trademark symbols to show their authenticity, that vary according to when and where the specific holster was made. Consumers should also be sure to check the quality of the leather. Though some signs of wear and tear are common with vintage items, poorly cared for vintage leather may be splitting and beyond repair. Some companies may make minor repairs to the holster to preserve the lifespan of the items, so consumers should know what repairs were made prior to purchasing their leather gun holster.