A Chesterfield is a leather sofa with outward-curving arms, and arms and back of the same height. Chesterfields have deep button tufting over the bodies and sometimes across the seats, as well. Antique Chesterfields are very popular with those who appreciate traditional furnishings that create warm, traditional, and often majestic appearances. Knowing what to look for when buying an antique Chesterfield sofa ensures you get a quality model which lasts for years.
Condition of Antique Chesterfield Leather

The condition of the leather is crucial when it comes to antique Chesterfields. Because leather is a skin, it has pores that need to breathe, and it requires a certain amount of moisture to keep it in top condition. Examine the sofa thoroughly and look for cracks, scuffs, scratches, and tears. Minor damage, such as light surface scratches and small cracking still impacts the value, but is reasonably easy to restore. Extensive damage requires professional repair and restoration, and in severe cases, you need to reupholster the Chesterfield with new leather, which is a long and costly process, even if you complete the process yourself. Pay close attention to the arms and base, as arms take a lot of abuse, and arms and sofa bases are a favourite place for cats to scratch and cut their claws.
Condition of Antique Chesterfield Frame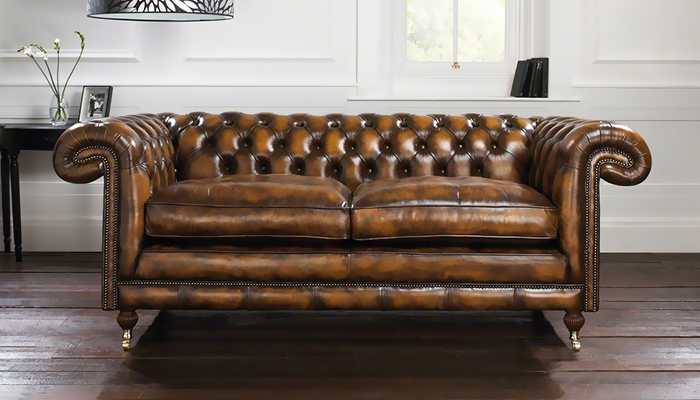 A high-quality frame in top condition is an absolute essential. Firstly, look at the feet and any other visible wood. Check that they are sturdy and give a close examination, looking for tiny holes and wood dust that indicate a wood worm infestation. Wood worms destroy the strength and integrity of wood. If you kill the infestation early on, the damage is minimal, but a prolonged infestation can decimate frame and also spread to other wooden furniture in your home. Since the padding and upholstery hides the frame, it is impractical to perform a visual examination. However, by sitting on the sofa and giving it a good wobble, you can assess the integrity and strength of the frame.
Condition of Antique Chesterfield Padding
Original Chesterfield padding is horse hair. While this may be suitable for the back and body, the seats themselves quickly lose much of their density. Over time, seat cushions, regardless of their filling type, flatten and develop uncomfortable bumps. Therefore, you most likely need to refill your Chesterfield seats with contemporary, fire-retardant, synthetic foam padding. The denser the foam you choose, the stiffer the cushions, and the longer they last before requiring new padding. Dense padding also fills the seat cushions properly, relieving stress on the leather covering, helping achieve a longer lifespan.