Choosing clothes for a newborn is one of the most fun tasks a new parent has to do. High-quality baby clothes keep the baby warm, do not irritate the baby's skin, and are safe for the baby to move and play in. Looking at the fabrics, closures, embellishments, tags, and seams allows parents to choose the right newborn clothes for this all-important phase of their child's life.
Quality Fabrics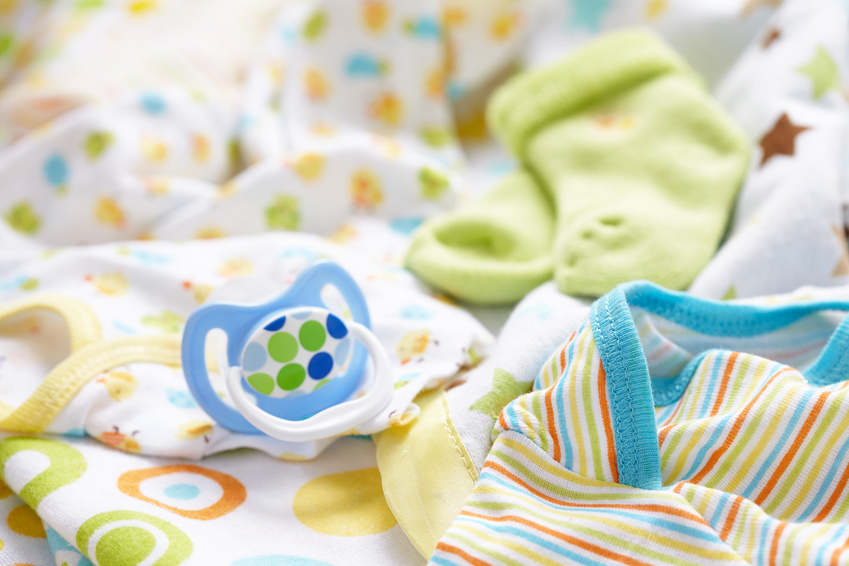 Fabrics for newborn baby clothes need to be soft, breathable, and lightweight. In addition, it should wick moisture away from the skin to prevent allergic reactions. Cotton and cotton blends are the most common. Organic cotton is a high-quality material that does not have any of the harsh chemicals used in the processing of cotton. Another quality choice for modern parents, Egyptian cotton refers to an extremely soft variety of cotton. Even more modern, bamboo is perfect for baby clothes because as a fabric, it is thermo-regulating, antibacterial, and hypoallergenic. Of course, flame-retardant properties are a must for all baby clothes as well as blankets and crib sheets.
Easy Snaps, Buttons, or Zips

Dressing a newborn is both an art and a science, and well-designed clothes make the learning curve easy. Baby jumpers, open-front shirts, and sleepsuits are the easiest to put on a baby. Clothes that you have to pull over the baby's head should have either very stretchy necks or wide openings to avoid causing discomfort. Snaps should be easy to close with two fingers. Make sure the buttons are not on the side that the baby sleeps on. Zips should have a safety lining that prevents it from accidentally pinching the baby's skin. Hook-and-loop closures are uncommon in newborn clothes since they can be scratchy. Ties, if present, should be short enough not to reach the baby's mouth.
Choking Hazards
Embellishments, which are more common on baby girls' clothes than on baby boys' clothes, may be the biggest attraction, but ribbons, beads, and other small objects are not worth the danger they pose to a baby. Always check that all buttons and embellishments are securely attached to the clothing. Embellishments should be sewn on, never glued, and it is best if they are located away from the baby's face area since babies tend to suck on whatever is closest to their mouths.
Tags or Rough Seams
Seams and tags are two parts of clothing that can irritate a baby's delicate skin. Run your hand over the inside of the clothing. If any part of the material snags or scratches your hand, it is an indication of poor quality. High-quality designer baby clothes usually eliminate tags and instead print information directly on the clothing. They also have as few seams as possible.