Vintage toys such as rocking horses make eye-catching decorations and great additions to children's rooms. It is possible to find unique vintage rocking horses that have more charm and character than new rocking horses. Consider the functionality and the cosmetic issues of any vintage rocking horse you intend to buy to ensure that you are purchasing a quality product.
Vintage Rocking Horse Functionality

One thing to look for when purchasing a vintage rocking horse is a functioning rocking mechanism. Make sure that any moving parts are functional, and that the horse is actually capable of rocking. Another thing to look for is the stability of the rocking horse. If it has a wooden frame, it should have no serious cracks that could threaten its stability. When looking at a rocking horse with a metal frame, check to see if all of the parts are securely bolted or welded together, and nothing feels loose. A rocking horse with compromised stability will most likely lose its functionality, and it might even pose a danger to children who play on it.
Vintage Rocking Horse Cosmetic Issues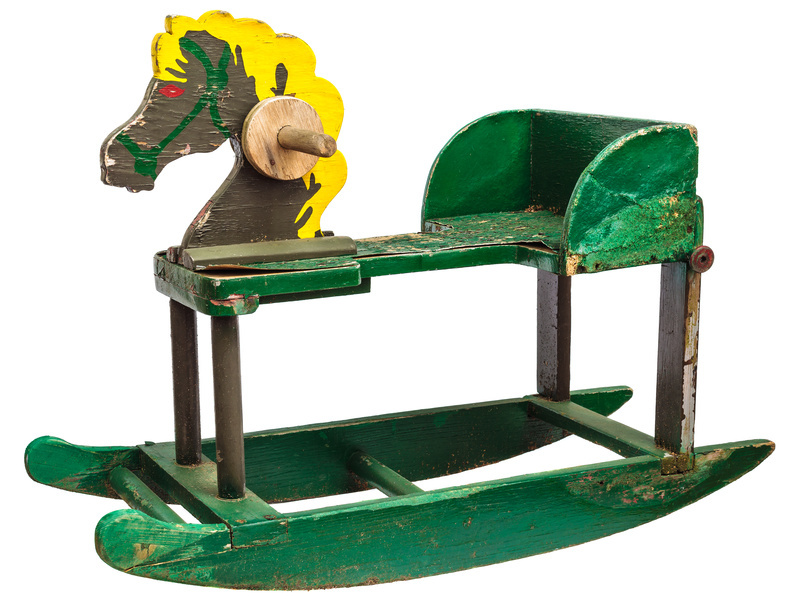 Apart from the functionality of a vintage rocking horse, its looks are its most important feature, as many people buy vintage rocking horses as decorative elements to add to their homes. Because vintage rocking horses are at least 20 years old, and many of them belonged to children, they often feature cosmetic issues. If the rocking horse has painted components, make sure the paint job is complete and there are no serious chips or cracks. Faded paint is also an issue for rocking horses that owners kept outside for extended periods of time. If you are looking into purchasing a rocking horse featuring fabric components, check that the fabric is in good condition, without any rips or torn seams. Another thing to consider is whether the rocking horse has a complete mane and tail. Many vintage rocking horses feature realistic looking manes and tails made from real horse hair or synthetic fibres. Over time, the hair tends to break and fall out. Look for a rocking horse with a full mane and tail that has few broken strands.
Vintage Rocking Horse Accessories
Vintage rocking horses feature a number of accessories, including saddles, bridles, and stirrups. While manufacturers often fasten these accessories directly to the horse, it is common for them to come loose and get lost. A vintage rocking horse with all its original accessories intact is more valuable than one with replacement parts, or one with missing accessories.