Roman goddess Vesta guarded hearth and fire and thus gave name to vesta cases that people used to keep the matches dry at times when open fire was in wider use than today. Shoppers can find thousands of vesta designs from plain to elaborate and the cases can also come in many novelty shapes. You can learn more about vesta cases to find a genuine vintage item for your collection.
Vesta Case Materials
Vesta cases could use any material that you can think of. Therefore, you can find cases from gold, ivory, nickel, silver, pressed tin, pressed brass, gunmetal, wood, leather, ceramics, and early plastics. Most precious metal cases also include a gold wash interior to prevent corrosion from chemically active match heads. Commonly, vintage vesta cases are from silver.
Vesta Case Design

The typical design of a vesta box would be rectangular with an end-opening close fitting lid that works with springs. At the base, the cases have a ribbed striking surface for lighting the match. Some models also incorporate a small blade for cutting a cigar. However, many collectors prefer novelty shapes, such as animal heads, bottles, snuff horns, hearts, circles, and shoes. An example of a novelty vesta case would be the razor blade case that Gillette made. After using up the blades inside, people could use it as a matchbox thanks to its ribbed bottom.
Vesta Case Types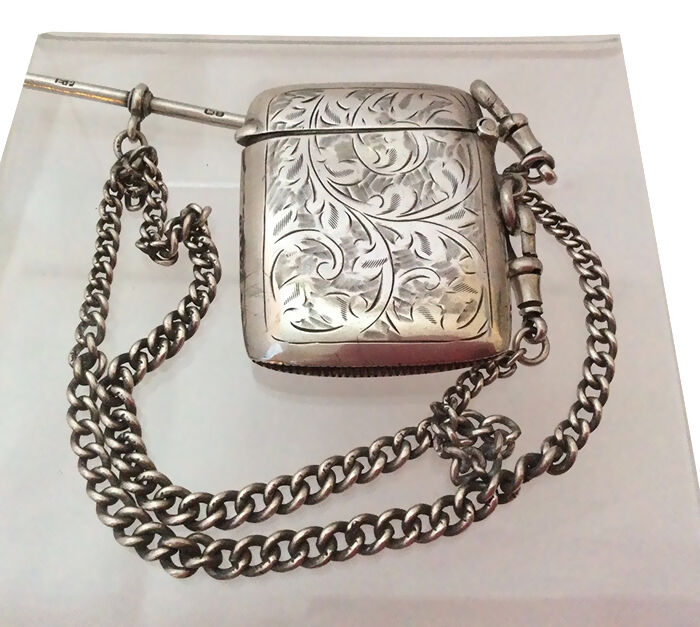 Besides the pocket type of matchbox, there were several vesta cases that people could wear on a chain, similar to a pocket watch. These were usually smaller cases that would not disturb the carrier. Moreover, larger cases served as standing or table vestas. People usually left those at home, somewhere in the kitchen or close to a fireplace. Another distinctive type is the commemorative case that marked certain events, such as Queen Victoria's Diamond Jubilee.
Vesta Case Manufacturers
Several companies made vesta cases, or match safes. The manufacturers included Gorham, Unger Brothers, Blackington, Whiting, Shreve & Co., Wm. B. Kerr, Battin, and the English companies Joseph Gloster, C. Saunders & F. Shepherd, and Deakin & Francis. Each manufacturer used its own designs as well as hallmarks.
Checking the Authenticity
Vintage vesta cases are valuable if they are genuine pieces, not reproductions or fakes. Each company has its own hallmarks. You can generally find the hallmarks on the lip of the main body. You cannot see them with the lid shut. The lid typically includes partial hallmarks and corresponds to those on the main body. Old vesta cases could also include the engraved initials of the first owner.