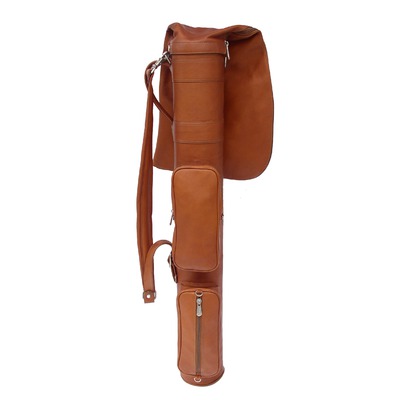 Golf is a much-loved international sport. However, the amount of equipment required and the cost involved can be overwhelming. When toting up all the equipment that is needed to play a game on a course, it can be a costly exercise. Golf Bags are just one of the required pieces of equipment to play the sport.
However, there are other alternatives to consider. Purchasing pre-loved equipment can be an affordable option for any budget. Auction sites like eBay are a great place to look for used equipment. An easy to use and friendly site, eBay attract many different sellers with second-hand goods that are being sold for a variety of different reasons.
Because of this, it is easy to find good quality and 'as new' products at affordable prices. This guide aims to break down the points to look at when purchasing a Used Golf Bag.
Where to Start
It may not be a priority when putting on the green, but the type of golf bag that a golfer buys can be an extremely important choice to make. Before exploring the world of used golf bags, it is important to know what type of bag you are looking for.
To do this, there are a series of factors to consider, which will act as indicators towards certain designs. These are:
How do you travel around the course? Do you walk the course, use a golf cart or have a caddy?
If you carry the golf bag, and if so, do you carry it across one shoulder or two?
How many golf clubs do you play with?
How do you organise your bag?
Different bags will offer different organisational options. Some bags will offer individual club sections to separate them from each other. Organisation is helpful both on and off the field, in looking after and caring for equipment. Different bags will also offer a different selection of pockets.
These questions will help to identify the style of golf bag for you to best improve your game.
What Type of Bag
There are many different types of bags to choose from. The right bag for a user will be determined by answering the above questions. The most common bags are: Carry Bag, Pencil Bag (also known as Sunday bag), Cart Bag, Stand Bag and Tour Bag.
Carry Bag
The Carry Bag is the most common bag. It is designed to be carried around the course, so is lightweight, slim line and relatively compact. Most brands will produce a quality carry bag. Because of this, a Used Carry Bag model will be easy to find and affordable.
As a general rule carry bags are now made with double straps (to carry like a backpack) but it is possible to purchase second-hand single strap carry bags.
Cart Bag
A Cart Bag is designed to be moved around the course in the back of a golf cart. Because of this it is often a larger bag with more room for accessories and pockets.
As it is designed to be carted around, this is an ideal choice for older players or people who have recurring issues with carrying heavy items.
Stand Bag
A Stand Bag is very similar to a carry bag. The major difference being, a stand is built into the bag to allow it 'stand' unassisted when not being carried. It is important to check the stand structure when purchasing a stand bag, as some stands are sturdier than others.
The addition of the stand does affect the price, however it is a handy addition when playing golf. The stand makes it easier to access clubs and picking up/putting down the bag.
Pencil Bag
The Pencil Bag is the smallest and lightest bag available. Designed to be slim line, it doesn't offer many additional pockets and can carry 14 clubs.
Tour Bag
Professional players mostly use Tour Bags. It is the largest bag available on the market, designed to carry all of the golfing equipment required for a game of golf. Alongside this, it has multiple pockets and space for additional equipment. It is perfect for the golfer who tours and has a caddy on the course.
A tour bag is not suitable for players wanting to carry their own bag around the course.
What to Look for in a Used Golf Bag
| | |
| --- | --- |
| Price | In most instances, you get what you pay for in a golf bag. Buying a second hand bag is often an affordable option to get a better bag for a cheaper price. But be sure to cross reference prices of bags before purchase to know the actual price of new bags compared to the cost of a used bag. This should indicate the condition of the bag and whether it is priced appropriately. |
| Quality | With all second hand goods it is vital to check the quality of the bag before purchase. This can be done a number of ways. If on eBay, the easiest way to accomplish this is to cross reference the seller's notes on the product and photographs. This should give an accurate description of the bag and its condition. If there are any further questions, feel free to ask the seller more information. |
| Brand | As well as a plethora of designs to pick from, there are also many good brands that manufacture golf bags. It is a good idea to stick with a brand that is known for its quality. This could be done via research on the brand or by comparing other items already owned. |
| Protection | The bag is more than just an instrument to carry the equipment around the course. It is also offers protection. It is a good idea to see how the bag fits and carries all the equipment and what protection it offers. Make sure to check the bag accommodates individual golf club socks. |
| Needs of the golfer | Does the bag fulfill the needs of the golfer? A list of requirements is a good place to start that can be used when purchasing. There is no point buying a cart bag when the golfer carries it around the course. |
| Pockets and Accessories | It is important to look at the amount of additional storage (pockets) the bag offers, as well as the placement of the pockets. Different designs will offer different options. One may be more suitable then the other. |
Conclusion
Deciding on the right golf bag is a detailed decision to make. This task becomes even more important when the item being sought after is used. It is advisable to spend time researching and comparing bags before the decision is reached. Once this is done, take time to scrutinise the bag to ensure it is in the condition the seller is suggesting. Utilising eBay's tools can assist with this.
By following the advice of this guide, it will be easy to know what to look for and where it is found.
There are many different reasons why sellers decide to part with their goods. Sometimes bags appear 'as new', but because it has had a previous owner it will be considered 'used'. Buying a Used Golf Bag can offer an affordable solution to what can be an expensive sport and provide many years of enjoyable golfing.