A Vespa 50cc scooter is ideal for trips shorter than 15 miles or 25 kilometres. To find the ideal 50cc Vespa scooters, buyers should learn how to evaluate the frames and bodies as well as the engines and electricals of the scooters on offer.
Finding the Ideal Vespa 50cc Scooter Model

Vespa 50cc scooters have been available since the early 1960s. Vintage Vespa scooters and models manufactured before the mid-1990s have smaller frames than contemporary models, and Vespa manufactured numerous versions of this scooter over the years. Whether you prefer the unique look and character of the original smallframe, or the safety and stability of a newer model, always research the specific Vespa scooters on offer. Focus on features and specifications to ensure that you know exactly what you are buying. Newer scooters offer features such as electronic ignition and updated indicators that increase safety and improve comfort. If you decide on a vintage model such as the 50 Special or PK50, research the availability of spare parts before you buy.
Vespa 50cc Scooter Frames and Bodies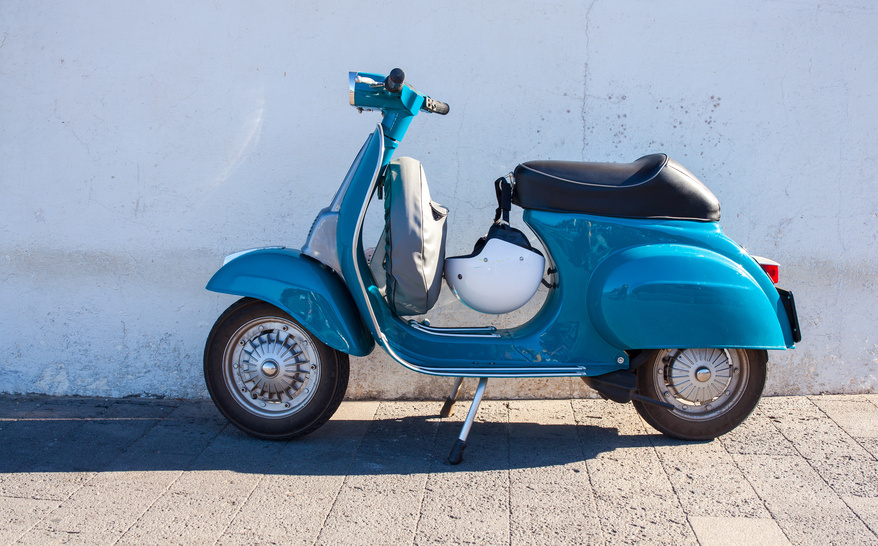 When buying a Vespa scooter, evaluate the condition of the frame and body. Check the seams and edges for signs of corrosion and use a screwdriver to tap the underside to check for rust patches. Use a torch to check the inside of the fuel tank for signs of rust. There should be no bends or ripples in the scooter's frame. Check the part of the frame where the chassis curves around the rear for a crease mark that could indicate accident damage. The forks should be straight and true, and the steering should move smoothly to both sides. You can use a magnet to look for patches of body filler. If the magnet fails to stick to a section of the body, it indicates the presence of body filler. Ensure that all the badges are in place, the seats are in good shape, and that the tyres are roadworthy.
Vespa 50cc Scooter Engines and Electronics
A 50cc Vespa scooter has the smallest engine capacity and is the most affordable option in the Vespa scooter range. It has a top speed of around 30 miles per hour or 50 kilometres per hour, which makes it ideal for short trips in town. Check the engine of a Vespa scooter by looking for oil leaks. When you turn the scooter on or kick the engine over, it should not smoke excessively or make knocking sounds. Allow the scooter to warm up and idle and see whether it idles smoothly. Check whether the lights and horn work. Pull in the clutch and see if the engine sound changes. With the engine off, check the flywheel for play by wiggling it from side to side. If possible, ride the scooter. The transmission should be smooth and the scooter should not jump out of gear. The scooter should handle well and run without problems such as steering faults, brake failures, or engine trouble.