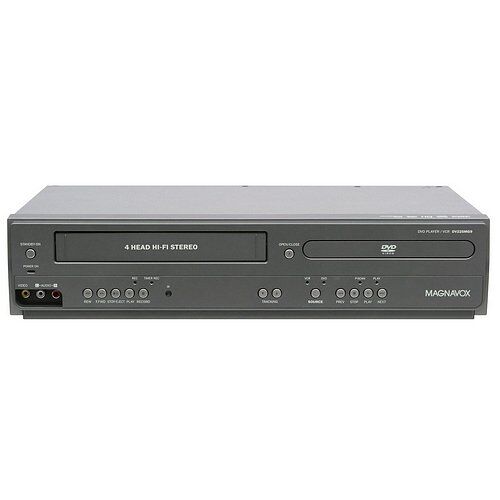 The media player is an essential tool for watching films or home videos. Whether looking to purchase a new media player or upgrade a current system, the all-in-one DVD and VCR player is a superior choice. These units are often referred to as DVD and VCR combo units. Although DVDs are the most popular format for videos, many still have access to VCRs in their homes. It is a waste to get rid of major or minor VHS tape collections when the VCR still works. There are many practical reasons to owning a DVD and VCR combination player. DVD and VCR combo units not only play DVDs and VHS tapes, but they also record and copy homemade recordings. These units offer flexibility to play films in different formats, while consolidating and combining the number of components in the home entertainment system. The combination player is a space saver and eliminates the need for another remote control.
Buyers should research and compare different models of DVD and VCR combo units available at different venues including retail shops, electronics shops, and online at eBay. Choose a DVD and VCR player with adequate or superior format compatibility to allow for the most functionality. The combination player saves space in the home entertainment system and eliminates the need for an additional remote. There are various features that the buyer should look into, including: 1080p upscaling, progressive scan, recording capabilities, connectivity, compatibility, digital tuner, parental control technology, and colour.
Features
The best DVD and VCR players offer the best features of both a DVD player and VCR player. Check the features of each model to ensure that the units meet the home entertainment needs.
1080p Upscaling
1080p upscaling converts a standard-definition signal to a high-definition stream that an HDTV can display. This component is critical for a device to stay relevant as technology changes. There are some drawbacks when the stretched images appear a bit fuzzy, but it is the most modern imaging technology available on the market.
Progressive Scan
Progressive scan technology improves standard-definition images. The progressive scan feature accomplishes this feat by doubling the resolution of the standard-definition images, which enhances their viewability. The combination of progressive scan and 1080p upscaling, or upconversion, provides the best picture for viewing content on an HDTV. As it goes, these components are not necessary for those with standard-definition televisions and those less concerned with picture quality, although it behooves the user to invest in current technology that lasts.
Recording Capabilities
Some combination players have a DVD recorder, which gives the user the ability to copy VHS content over to rewritable DVDs. This is sometimes referred to as the two-way dubbing feature. This allows users to transfer home videos from VHS format to DVD, to better preserve memories. Remember that consumers are still subject to copyright protections for videos and films. These features often come with a programmable timer that allows the user to record programmes up to a week prior to DVD or VHS tape. It is standard for DVD and VCR players with recording capabilities to record up to eight hours of media.
VCR Recording
The combination player allows users to simultaneously play DVDs, while recording a programme on television to VHS. This enables users more flexibility to watch films without the worry of missing their favourite scheduled programme.
Connectivity
DVD and VCR combo units usually come with a couple of connection options. For example, most come with the typical functional coaxial and component connections. The more advanced connection available is the HDMI connection. HDMI cables carry HDMI signals allowing for better connections with HDTV or other devices requiring a superior connection. While most DVD and VCR players come with coaxial and component connections, not all come with HDMI capability. Another feature of connectivity that comes with some combo players are the USB port and SD memory card slot. The USB port and memory card allows the user to connect various media devices, such as a digital camera to display music, photos, and video onto a television. The connection allows the DVD and VCR player to display a big screen slideshow for friends and family.
Compatibility
Compatibility of the DVD player is important. Playable disc and file formats include DVD-R, video CD, CD, CD-R, CD-RW, MP3, and WMA. DVD players that are compatible with a variety of formats are the most functional. Most DVD players play both standard DVDs and CDs, but it would behoove the buyer to ensure further compatibility before purchasing a new device. This feature allows the user more flexibility for both playback and recording.
Digital Tuner
The digital tuner feature enables the user to capture digital broadcast signals without an external unit. These digital signals provide access up to 50 digital television channels and 24 radio stations, without any kind of subscription package.
Parental Control Technology
Parental control technology comes in the form of a V-chip. This V-chip allows the player to block offensive content based on its rating. The user must set controls on the content in order to utilise the technology. This feature is ideal for those with young children who want to restrict offensive screen material.
Colour
The colour and style of the DVD and VCR player should match the rest of the home cinema system. DVD and VCR players are typically available in either silver or black. Matching the DVD and VCR player provides a more uniform, complete look.
Budget
Purchasing a home entertainment device is an investment. It is important to purchase a DVD and VCR player in one that meets the needs and expectations of a buyer. Buying a quality DVD and VCR combo player is important because, if taken care of properly, the technology lasts for many years. DVD and VCR players come in a range of prices, and it is certainly more efficient to purchase the two-in-one combination. The buyer should research the different brands and models in order to get the best price. Consumers on a budget may purchase a refurbished DVD and VCR player, but the buyer should take care to ensure that all of the desired features are in working condition.
How to Buy a DVD and VCR Player in One on eBay
Now that you have decided which DVD and VCR combo player is right for you, it is time to start shopping. eBay offers numerous options when it comes to purchasing home entertainment pieces. Begin your search for the perfect DVD and VCR player by performing a keyword search using the search box on any eBay page. Your keywords can be as broad or specific as the search for your DVD and VCR combo player requires. To get the most results, use broad keywords in your search. For example, input "DVD and VCR combo player" into the search box on any eBay page. From here, choose different options to reduce the number of results received from the search. Browse through the results and look at the features before you decide which player to purchase. If you already know the type of DVD and VCR player in one that would work best for your home entertainment system, use more specific keywords in your eBay search. For example, input "Sony DVD VCR combo player", if that is what you are looking to purchase.
Consider purchasing a DVD and VCR combo player from one of eBay's Top-Rated Sellers. Buyers should look for sellers who offer generous return policies for their electronics. It is also helpful for consumers to read sellers' product descriptions to ensure that they are purchasing a DVD and VCR player that meets their needs.
Conclusion
DVD and VCR combo units are the best alternative to purchasing separate media players. When buying a DVD and VCR player in one, it is important to choose a player that has all of the features that you need. In addition to features, choose the player that contains a style and colour that matches the rest of your entertainment system. Initially, decide which features are important for your use. If you have a modern HDTV, ensure that any DVD and VCR player purchased has modern features, such as 1080p upscaling and progressive scan, to display the best picture quality. Consider which type of connections work best for your television. HDMI capability is a superior method of connectivity, but is only essential for high-definition picture.
The DVD and VCR player is an essential part of any consumer's home cinema system. It offers the best of both worlds, allowing the user to play both popular DVDs and old VHS collections. Buyers should not have to get rid of VHS collections when there is still adequate technology available to enjoy and preserve the films. Some DVD and VCR combo players also offer recording technology that allows users to transfer old VHS tapes to DVDs. It also allows users the flexibility to record programmes in either DVD or VHS format. No matter which features you are looking for in a DVD and VCR player, eBay offers a wide selection.