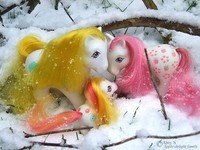 ***Ever think that the price of My Little Pony Vintage toys are getting way too high?***
......Well, you are not alone!.............. :-D Yay!

Hello fellow My Little Pony Collectors!
My Name is Amy, and I am an Avid My Little Pony collector. Unfortunately I am not rich, and I work very hard for my money! I'm sure like plenty of you collectors, I find it highly frustrating when a pony I truly want to give a good home, is either placed at a ridiculous 'Buy It Now' price, or someone has gone absolutely crazy with bids and you end up having to think about forking out well over £50 (or $100ish for you US folk!) just to acquire him/her to add to your collection!

Now, I am not the most knowledge collector, I just collect My Little Pony for the sheer joy of having them around! I'm sure that is the same reason many of you collect also and NOT because they are worth quite a bit of the old green! But I do know when something is being taken advantage of, and I truly believe that we are all being slightly mislead in spending so much money when it comes to these lovely little ponies.
So, here are a few pointers I usually follow and things I'd recommend before you spend an absolute fortune on USED toys;
~~~~~~~~~~~~~~~~~~~~~~~~~~~~~~~~@~~~~~~~~~~~~~~~~~~~~~~~~~~~~~~~~~~~~~~~~~~~~
> First, always set yourself a target realistic price you will limit yourself to each pony. REMEMBER, Postage and Packaging price on top! Always take a look at this before considering bidding very high. The average guideline price for a single pony in good condition (without accessories and/or in original packaging) is about $5 (or £2.50) for common ponies such as Lemon drop, Cherries Jubilee & Bowtie.
> There are, of course, other ponies which are classed as Rare due to such things as location released or not as many of that particular pony was made. Big Brother ponies are fairly common, although they seem to hold a value of anything from $10-$60! Mimic (twinkle-eyed Unicorn w/ parrot symbol) is an infamously rare pony and can often reach RIDICULOUS prices even if in poor condition. I have seen a Mimic on Ebay for $300+ and there were bidders willing to spend that much! Many sellers claim a lot of My Little Ponies to be 'rare' but if you are unsure of the rarity, there are always My little Pony Collectors guides to inform you otherwise. Do not be fooled into the use of the word RARE!
> MIB (Mint in Box) or MOC (Mint On Card) My Little Ponies are known to go for $100's also. This is a tad more understandable since most Vintage ponies must be over 20yrs old and to remain in the package THAT long is an achievement, since as soon as I got a pony I wanted to play with her straight away! It's not something that entices me, personally, but some collectors enjoy it. Expect to pay a good sum for those Ponies who have not been played with...
>Buy It Now, My Little Pony is, I must admit, one of my ultimate pet-hates! I personally believe you should never spend over $10 (£5) for a USED, common pony because, after-all, it is a used item. This is the Seller's way of attempting to guess how much they can get away with charging for one pony. For example; There have been countless Cherries Jubilee ponies up for auction for 99p (and many have been won at that price!) but only today I spotted a Cherries Jubilee (standard model) for a Buy it Now price of 34.99! ALWAYS go for the auction ponies unless you know for a fact you're getting a bargain! Us collectors are not made of money, right??
> REMEMBER, my collector friends! My Little Ponies are not only for sale on EBAY! Should the prices continue to soar (which they possibly will :-( ) other good places to dig out unsuspecting pony sellers are; Car-boot sales, Yard sales, Swap-meets, Charity Shops, Fates or EVEN ask you're friends if they still have any buried in their attics! Do not let the over-pricing of My Little Pony on EBAY ruin you're enthusiasm for collecting the little darlings.
~~~~~~~~~~~~~~@~~~~~~~~~~~~~~~~~~
Those are a few tips I always use whilst building my collection! The main point I want to get across to collectors whom are in the same boat as me (i.e; not much money, and cannot afford most of the prices of ponies on ebay!) is KNOW YOUR PONIES VALUE! It really is worth while purchasing a My Little Pony inventory Guide (Amazon sell a fair few) as they have accurate pony pricing guides depending on condition, accessories ETC. DON'T be fooled by that golden word RARE on pretty much 90% of the My Little Pony listings on here! Some Ponies are a dime a dozen.
I hope this little rant has helped some of you who can relate to my problem also! Let's help these ponies get good caring owners to display them proudly, that won't cost them out of House and home! After all, everyone should be able to enjoy My Little Pony for what they are; TOYS! :-D
~~~~~~~~~~~~~~@~~~~~~~~~~~~~~~~