I do remember buying my first bra. I think I was both excited and terrified. This was well before the days of online retailing and buying clothes on ebay. I am now both a mother and a bra retailer, stocking Triumph, Lepel, Charnos, Sloggi and Shock Absorber. I not only sell online but I also do home fittings locally and have experience in helping teenagers and young girls find the right bra.
My recommendations for you to consider when buying the first bra are:
1. Wired or Non-Wired - I strongly recommend that you buy a
Non-Wired Bra
as the first bra. It is unlikely that for the first bra the girl will need the extra support offered by wired bras. In addition, buying a non-wired bra will allow the girl to get used to wearing a bra without having it be uncomfortable. A non-wired bra also gives you flexibility in the bra lasting longer as you do not have to worry about where the wire is sitting and usually a bra can accomodate a few growth spurts.
2. Style - Personally I find it appalling that stores market sexy plunge push up or heavily padded bras to young girls. I would focus on a standard shape bra. This might have a light bit of padding to provide a bit of shape and modesty but not to enhance or push up. Sloggi has a selection of great first bras, including the
Sloggi Double Comfort Top
which slips over the head and is a crop top vest type.
3. Fabric - For comfort, I would start with a cotton rich bra. Again Sloggi has a great range including the
Sloggi Romance
and
Sloggi Basic N
(N indicates Non-Wired) We also love the new pretty pink bra, the Sloggi Feel Beautiful N. This is in Lyocell which is a newer fabric which looks and feels like cotton with the great washing results of polyamides. It also comes with very pretty matching knickers if you want to provide a complete set. Most bras are made of a polyamide, polyester and elastane mix. This keeps the bras easier to care for and will provide greater support than a cotton bra.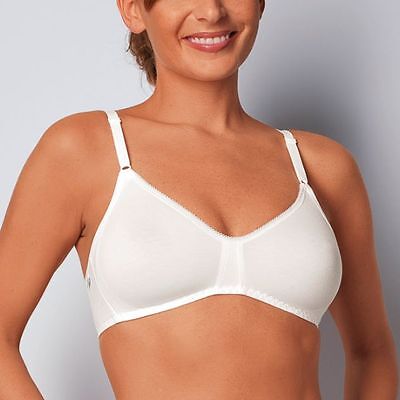 4. A bit more grown up. Often in secondary school, girls will start to want to go beyond a white vest type top. We found the
Lepel Athena Soft Bra
to be ideal for the first pretty grown up bra. It is available in Black, White and Beige and each bra features pink ribbon detail and lace at sides and on the straps. It is lightly padded making it great for wearing under t-shirts.
5. Size. All online retailers need to offer returns (you may be responsible for the postage back of the item) and therefore it is not that hard to buy a bra online. For the first bra, the important measurement is around the band area. It is likely that this size will be 30, 32 or 34. If you buy a non-wired bra it is easier to get the right band size. For the first bra you are likely buying an A cup. Note an A cup on a 34A is a bigger cup than on a 30A. The cup sizes are larger as the band sizes increase. I recommend you measure first and then try one of the non-wired bras.