HD TV - What do I need to look for?

Buying a new HD TV can be very daunting, and I don't envy anyone who is looking for a new TV in this day and age! In this Guide, I'll go through a couple of the basics, and recommend a few of my personal favourites :)
First of all, before you go out, or trail the internet for deals, its important to bare the following in mind -
Size of TV (If you are unsure, cut out a piece of cardboard the size of the TV you are considering and place where you are planning on putting your TV to get an idea of how it will fit in your room)
Connections - will you be having sky? Playstation 3 or surround system connected to your new TV?
System Price Range - Don't keep a price in mind for JUST the TV. Put in mind a price you can afford for a whole system. i.e Surround system, Sky, Freesat, Wall Bracket, Stand, etc. Also, as a rule of thumb, leave about 5 - 10% of your overall price for good quality leads.
REMEMBER - You are only as strong as your weakest link. You can buy the best TV in the world but without the best leads to connect everything up, you wont get the best out of your new TV.
One question I get asked over and over again is "
Plasma or LCD? What's the best?
"
There isn't a right or wrong answer to this. Its all down to the size of TV you are planning on purchasing, what type of programmes you watch, and of course, personal preference.
Anything below 37" will be LCD. As the size of TV gets larger, you will see more and more Plasmas available.
Personally, anything over 42" I would purchase a Plasma. The reason I prefer Plasma is because this system handles motion a lot better. So, if you like watchin sport, or action movies with a lot of motion, you wont get as much of a trail or "motion blur" LCD tends to struggle the larger the set gets, and as a result, Motion blur can be a lot more visible.
Specifications to look out for on LCD & Plasma TV's -
Contrast Ratio - The higher the contrast ratio the more vivid the colour range and the darker the blacks and brighter the whites. Anything with a low contrast ratio will look dull and flat.
100Hz Processor - As I mentioned earlier, Motion blur can be a pain in new HDTV's. To help counteract that, look for 100hz processor. This doubles the refresh rate of the picture resulting in a much smoother picture. This is more widely available 37" + (is available in some 32") and is only really needed the bigger the TV. I dont notice motion blur on my 32" 50hz Toshiba, so really the smaller the TV, the less you notice it.
1080p or 720p HDTV - This is the level of High Definition picture your TV can produce. I'll go into that in more detail
"1080p or 720p - what is the difference and what does it mean?
"
There is a lot of confusion over HDTV's as there are different levels of High Definition. The way I like to explain it, is looking at it like Megapixels on a camera. The higher the Megapixel the better the picture quality - The same applies with High Definition.
720p - Produces a picture with 720 lines down the screen
1080p - Produces a picture with 1080 lines down the screen, scans each line in "progression" - i.e. - line 1,2,3,4,5,6,etc
1080i - 1080 lines down the screen, scans the picture, interlaced, i.e. 1,3,5,7,9, goes back and scans 2,4,6,8, etc. This is secondary to the best 1080p picture. Most TV's that are 1080 are 1080p.
Bare in mind, whatever HD picture your TV is capable of producing, it will only produce that picture from a high definition source. Standard Freeview and analogue TV is in Standard definition. i.e. 576 lines. This is why TV's are referred to as HD "READY"
"
How can I get a High definition picture?
"
There are a few ways of producing a 1080 picture.
BLURAY
BluRay disks are new High Definition Disks. They are the Size of a DVD but you can't play them in a normal DVD player. You will need a BluRay player, which retail around the £200 - £250 mark. BluRay players are capable of playing normal DVD's too and "upscaling" them to make them look up to 4 times better on a HDTV. Normal DVD's wont upscale to exactly the quality of BluRay but they come pretty close :)
DVD UPSCALER
If you dont want to pay 200 pounds for a BluRay player, you can get DVD upscalers, which are standard DVD players, with the upscaling feature.
SKY HD+ -
Sky HD+, has the most channels available in 1080. You pay for the box, and 10 pound a month on top of your channel subscription to get the HD channels. Sky HD+ is also Sky Plus, so you can record, pause and rewind live TV.
FREESAT HD AND FREESAT HD+
Freesat is a popular service for those wanting a HD picture, without a monthly subscription. With Freesat, you buy the box, for around £120-£150 and that's it. Nothing More to pay. If you need a dish installed it costs £80, but if you have an existing sky dish, you can use that. Be aware that even if you have a current sky dish it may need to be adjusted to receive all Freesat services. I personally have Freesat through an old Sky Dish. I didn't need it adjusted and the picture is amazing. At the moment, there are only a few channels available in HD on Freesat. (BBC and ITV being the main ones) but there are more channels to come in the next few years.
Freesat HD+ has recently been developed but is in such high demand it is almost impossible to get hold of at the moment. My advice is to keep an eye out and be patient if you want the recording feature.
And that's about it. The basics of buying a new HDTV! All thats left now is to add a few of my personal recommendations. If you need any more information, please don't hesitate to contact me. Thanks for reading! Hope this helped :)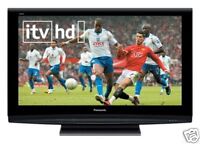 In my opinion, If you are looking for a Plasma, Panasonic is the Man! They have an extensive range (Viera) with various features and engines. One in particular that stands out about the rest is the PZ81. This currently the only model on the market with FreesatHD built in, so you don't need to buy a box, just plug your dish directly into the back of the TV and pick up the Freesat HD channels directly from the set. Perfect if you like watching sport it has the 100Hz processor, and the contrast ratio is high for vibrant colours. The PZ81 is available in 32" - 50" TV's.
If you prefer to stick with LCD, Samsungs new 7, 8 and 9 series have a fantastic Contrast Range. The blacks are deep and the colours beyond vibrant. People tend to prefer their design and their new range includes a "Rose Black" and "Ruby Black" exterior frame, as shown in the picture. The only problem I have found with these TV's is the sound. The Speakers are situated on the back so you may find the sound to be a little muffled. If you are thinking of purchasing a home cinema system, this should'nt be a problem.
MONSTER CABLES -

RMEMEBER TO GET THE BEST LEADS!!! I'd recommend Monster cables. These are one of te best brands on the Market. The prices may seem a little steep but for the quality, they are worth it. There are different standards of HDMI leads to fit either 720-1080, 100hz TV's etc. Check the packaging to see which ones are right for you.