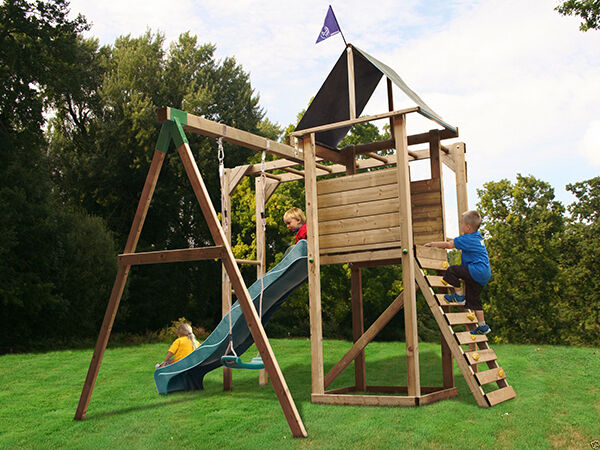 This eBay guide helps show buyers which features to look out for in a climbing frame:
* What is it made of?
* How is it designed?
* Where will it be used?
* Will it be good fun?
Climbing frames bring huge benefit to children throughout their early years and right up to the ages of 11 or 12. Fantastic fun, they serve to get the children away from the TV or games console and out of doors. The kids really have to concentrate to use them and whilst never frightening them the frame can provide a challenge. The modern, modular nature of these climbing frames generally means that the frame can grow with the child's abilities and demands. The only limitation is the size of the garden, which is a substantially more expensive problem to overcome.
1. Materials
Wood Climbing Frames
This is the most natural but the least flexible of all the materials on offer and features to really consider are:
* the quality of the wood
* its strength
* the design of the construction
Make sure that the wood has been properly dried. It should be a quality pine such as Cedar and should have as few knots and blemishes in it as possible. It should be well seasoned and then machine smoothed and pressure treated so the surface of the frame in all areas is completely smooth and free of splinters. Splinters will always be a slight danger on wooden climbing frames but if the wood has been properly treated then these should be reduced to a minimum.
Plastic Climbing Frames
The plastic climbing frames are generally designed for much smaller children and are built in modular sections. They will generally be the smallest climbing frames and are usually simple to put together. These plastic models are usually designed as a 'first' climbing frame for much younger children. They are made from weatherproof, moulded plastic. This is very strong but crucially has just enough give in to ensure that if a toddler does have a little bump it will not be too painful. Good quality climbing frames come from brands like Little Tikes, which has an extensive range and Smoby. A newer concept is the Mookie.
Metal Climbing Frames
Quality metal climbing frames are made from galvanized steel tubes, are robust, won't rust but are relatively light and can be moved easily.
They are of modular construction and can be added to as the children grow up. Additional accessories like swings and cargo nets can be added when budget and space allow or when the kids demand it. The tubular steel never splinters and is always smooth.
2. Added Extras
There is a range of options offered by good climbing frame manufacturers and a standard climbing tower with a ladder and a rope is just the start.
Owners can then add:
* multiple towers
* cargo nets
* monkey bars
* slides
* climbing passages
3. Design
Whatever material is used then the design is the next most important aspect. A good design will make the climbing frame strong and capable of withstanding the many trials that playful kids and British weather can throw at it but also provide a certain degree of flexibility in terms of being able to reposition the climbing frame if the ground gets worn.
4. Safety
Check to see that all the ropes, ladders and slides fit snuggly onto the structure and are well constructed themselves. All designs, if bought from a reliable source, whether metal, plastic or wood will meet the R0SPA (Royal Society for the Prevention of Accidents) Standard. They should also have been inspected and approved to EN1176 European Playground Safety Directive.
Make sure ropes and slides and any other accessory on the climbing frame have passed all health and safety standards and are of a good design specification.
5. Locating and Assembling a Climbing Frame
The location of the climbing frame will depend upon the constraints of the garden or outside space and the size of the climbing frame. In terms of assembly the choice is generally up to the purchaser. A climbing frame that is particularly big and complex whether wooden or metal may require expert help in location and assembly. The manufacturers will understand the complexities and the design and have the right to tools to erect the climbing frame so that it is totally secure and correctly assembled.
Make sure the site is free of anything that may obstruct the assembly of the climbing frame or anything may hurt the kids if they happen to fall on it. Try and give the climbing frame plenty of room around it and do not build it too close to walls or trees.
Smaller structures are very easily assembled and providing the instructions are clear and the site suitable then it should be perfectly possible to put up the climbing frame. Kids quite like to help in assembling the frame and this job makes the ideal weekend project.
6. Groundwork
Prior to assembling the structure it is worth making a modest investment in the surface upon which the climbing frame stands. Bark or woodchip or rubber matting can, break the fall of a child. Grass is fine with smaller climbing frames as the height the child will not fall from any great height. But in a hot summer the grass can die off and the ground can get very compacted.
7. Accessibility
There is no point building a climbing frame in a place where the children do not want to play. The keen adult gardener may feel that a climbing frame in the garden is an eyesore and decides to put it out of sight at the bottom of the garden.
* Whilst this may keep the garden looking pretty it is not very child friendly and the investment may be wasted if the kids simply won't go to the place where the climbing frame is located.
* Mum also likes to able to look out of the window and watch what is going on and if the climbing frame is out of sight, she may not spot a nasty fall.
Try not to locate the climbing frame under drippy trees like sycamores. In the summer they attract a lot of flies and hold the water after a thunderstorm releasing a steady drip onto the structure. This makes it unpleasant to play on and dirties clothes but will also serve to reduce the life of the construction, as it will rarely dry out.
Position the climbing frame close to the house and in the sunshine so the kids can run out and play on it easily and know that they are in a safe environment but still feel free and adventurous. If there is enough space a good climbing frame is a great focal point for groups of kids and really helps them in their social skills and interaction with other kids.
8. Is it Fun?
It's hard to make a climbing frame 'unfun' but strangely enough some parents manage to achieve it. If the design is good and the structure strong then kids can play hard on it and not be scared of breaking it or it falling over then that is a great first step.
If the climbing frame is sited in a place that gets some sun, is sheltered and is relatively close to the house then that makes a big difference. With those two elements in place it is really down to the parents to release the kids, give them some freedom and let them explore and push themselves a little bit. Taking risks in a good environment, making good friends and having fun is all that any child should wish for.
How to Buy an Affordable Climbing Frame on eBay
Now that you know which Climbing Frame you want you can find them quickly and easily on eBay. To start shopping, go to the Sports and Leisure category. Click the Toys & Games then the Outdoor toys & Activities. Click on the Climbing frames sub-category portal.
While you shop, don't forget Croquet, Frisbees, Garden Games & Activities, Juggling, Kites, Paddling Pools, Playhouses, Pogo Sticks, Ride-on Cars and Sand Pits & Toys.
Categories
The Categories list on the left side of each page will help narrow down listings by item type. There are links for Swings, Tents, Trampolines and Tricycles & Trikes.
Product Finder
Use the Climbing Frame Finder to quickly narrow down item listings by brand, model and condition (new or used).
Keyword Search
Search eBay listing titles for specific words. For example, if you want to find New Climbing Frames, type the keywords "Climbing Frames New" (without quotation marks) into the Search box. Click, "Search title and description" to expand your results. Visit eBay's Search Tips page for more tips on searching with keywords.
If you can't find exactly what you want, try browsing eBay Stores or tell the eBay Community what you're looking for by creating a post on Want It Now, or save a search on My eBay and eBay will email you when a matching item becomes available.
Buy Affordable Climbing Frames with Confidence
Make sure that you know exactly what you're buying and understand how eBay and PayPal protect you.
Know the Item
* Read the details in the item listing carefully.
* Remember to add delivery costs to the final price. If buying a high value item, check that the seller will insure it until it is delivered.
* For more information, click the "Ask seller a question" button on the seller's profile or the "Ask a question" link at the bottom of the item listing page.
* Always complete your transaction on eBay (with a bid, Buy it Now or Best Offer) otherwise you will not be covered by eBay Buyer Protection.
* Never pay for an eBay item using an instant cash wire transfer service like Western Union or MoneyGram. These are not safe ways of paying someone you do not know.
Know the Seller
Research the seller to feel safe and positive about every transaction.
* What is the seller's Feedback rating?
* How many transactions have they completed?
* How many positive responses do they have?
* What do buyers say in their Feedback?
* Are they positive about the seller?
Most top eBay sellers operate like retail shops and have a returns policy.
* Do they offer a money-back guarantee?
* What are their terms and conditions?
Buyer Protection
In the very unlikely event that you do not receive your item or it is not as described, eBay Buyer Protection covers your purchase price plus original delivery cost.