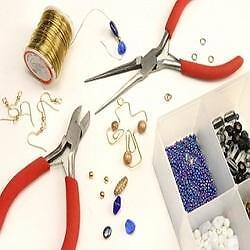 I love being creative and making my own unique pieces of Jewellery, I have in the past made necklaces, earrings and bracelets but what I find is making sure you have the right tools for the job in hand. This guide is to basically show you what to use and hopefully get you started to making some lovely pieces your self.
Tools you will need.....
A pair of Bull nose pliers ( these are rounded at the end to enable you to hold wire and make circles and bend wire into spirals)
A small set of normal pliers (handy for cutting anything especially for wire cutting as it gives a clean edge)
Needles (these can be any size but recommend ones that are small due to beading size etc)
Wax (this I recommend as Beeswax it is easy run over the cotton to make the beads slide on better)
Wire ( although not always needed but certain jewellery requires this I personally use elastic or cotton as easier to manipulate) craft wire can be easily bought in most craft stores
Cotton or Elastic
Beads (these come in all shapes and sizes most are small in mm but some are fancy and can be used in most jewellery making ideas)
White Felt (guess your wondering why the felt? I use the felt to act as a base it stops the beads from slipping off and you can see anything on white including the needle which I tend to loose lots)
Scissors
Hook and eye clips (these come in handy for finishing off necklaces)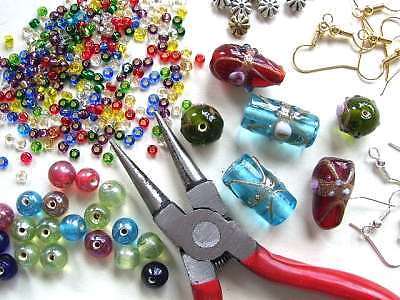 If your new to jewellery making, this is a basic guide so hope it helps you get started with the basics I have always found that with a bit of patience you get the right effect and the best results.