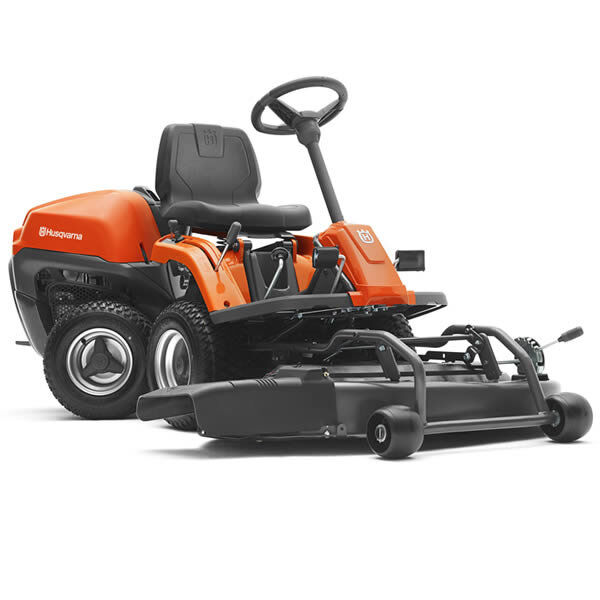 Ride-on lawnmowers are an efficient and convenient option for mowing large areas of grass. The wheels for these mowers can vary considerably, and are designed with several different types of treads. Consider smooth and ribbed treads for wheels that will not damage turf, or multi-track treads for better traction. The shoulder of a tyre has the largest effect on its ability to turn, so become familiar with different shoulders on multi-track tyres to find the best items. It is also important to choose wheels of appropriate size and design for specific ride-on mowers. Look for specifications in a mower's manual for information about the types of wheels that can be used. Prolong the life of ride-on mower tyres by maintaining the recommended air pressure at all times, and consider purchasing tools to maintain tyres at home.
Ride-on lawnmower wheels can be purchased from hardware stores, lawnmower retailers, and from online sellers like those on eBay. Shop around to discover the full selection of wheels available, and compare prices to find the best deals. A great set of wheels for a ride-on mower can improve performance and provide many years of use, so choose the best wheels for the type of mowing that will be done.
Choosing Lawnmower Wheels
Wheels for ride-on lawnmowers are produced in a broad range of sizes and tread patterns. Buyers can also shop for used items, which can save considerable amounts of money, especially when buying pairs or sets. Consider the tread of a tyre to begin.
Wheel Treads
Lawnmower wheel treads affect the mower's traction, ability to corner, and the amount of wear or damage it causes to grass. Become familiar with some of the primary tread types, including smooth, ribbed, sawtooth, and multi-track, to find ones that will provide the best performance. In addition to specific tread patterns, it is also useful to consider the general design of a tread. Uni-directional treads perform better in straight lines, while multi-directional, or diamond treads are more versatile in their turning radius.
Smooth
Smooth or slick tyres have no tread. They are are completely smooth on the driving surface of the tyre, and are the ideal choice for dry, flat ground. Smooth tyres can maintain the strong visual appearance of a carefully-kept lawn, though they are not ideal for rough terrain or slick surfaces.
Rib
Rib treads are the smoothest type of tread available. They have thin traction grooves that run around the circumference of the tyre, but are otherwise plain. These tyres are ideal for minimising damage done to turf, while still providing a small amount of traction. Like slick tyres, these items are not suitable for wet surfaces or loose soil.
Sawtooth
Similar to the rib tyre, sawtooth treads have grooves that stretch around the circumference of the tyre. The grooves are wider and deeper on these tyres than they are on ribs, however, and have a jagged pattern similar to the blades on a saw. These tyres provide more traction than ribs, but can still reduce the potential damage to turf.
Multi-Track
Multi-track tyres are similar to the kind used on automobiles. These have footprints in varying sizes that allow the tyres to grip the ground well in various conditions. The shoulder of the tyre is the most important part of a multi-track tyre to consider, as it is responsible for cornering and the mower's effect on turf. Look for round and square shoulders to find the best multi-track treads.
Round Shoulder
Tyres with a round shoulder tread pattern have a low tread depth and are designed to keep grass damage to a minimum. They have a more traditional tread pattern, and provide more traction than sawtooth tyres.
Square Shoulder
Square shoulder tyres have a deeper tread than round shoulders, and have a larger footprint. These tyres are designed to handle wet and soft areas more efficiently, and provide better traction for slopes. However, these tyres are also more likely to cause damage to turf.
Lug
Tyres with a lug tread are large, and typically used on garden tractors and the largest ride-on mowers. These units provide the best traction possible, and perform well on hills, loose soil, wet grass, and other difficult ground conditions. Although they handle well, the deep tread on lug tyres are liable to pull up turf and cause other types of damage to the ground.
Deck Wheels
The deck wheels on ride-on mowers and garden tractors help the mower navigate uneven terrain, and can alert the rider to the presence of obstacles such as edging or other items that should be kept away from the blades of the mower. Replacement deck wheels are available for ride-on mowers, and can often be purchased as individual units.
Mower-Specific Wheels
Be sure to purchase wheels that fit the model of mower that is being used. Most mowers specify the type and size of wheel that can be used with the machine. This information is included in the owner's manual, and should be adhered to in order to ensure proper use of the mower. In some cases, wheels may indicate the types of mowers they are compatible with, such as a particular brand or line of products.
Used Wheels
Buyers on a budget can choose to shop for used wheels. These items can be found in excellent condition, and are a useful way to save money. Look for pairs and sets for an easy way to replace all the wheels on a vehicle at little cost.
Tyre Maintenance
Proper maintenance of lawnmower tyres can prolong their usefulness, and save buyers money in the long run. The most important thing to consider is the tyres' air pressure. Low or high air pressure levels can result in premature wear to the tyre tread, and may even result in damage to the tyre, like a blowout. Look for the suggested psi on a tyre and keep air pressure levels as close to the recommended level as possible. A small tyre pressure gauge can be helpful in this process.
Tyres can be refilled at gas stations and auto maintenance shops for a small fee, though it can be much easier to refill using an air compressor at home. The price of these items is often worth the time and money they can save owners.
How to Buy Wheels for Ride-On Mowers on eBay
All types of wheels for ride-on mowers can be purchased from sellers on eBay. Searches for these items can be conducted by entering terms into the search field. For example, begin a broad search by entering "lawnmower wheel" on the homepage. The search engine retains keywords you've entered from one page to the next, and new terms can be added to narrow listings further. It is also possible to use eBay's category options to find specific items. These appear on every search results page, and can be used to find new or used items, and narrow listings by brand, shipping methods, and other options.
Read item listings before making a purchase to ensure a positive buying experience. Be clear on the price of the item, as well as any shipping charges that will be included. You may wish to verify the seller's delivery options, as well. Read the full item description provided by the seller, and examine all available photos, especially if purchasing a used item. Contact the seller for more information about an item.
Sellers on eBay are given ratings by their customers, and this information can be used to find reliable eBay users. Look for the positive feedback rating of a seller in item listings. This reflects the satisfaction of buyers within the past 12 months. Average ratings for specific aspects of a seller's performance, such as accuracy of item descriptions and shipping speeds, can also be seen by opening the user's full profile. To do this, click on the name of a seller in an item listing.
Conclusion
Wheels for ride-on lawnmowers are produced in a wide range of styles and sizes, and it is important to find the right fitting wheels for a mower to ensure proper performance. The tread on a tyre is one of the first things buyers should consider. Treads like rib or sawtooth protect turf, but provide little traction. Multi-track treads are better suited to mowing wet ground or slopes, and are designed with several different patterns and shoulder treads. In general, deeper treads provide more traction, but are more likely to damage turf.
Maintain tyres by keeping them at the manufacturer's recommended psi. Purchase a small tyre pressure gauge to check the psi on a regular basis, and consider purchasing an air compressor to refill tyres quickly and easily from home.
Wheels for ride-on mowers can be purchased from hardware stores, lawnmower retailers, and online sellers. Marketplaces like eBay have a high number of listings from both private and commercial sellers, and buyers can also choose to purchase used items. Shop around to find the best prices available, and compare products to choose the most appropriate treads. With a bit of patience, buyers can find wheels that will provide many years of use.