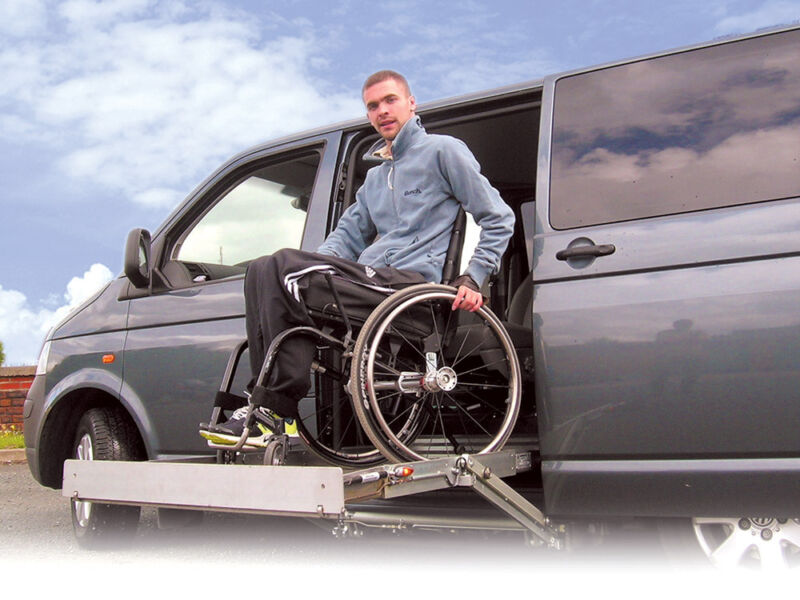 Add a caption
Wheelchair Accessible Vehicle With Side Access
Click to Edit caption
When choosing a
wheelchair accessible vehicle
, or WAV as it's known in the trade, it's important to ensure the vehicle chosen meets the exact needs of your disability or mobility issue. This guide has been written to highlight some of the things to consider and ask yourself before parting with any money or entering into the Motability Contract Hire Scheme.
Ensure You Take A Test Drive
First things first even if buying off Ebay a test drive of any prospective vehicle is a must. Most if not all companies and individuals will cater for this. Companies including Brook Miller Mobility offer test drives at their showroom and can also arrange a free no obligation UK mainland home visit where all aspects of buying a WAV are explained and checked to make sure you get the right vehicle for your needs. It's simple don't bid for an auction related item without test driving your wheelchair accessible vehicle.
Vehicle, Driver & Passenger Requirements
Upon arranging a home visit or going to a showroom a specialist WAV salesperson will likely gather the following information.
Is the vehicle for a disabled passenger or driver?
Is the vehicle to transport a scooter or wheelchair?
Can the user transfer?
Does the user have a manual or electric wheelchair?
Will the wheelchair user fit into the vehicle comfortably?
Is your wheelchair crash tested?
How many passengers excluding the wheelchair user will the vehicle be carrying?
Is any additional equipment required?
Where does the wheelchair passenger need to be located in the vehicle?
Finding The Best Option For You
Having the information above will greatly assist the WAV specialist in assessing whether an item they have for sale on Ebay is the right choice for you or whether there might be a more suitable alternative. But also you should consider;
How big do you need the vehicle to be?
The appearance and style, you might be less mobile but that doesn't mean you want something that screams disabled
What is your budget?
Consider the entrance and internal head height of the vehicle
No Obligation Home Demonstrations
If you can get a no obligation UK mainland home demonstration then go for it. You can see how it looks and fits on your drive or in your neighbourhood. Furthermore you can have a second opinion from your partner, relative, friend or pet! You get the idea, it's about ensuring the vehicle is just right for you and has all your specific requirements.

However one advantage of visiting the showroom by appointment is that a retailer can show you a full range of vehicles, both new, nearly new and used. Demonstrations as per the home visits are carried out by highly experienced WAV specialists who will pass on their knowledge and make sure you get exactly what you need.
Different Vehicle Solutions
One size doesn't fit all in this instance and vehicle adaptations, such as turny seats, hoists, wheelchair stowage and many more are available if a fully converted Wheelchair Accessible Vehicle isn't for you. These types of adaptations usually require the wheelchair user to transfer.

A fully converted WAV will be fitted with either a hydraulic lift or have a lowered floor and lightweight rear ramp. Automatic entry is also available for the wheelchair driver, it's never been easier to get a car that works the way you need it to.

Before making your decision on the type of vehicle required you must first have a demonstration to check the passenger/driver can travel both SAFELY and COMFORTABLY.
Is The Vehicle Right For You?
Dimensions
Three of the most important aspects of buying a WAV are checking the height, the width and the total length of the seated wheelchair passenger. These should be checked whichever vehicle you choose, especially the entrance and internal head heights as mentioned earlier. The following checks should be made prior to buying for the passenger or driver respectfully.
Wheelchair Passenger Solution
Check the position of the wheelchair passenger within the vehicle in relation to the driver
Eye level, visibility and access to the wheelchair passenger should also be considered
Are restraints, tie downs and safety belts tested against recognised standards?
Is accessing the vehicle simple and hassle free?
Is there room for a winch or other adaptations if needed?
Driver Solution
Can the wheelchair driver gain access to the vehicle simply and safely?
Does the wheelchair driver need added assistance to gain access?
Does the size of the vehicle suit your needs?
Do you require any additional adaptations such as lightened steering, electronic handbrake etc?
How many passenger seats are required?
If a wheelchair accessible vehicle is listed within the Ebay classifieds then there might be more than one means of payment available.

Option 1 – Cash purchase
Both new and used vehicles are available for cash purchase. This can be payable either by cash, bank transfer, debit card or credit card (credit card payments often require a 2.5% charge). An initial deposit is usually taken to secure the vehicle.

Option 2 – Finance
There are some established WAV finance companies out there that are worth considering, these include Southern Finance. Usually after an agreed deposit and completion of finance documentation the vehicle will be released.

Option 3 – Motability Scheme
The Motability Scheme is a government backed scheme offering a contract hire for fully converted vehicles. An advanced payment is required and your mobility allowance covers the monthly lease rental. Usual lease terms are 5 years and 3 years for nearly new vehicles. Grants are also available for those who are unable to afford the initial advance payment.


RAC Warranty & Breakdown Cover
Some car mobility specialists include breakdown cover with their wheelchair accessible vehicles. Look out for ones that include warranties like the 12 month Gold RAC Warranty and Breakdown which is peace of mind and ensures the car is fully checked and refurbished prior to the sale.
Manufacturer's Warranty
This is where the manufacturer covers the repairs (subject to manufacturer's terms) on your vehicle if they do not relate to the conversion. This is also relevant on used vehicles if the manufactures warranty still applies, ensure you ask whether there is any remaining warranty on the vehicle.
Conversion & Adaptation Warranty
The Motability Scheme offers a warranty for the full length of the agreement on all their vehicles as stated in the guidelines. But if you purchase a new WAV privately the conversion is generally only covered for 12 months. Many retailers also offer a 3 month drive away warranty (excluding batteries) on used vehicles. Be sure of exactly what you're getting prior to signing paper work.
We hope you find this guide useful. If you feel there is anything missing that you'd like us to cover then please comment. We would also appreciate your thumbs up!
Checkout Wheelchair Accessible Vehicles for sale on Ebay