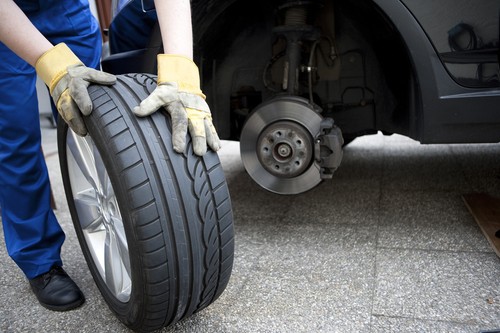 A vehicle wheel and tyre package offers car owners the opportunity to buy a tyre and rim in one package. Typically sold as part of a four-tyre set, shoppers can get a good deal on a wheel and tyre package, at least online, as opposed to buying them separately. This allows vehicle owners to save money and provides the option of buying a better tyre for the money spent.
But first, shoppers need to research the various available wheels with tyre packages. This includes finding out about rim width and diameter, rim material and finish, and tyre type. Car owners should also make sure to get the correct bolt pattern for their vehicle. Knowing what to look for is just as important a consideration as setting a budget for how much a shopper wants to spend on their tyre and rim set. Shoppers can buy wheels with tyres at local tyre shops and online through eBay and other sites.
Rims and Tyres
Wheels, more commonly known as rims, add to the overall appeal of a vehicle with unique designs and material types. Wheels come in different materials, steel or alloy, that in turn can have a finish applied. The tyres on the rims provide traction and control while driving. Tyre type helps determine the driving conditions the tyre operates best under. Some common types include winter and summer tyres. The sections below provide a more detailed look at wheels with tyres.
Overview of Rims
Rims have many meanings attached to the name. Though the term rim sometimes refers to just the outer edge of a wheel, most commonly, a rim refers to the entire metal part to which the tyre is mounted, not just the edge. The sections below provide more information on the different rim materials and finishes, as well as the difference between rim width, diameter, and bolt pattern.
Rim Materials
Rim material plays a major role in overall product cost. While a majority of rims only come in alloy materials, shoppers can still find steel rims if desired. The following table details both types of rim materials.
| Material Types | Description |
| --- | --- |
| | Alloys, such as aluminium, commonly find use in current rims; lightweight; cost more than steel rims; not as durable |
| | Heavy and durable; not as flexible as alloy wheels; costs less than alloy wheels; does not dissipate heat as well as an alloy wheel |
While the cost of a steel rim can make them more attractive initially, alloy wheels offer a better investment. Their light weight and ability to dissipate heat and bend under the various stresses imposed upon them while driving make alloy wheels an overall better choice.
Rim Width and Diameter
When buying rims, shoppers should know the width and diameter of the rim that they need. They should also know the difference between the two terms: width and diameter. The measurement between the inner edge of the lip of the rim straight across to the inner edge of the other lip determines rim width. The measurement of the rim across its face from one edge to the other at the widest point determines rim diameter.
Shoppers can use these two numbers to determine the size of the wheel and tyre package that they need. When having a tyre installed onto a rim, vehicle owners should make sure that the tyre fits correctly onto the rim before purchasing. A tyre not of the appropriate size can break free of the rim, causing potential damage to the vehicle, rim, and tyre. In extreme cases, such as at high speeds, personal injury can also occur.
Rim Finish
Rim finish can have a big impact on the look of a vehicle. The table below talks about the various rim finishes available, including polished and chromed rims, among others.
| Finish Types | Description |
| --- | --- |
| | A majority of alloyed wheels have a painted finish; helps protect the wheel from corrosion and damage |
| | Typically either polished traditionally by machine or brushed; clear coat applied after the polishing process to help protect polished look |
| | A shiny coating applied onto the rim material; scratches easily; drivers should avoid using during frequent inclement weather |
| | Involves the application of a translucent paint over silver or black paint; gives rim a deep, inner glow |
When deciding upon a rim finish, vehicle owners should keep different driving conditions in mind. While most rim finishes have a clear coat applied as protection, inclement weather can damage a finish. Shoppers should plan for rain and snow and have an alternate set of rims to use in such conditions.
Spinners
A current trend with vehicle wheels, spinners spin around the rim of the wheel. They act as a decorative attachment and rotate independently through the use of bearings, which isolates the spinner from the wheel. This enables the spinner to turn when the wheel sits still.
Bolt Pattern
The bolt pattern of a rim plays a big factor in determining which vehicles they can go on. The bolt pattern on the wheel hub must match up with that on the rim. Otherwise, owners cannot install the rim on the vehicle. Rims have some common bolt patterns, including three, four, five, and six studs.
Overview of Tyres
In addition to rims, the tyres placed on them play a large part in vehicle control and stability. The materials that make up tyres help them grip the road and provide the traction that allows the vehicle to move safely on motorways and roads. Made up of various types of rubber, including natural and synthetic rubber, tyres consist of a body and tread. The body of the tyre provides stability and helps absorb some of the shock of the road, while the tread provides the actual traction. Compressed air fills the inside of the tyre that come down to one of two designs, belted or radial. The following section details the different types of tyres available.
Aspect Ratio
The aspect ratio of a tyre provides the percentage of the height of a tyre from the bead to the top of the tread as compared to its width. So if a tyre has an aspect ratio of 75 per cent, then its height is 75 per cent of the width of the tyre. The smaller the aspect ratio, the wider the tyre becomes in relation to the height.
Types of Tyres
Tyres come in various types, most often based on the weather or terrain drivers plan to use them in. The following table gives the common tyre types according to the demands of the weather, terrain, and even performance.
| Tyre Types | Description |
| --- | --- |
| | For use on both wet and dry roads; excellent braking and driving performance |
| | Provide excellent grip in winter weather conditions; may not see much use in areas that have milder winters |
| | Sacrifice performance to allow for year round use in all conditions; use winter tyres for better handling in snow and ice |
| | Most commonly used on SUVs and light trucks; stiffer sidewalls and bigger tread patterns make them ideal for off-road use |
| | Designed with fast cars in mind; help grip curves; softer rubber means performance tyres do not last as long as other tyre types |
Drivers should always use tyres with plenty of tread while driving. If they find that the vehicle loses grip while in motion, especially when starting in the rain, they should consider replacing their tyres.
Shop for Wheels With Tyres on eBay
Shoppers who have decided to shop for their wheels with tyres online on eBay can perform a search using the search box found on any eBay page. They can enter keywords associated with wheels with tyres into the search box. Search terms such as "Team Dynamics wheels with tyres" and "15 inch wheels with tires" pull up a list of specific products. Shoppers can then narrow down their search by clicking on individual categories. This allows shoppers to peruse wheels with tyres according to product cost, quality, size, finish, material, bolt hole pattern, and more.
Shoppers who need help searching with keywords can look for advice on the eBay search tips page. Moreover, eBay shops provide another good source for product options. Shoppers can also click the Ask a Question link on any listing page if they have questions about a product listing. Finally, shoppers can and should investigate the experience other shoppers have had with a seller by looking at the seller's feedback rating.
Conclusion
Whether buying a replacement set of wheels and tyres or just a second set to use during the winter, drivers should always have weather-appropriate tyres installed on their vehicle. Vehicle owners should keep in mind the fact that if they have a finish on their wheels, inclement weather can damage them. If they must drive in winter or wet weather, they should consider either changing out the wheels and tyres for a set with a finish more resistant to such weather or at the very least clean the wheels off at the first available opportunity.
Drivers should likewise keep their tyres properly inflated to the recommended levels. Otherwise the tyre can heat up to excessive heats if underinflated, which can cause the tyre to weaken and reduce its lifespan. Tyres that have too much air can provide a rougher ride and not supply as much grip. When shopping for tyres and wheels with tyres, shoppers can use a local tyre shop or purchase online through sites such as eBay.