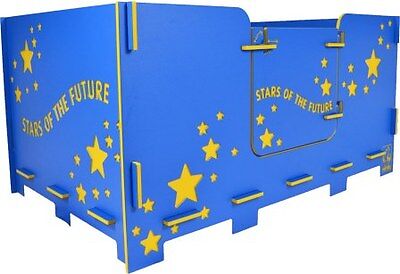 Add a caption
Nurture | Stars of the Future | Large, Whelping Box |
Cheap is not cheerful
When your treasured pet becomes a mother she deserves a warm, comfortable, clean environment to rear her little ones. After all, her babies are her most treasured gift to you.
The best you can offer her is a Nurture Whelping box. Proud to supply Guide Dogs UK & Crufts Supreme Champions.
What are the benefits?
Nurture is founded by a Dog breeder with 30 years experience, who also happens to be a materials scientist. Fed up with poor alternatives, our system was devised as the best solution for our dogs. Word spread and here we are, but why are we better than the rest?

Hygiene | Our units are made from a highly engineered form of HDPE, you might recognise it as "Chopping board" plastic. Rigid, tough and strong, it is also food grade and can be bleached, boiled, pressure washed and steamed, making it perfect for this purpose.

Safety | The specific material we use was developed for use in children's playground equipment. It is tested to European safety standards and is TUV approved. No such standards exist for dogs. It will never split, crack or become brittle, making it very, very safe. The material is also thermally insulative.

Durability | Our units carry an unrivalled 10 Year Warranty. You can safely stand in them with your pet for assistance or reassurance. The material is designed to perform in external conditions, so between uses the units can be stored outdoors. The density of the material is better than many dog chew toys, making it perfect for determined dogs.

Simplicity | Our patent pending design removes the need for any nuts, bolts or screws. The units simply slot together and can be assembled in under 3 minutes. Simply slot together and tap home with a rubber mallet and insert the roll retreat rails (if desired).

Design | The units are very strong, so even when occupied, they can be slid around for cleaning beneath. The material is colourful due to its roots in childrens play, but we have worked hard to make the designs fun, bright and relevant. You can have your unit personalised and some designs include Swarovski crystals!

Size | The market is awash with smaller Whelping boxes, but when it comes to the giant breeds the options are limited. Our units are made up to 8ft long and 4ft wide, with two central supports they can accomodate the very largest of the giant breeds as well as the very largest of owners!
The alternatives
Disposable | When the bitch delivers a puppy, amniotic fluid is released. Sterile until it hits the air, within hours this fluid forms the basis for a bacterial soup. Keep it in a warm absorbent environment for 4-6 weeks and you have a perfect breeding ground for all manner of environmental illnesses.

Wooden | The same applies, even varnished the bacteria penetrate into the grain. A used wooden whelping box typically harbours more bacteria than the average loo seat! Not optimal puppy rearing conditions.

UPVC | This material was developed for windows. It has nooks and cranny's which require cotton bud cleaning. Bleaching and steaming will cause cracking and splitting, it has a low tensile strength so cannot be stood on and lacks rigidity. The systems available are tricky to assemble and have many component parts. They can't be stored externally.
It all adds up...
When you consider the purchase of one unit is typically far less than the sale value of a single puppy, the benefits become clear. Our client list includes Guide Dogs UK and the Crufts Supreme champion 2014 kennel, Afterglow. Even for small scale breeders, the benefits of easy cleaning, warmth and and safety, coupled with stylish presentation- all add up.
Reviews
Please view our website or facebook page for just some of our rave reviews. With a host of additional options about to be launched, including playpens, the sky is the limit!