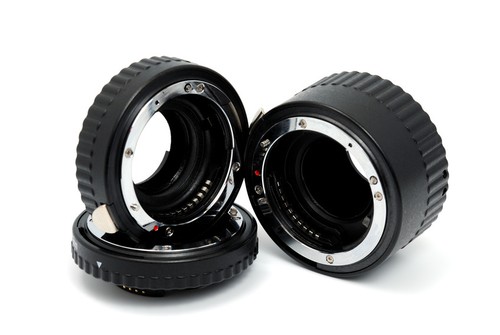 Lens adapters and mounts allow a photographer to extend the original capacity of their camera, introducing speciality lenses to their work, which would otherwise be incompatible. These devices enable a photographer to progress from the three standard lenses, normal, telephoto, and wide, to using interchangeable and more diverse equipment. The sizes, specifications, and types available mean every customer can be confident in finding a lens adapter or mount that will fit their existing set-up. Look through the various brands and then focus on specific items in order to find an appropriate product that will provide a long, reliable service and many successful shots.
About Lens Adapters and Mounts
Both lens mounts and lens adapters are considered to be a flexible and economical way of extending a photographers range. A lens mount is used with cameras that have detachable lenses. One end attaches to the body of the camera, and the other end is coupled to a lens. Mounts have a screw-on or a bayonet plug in design to achieve a secure fit.
Some lens mounts are designed to work with all standard lenses; however, a lens mount is often a proprietary product. It is supplied as part of the original purchase and may only be designed to work with lenses that are of the same brand. Occasionally, even a lens and a camera made by the same manufacturer, but as part of different ranges, will not be compatible.
Lens adapters give photographers the opportunity to bypass this problem by modifying their camera to accept a wider variety of lenses. No single brand is better than another when it comes to lens production, and using these products gives consumers a chance to cherry pick the best lenses for the job, regardless of the original manufacturer.
Moreover, quality lenses may outlast cameras and eventually be sold as vintage equipment. These older yet high quality lenses achieve impressive results but would be obsolete if they could not be combined with modern technology using lens adapters.
Choosing Lens Adapters and Mounts
In general, deciding whether to buy a lens adapter or a lens mount - and which individual item to buy – is a choice based upon personal preference and the needs of each photographer. However, there are a number of factors that can be considered in order to refine the search. These are: whether the new item will be compatible with the consumer's present set-up, the photographic effects they wish to create, and what will constitute a reasonable price range.
Types of Cameras that have Lens Mounts
A lens mount is an interface between a camera and a lens. Some are simply screw on fitments, while others are capable of electronic communication with the camera and carrying out corresponding mechanical movements. Here is a table to show two of the most commonly found cameras with detachable lenses.
| | |
| --- | --- |
| Single-lens Reflex (SLR) Camera | Single-lens reflex cameras are modern and functional; they are extremely popular with all levels of photographer. The image hits a mirror inside the body of the camera and is then channelled upward through a prism to the eyepiece. Therefore, what appears in the view finder is an exact representation of what the lens sees and how the recorded image will look. |
| Rangefinder Camera | Although rangefinder cameras are often seen as the predecessor of the SLR camera, they are still in active use today. The rangefinder feature enables the user to measure distance and adjust the camera for maximum sharpness. However, in this process the eyepiece is presented with a marginally different image to the lens. Making the final shot an approximation of what the photographer saw. |
Using a Lens Adapter
Although the optic they attach to can be very high-tech, the lens adapter itself is simply a metal ring. To use them, uncouple the lens which is currently in situ from the camera body. Next, connect the lens adapter and ensure it is securely fixed in place, then use as normal. Occasionally, photographers feel the added weight of an unfamiliar lens is uncomfortable; if this is the case, it may be helpful to use a tripod. Furthermore, the nature of speciality photography means it is often beneficial to have both hands free to work on the shot. Tripods offer this option.
Using a Speciality Lens with a Lens Adapter
By connecting a lens adapter to use speciality lenses, a photographer can broaden their skills and expand their output markedly. There are a huge array of lenses available, ones that enhance the natural appearance of a subject and others that transform it completely. These niche lenses are widely available in many sizes and specifications. Here is a table to show four of the speciality lenses that can be coupled to an existing set-up with a lens adapter.
| | |
| --- | --- |
| Fast Lens | A fast lens needs less light to achieve a good, clear shot. The shutter speed allows naturalistic portraits and still life images to be taken indoors or outside in failing light. Free from the confines of harsh studio lighting, photographers have far more scope to put their own stamp on a shot. |
| Lensbaby | The Lensbaby range of accessories are notable for their selective focus feature. This brings out one aspect of an image into sharp definition, while the rest of the shot can retain a softer, less focussed feel. |
| Tilt-Shift Lens | The tilt-shift lens changes perspective in such a way that the subjects are rendered in toy-like proportions. A city, playground, or park takes on the appearance of a model village when seen through this quirky lens. |
| UV Lens | UV lenses strip the natural light from an image, only allowing UV rays to be photographed. The results are unique and fascinating. Dark skies, white foliage, and milky skinned people are captured in conspicuous contrast to their appearance within the full light spectrum. |
Care and Maintenance of Lens Adapters and Mounts
Lens adapters and mounts are uncomplicated items that rarely present any problems to the user. However, a few simple precautions and practices will minimise the small risk of them becoming damaged and working loose. Always remove and connect accessories in a clean environment, preferably indoors. In the open, protect the equipment as much as possible from the elements or sea spray by using rain hoods or camera armour in more rugged conditions. Guard against dust and grit getting into the coupling by using a soft brush to flush out any stray particles. Alternatively, a compressed air blower can rid any photographic equipment of dust. It is also possible to buy specialist cleaning kits for cameras, lens adapters, and mounts. These contain swabs and fluid designed to wipe away smudges and more stubborn marks. After use, always store photographic equipment in a clean, airtight container away from any damp areas.
Buying Lens Adapters and Mounts on eBay
In order to find a lens adapter or a mount on eBay, start by heading to the homepage. From here, click on All Categories and follow this by selecting Cameras & Photography. Then choose Lenses & Filters and then the tab marked Lens Adapters, Mounts and Tubes. Next, browse through the listings, or narrow the search further by checking the options boxes in the shaded area to the left. Alternatively, to look for a specific item, enter more detailed search terms in the query box. This is located at the top of any eBay page in a central position. For example, to find an unused Canon lens adapter, type 'new Canon lens adapter' into the search box.
Conclusion
Lens adapters and lens mounts can be used for a variety of reasons. Primarily, they save on the expense of buying a number of cameras, allowing any brands to be coupled together for optimum performance. Each photographer will have different requirements and existing equipment; therefore, be sure to choose a lens adapter or lens mount that is the most useful and suitable. To feel confident in a purchase, spend time looking at the brands and sellers, and then focus in on listings and individual items before making a final decision. A well-made and appropriate lens adapter or lens mount will give each photographer the chance to take a diverse range of quality images for many years to come.