When its a ballistics (bulletproof) or a fragmentation vest or made of frag vest material.
When it isn't certified to a industry standard.
PSDB Stab Resistance Standard for Body Armour:
KR1

is the lowest protection level and is tested at a performance level of 24 joules of energy. It
should offer maximum periods of wear in a low risk environment.

KR2

is a medium protection level, tested at a performance level of 33 joules.

KR3

is a high protection level tested at a performance level of 43 joules. This would be
suitable for short periods of wear in high-risk situations.
Also look for SP (spike resistance) rating on the vest. The spike can be compared to a "Ice Pick" or any weapon ground to a point.
SP1 is lowest level and tested to performance level of 24 joules.
SP2 is medium level, tested to level of 33 joules.
SP3 is high risk areas, tested to level of 43 joules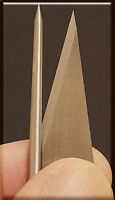 Spike and blade used for tests.
You also have to consider how old the protective material is and if its been looked after properly.

Has it been sat on a shelf since new or has it seen active use?
Has it been cared for or abused?
If buying a second hand vest:
find out the maker of the vest and look at their website.
ask the seller the level of protection (get a pic of the tag on the vest) and check its the right protection level for you.
get a size that fits, ill fitting vest doesn't offer full protection and will be uncomfortable to wear over long periods.

Its there to save your or a loved ones life, it only needs to fail once.
Remember bullet proof doesn't mean stab proof!

By rights the word "proof" is a false claim, "resistant" should really be used.


Hope this helps