When to put "as new" and when not!
Just thought I'd have a bit of a rant! I have just bought a DAB tuner for my separates system which had a stock photo (a photo eBay provides not a photo of the actual item for sale) and the seller had "mint condition - as new, in original box".
I emailed the seller to double check the condition as it is to sit with other stereo separates I have had from brand new so I don't want it looking the odd one out. The seller assured me it was "as new in original box" and "has hardly been used as I have an ipod". I thought great its the one for me and put in my highest bid.
I won, paid and received the DAB tuner. It was in its original box (which was tatty but I let this go as boxes get tatty) but the annoying thing was the tuner although not marked was very grubby and what I would actually call dirty - not dusty - grubby. So not as new in my eye!!
I really wish people would stop saying "as new" - if its not like the day you took it out the box then its not as new at all - its anything but as new!!
Use "As New" if:
In my opinion you should not says its as new unless you bought an item, never used it then re-boxed it immediately - because then it is 100% like new.

Do not use "As New" if:

As new is NOT when you used the item for months (or years) then decided to sell it because its gathered so much dust you cant be bothered to clean it, so you dug the original box out the loft and shoved it on eBay with a stock photo!!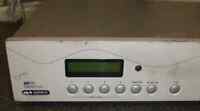 Rant over :-)
There is a few points to take from this -
Buyers
*ask to see a REAL photo of the item

*ask how long they have had the item
*ask how long they used the item
*take "as new" as not new at all...
Sellers
*Use your OWN photos not stock photos
*Be as descriptive as you can about the condition of your item.
Thanks for reading.