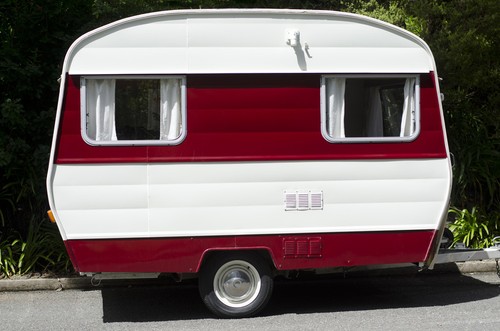 Catering trailers are vehicles that sell prepared food. This service is commonly called 'mobile catering' and is common at outdoor events. The vehicles are also known as 'concession trailers' and 'lunch wagons'. Generally, they have refrigeration and/or cooking equipment, and some may also have a small kitchen compartment. There are several requirements that have to be met before one can operate a catering trailer in the UK.
A buyer should have at least some basic knowledge of the various types of catering trailers and their respective features, including accessories and add-ons for catering trailers, and he or she may want to evaluate the merits of renting a trailer versus purchasing one. Keeping in mind the important buying considerations and following various tips and suggestions enables a buyer to make the right purchasing choice. Although they can be acquired from some restaurant supply dealers, catering trailers and their accessories are sometimes purchased on the Internet. eBay features an assorted collection of catering trailers with various features.
Requirements for Operating Catering Trailers
Operating catering trailers can turn into a great business opportunity, especially for food professionals. With catering trailers, professionals have a golden opportunity to reach customers at will rather than waiting for them to show up, and this gives them greater control over increasing the overall profitability of the business. There are, however, certain requirements that must be fulfilled before one can carry on with this business. Registration, inspection, sanitation certification, and licensing are the primary requirements for operating catering trailers in the UK as well as in many other countries. These requirements must be met to ensure success and safety.
Registration
Register your business with the proper business agencies before starting the venture. All food businesses, mobile catering or otherwise, are subject to inspection by local health agencies. Registration should be done a month prior to the probable date of opening so that the catering trailer can be scheduled and prepared for inspection. Operators can contact local authorities for specific details.
Inspection
Once you have applied for registration, a health officer inspects the catering trailer at an appointed time. The entire business is evaluated in numerous categories, such as food preparation, cleanliness of the trailer, storage areas, and waste management, to name a few. Assessments regarding the safety systems and potential hazards are carried out, and a time-bound written notice is issued if there is a need for any improvements or repairs.
Sanitation Certification
In many countries, certification of food hygiene may be required to meet government policies. In order to earn a food hygiene or sanitation certification, you are supposed to have knowledge of adequate temperatures of reheated or cooked foods, their freezing and refrigeration temperatures, and how to avoid cross and chemical contamination of various products. Local authorities can guide you to various agencies for obtaining this training before you operate a catering trailer.
Licensing
Before you open for business, you may be required to acquire a caterer's licence, depending on your area. There may be certain restricted or prohibited operating areas where a special licence or special permission is required to operate. For late night hours, you may be required to carry a late night refreshment licence.
Common Places to Operate Catering Trailers
With the increase in demand for food mobility, mobile catering is considered by many to be emerging as one of the most profitable businesses in the UK. Keeping in mind this rising trend, catering trailers have gained popularity with the masses with more and more food enthusiasts considering their use for mobile catering events.
A great thing about this business is that you can always move to other places in case your business is not flourishing the way you want. In a worst case scenario, if you are not earning any profit at all, you can always sell the catering trailer to acquire a good portion of your money back. It should, therefore, be realised that the choice of the right location is highly critical in this business.
Shows or Events
Thousands of outdoor shows or events take place across the UK around the year. Catering trailers can be operated at most of these locations with some time and resource management. Talk to the relevant authorities beforehand so that you do not have to face any problems later. There are many businesses out there that sell detailed information about events in the form of event guides. Anyone interested in pursuing a mobile catering business should make contact with such businesses, as some of them have years of experience collecting information about profitable events.
Private Functions
Marriages, birthday parties, funerals, and other private functions are also an excellent place for mobile catering businesses. You can play the host or operate an independent business nearby. Catering trailers can be operated in many other unique ways in the UK. Once you start getting business and do well, more business may rapidly come your way.
Roadside
For beginners, operating catering trailers on the roadside may be an excellent option. Most of the mobile catering businesses go through this option because of the numerous advantages it has for beginners. No rent, no contracts, no licence requirements, no obligations, and several other benefits, including high profit margins, make this a popular option. This is starting to become more limited, however, as several local councils have legislated to put an end to this freedom.
Licensed Pitch
Licensed pitch can be any place that is licensed by the relevant authorities. From a car park to a place in the town centre, it could be anywhere. Site concessionaires operating for large retail groups also license places in their car parks for operating catering trailers.
Markets or Car Boots
Markets or car boots are often the first choice of beginners in this industry. These pitches are hard to acquire considering the competition, and good pitches are highly sought after. Ownership switches between traders of these pitches range in thousands to tens of thousands of pounds.
Buying Considerations and Tips for Catering Trailers
Catering trailers if correctly operated can rapidly generate thousands of pounds per week. There are, however, certain considerations to keep in mind in order to excel. Never compromise over the licences. Make sure that the catering trailer you are about to purchase has met all legal obligations. The same holds true for the related accessories. In order to excel and be able to operate at large events, this must be your primary consideration as high profile events and large organisations place orders after verifications. Keep an eye on your licence expiry dates. Never compromise over a licence as you may have to pay the penalty, and you might also lose business with large organisations.
For second hand catering trailers, be over-cautious and make sure they have recently passed the gas and electrical inspections and are in the same condition as mentioned by the seller. Also check other regulations, if any.
Consider buying event guides for finding ideal locations year-round. Some businesses sell such guides, and these can help a lot in planning your travel. Use social media for keeping yourself up to date with the planned events in your area. Although it should not be a replacement for buying a yearly event guide, you do have access to a lot of free information about many events.
Buying Catering Trailers on eBay
Catering trailers can be found on eBay by simply entering common search terms like catering trailers, concession trailers, trailers, et cetera into the search bar on the eBay homepage. For some queries, you might also get to see related searches suggested by eBay that sometimes help a lot in the purchasing process and getting down to the desired product in no time. You can always filter out the results based on your own preferences by selecting the various options on the results page.
One key recommended practice is to look for catering trailers and relevant parts and accessories in your locality first before searching elsewhere. If you are lucky enough to find the desired product in your neighbourhood, you get to save on delivery charges. In this case, as soon as the order is successfully processed, you can pick up your order from the seller at a time of your convenience. Another good practice is going through the seller's history and feedback to gain some insight into the seller's business practices.
Conclusion
Vehicles that are used to serve food are called 'catering trailers', 'concession trailers', or 'lunch wagons', while the service is called 'mobile catering'. These types of vehicles typically have heating and refrigeration units. If you are interested in pursuing a mobile catering business, you should keep in mind the various requirements and fulfil all of them to be successful in this endeavour. Some of the most common requirements for operating catering trailers in the UK include licensing, inspection, registration, and sanitation certification. Popular places and occasions to operate catering trailers include shows, private functions, roadsides, licensed pitches, markets, and car boots.
Knowledge of the common requirements, the popular places to operate catering trailers, and the important buying considerations is imperative before deciding on a catering trailer to purchase. eBay features a wide range of catering trailers available in various types, colours, conditions, and price ranges, or you can search locally for restaurant supply dealers.