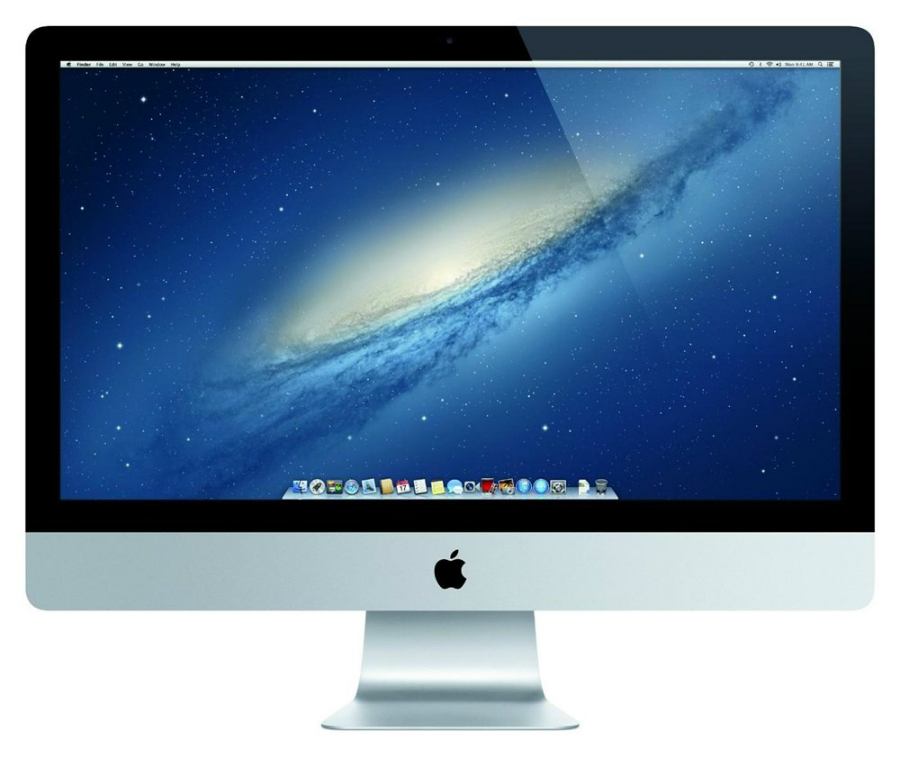 Apple computers are known around the world for their high quality, superior performance, and expensive price tag. While iPhones, iPads, and MacBooks make up the company's mobile computing platform, its main line is the MAC desktops. It was with desktops that Apple became a household name in the 1980s, and was again due to several updates to the desktop line that brought the company back into prominence during the late 1990s. Buying an Apple desktop is not very different from purchasing any other all-in-one computer, but there are several things buyers need to know. When it comes to a desktop computer, consumers should always plan for the future. A good desktop model can last for years, so make sure to get one with a bright display, lots of memory storage, and all the power that the consumer's budget can afford. Consumers can find Apple desktops for sale through Apple stores, computer shops, and online websites such as eBay.
Apple Desktops
There are three versions of Apple desktops consumers can buy. The Mac mini is the smallest of the three and comes with the least amount of memory and the slowest processor. The iMac falls into the middle category, offering above-average computing speeds. The Mac Pro is a serious contender for http://www.ebay.co.uk/sch/Apple-Desktops-All-in-Ones/111418/bn_661685/?_nkw=iMacof the most powerful home computers on the market.
Desktop Features to Look For
Consumers must pay attention to the specifications when it comes to purchasing any computer, regardless of whether it is a desktop, laptop, or tablet. However, desktops warrant a bit of extra consideration because they are slightly more expensive and last longer than other models. A customer who purchases a desktop is most likely going to be using it for several years.
Power
When computer salesmen talk about power, what they are truly referring to is the processor inside the computer. Think of the processor as the brain of the computer. The faster it is, the quicker the computer can 'think' and perform processes. Apple desktops, along with other computer brands, use several different processors in their systems. Most of them are manufactured by Intel. When it comes to processors, regardless of the name or number, the power is regulated by the number of cores a processor has. All things being equal, a processor with four cores is faster than one with two cores, and slower than one with six.
Apple Processors
Out of three Apple desktop models, the Mac mini has the smallest processor. Its speed is generally sufficient for users who mainly use their computer for word processing programmes or casual Internet browsing. The iMac features a larger processor that is ideal for handling multiple programmes at once, a great choice for users who often surf the web with multiple tabs opened while several other programmes are running in the background. Those who play online games or deal with transferring large amounts of data need the power of the Mac Pro. Its processor is second to none, but consumers pay a high price at the checkout counter for its power.
Experts recommend always buying the computer with the best processor that is still affordable. Processors are expanding at lightning speeds and even the newest models of today become obsolete within a year or so. The fastest processors tend to hold their weight better over time and since the average consumer uses a desktop for longer periods of time than a laptop, it is worth the extra cash to purchase a model with a bigger processor.
Memory
When it comes to talking about computer memory, there are two different kinds to consider: RAM and hard drive memory. RAM, or random access memory, is the amount of memory used for running computer programmes. The more RAM a computer has, the faster it works. Likewise, a high amount of RAM combined with a powerful processor results in a truly exceptional computer that outperforms at every level.
Hard Drive Memory
The other type of memory found on a computer is its hard drive memory, or storage capacity. Most of the time this is clearly listed on the computer's spec sheet, while looking up the exact RAM numbers can sometimes prove to be difficult. The hard drive stores all of the computer's data and downloaded files, including media, photos, and programmes. The larger the hard drive, the more data can be stored onto the computer. Since most owners use their desktop as their digital repository, getting a computer with a large amount of storage is the best option.
Apple Memory
The three different versions of Apple's desktop line come with varying amounts of memory. Deciding which version is best means evaluating how much memory is going to be used.
| Desktop Computer | RAM Memory (GB) | Hard Drive Storage (GB) |
| --- | --- | --- |
| Mac Mini | 2-4 | 160-500 |
| iMac | 4-16 | 500- 1TB |
| Mac Pro | 3-32 | 600 and up |
The actual specifications for each model changes as newer versions are released. However, on average consumers can expect to find the numbers listed above on their Apple computers.
Display
Unlike laptops which are limited by the size of their display screen in relation to how easy it is to pick one up and carry it away, desktop displays are much larger. They also tend to be brighter and include higher resolution quality since the computer does not depend on a battery for its operations. When it comes to displays, however, bigger is not always better.
Large displays look better and are ideal for watching movies, but they tend to not last as long as smaller ones. A small screen still has the high resolution of a larger model, but it is only limited by its size. The key feature to remember about selecting a display is to pick one that fits with the consumer's lifestyle. Apple computers are known for their startling clear resolution, so no matter what size is chosen, the consumer is bound to be happy with the outcome.
Apple Displays
Of the three Apple models, only the iMac is sold with a display. Both the Mac mini and Mac Pro do not come with a display. Instead, the consumer is only purchasing the hardware itself, such as the tower. Technically, these types of desktops are called tower desktops because they store their internal hardware in an external tower. The iMac is considered an all-in-one computer because its internal hardware is kept behind the monitor.
There are only small differences between one model and another when it comes to displays. Consumers who do like to upgrade their computer should be warned that it is far more difficult to perform upgrades on an all-in-one computer than a tower model. This is because all of the internal parts are extremely close together, making it difficult to take the computer apart even under the best circumstances. As the desktop is going to last for a few years, consumers need to consider if they want to upgrade their model at a later time to help determine which version is best now.
How to Buy Apple Desktops on eBay
Consumers can find many Apple products on eBay, including a full lineup of Apple desktops. Not only can you select from the newest models, used machines are available as well. Since Apple is known for its extremely high prices, buying a used machine may be your best option if you are under a strict budget. However, always take extra care when purchasing used merchandise by taking all available steps to accurately determine the condition of the item before purchasing it.
Search for 'Apple desktops' at first to get a broad idea of the items for sale on eBay. The results vary depending on what is currently available, but chances are that there are hundreds of items for sale. You can narrow down your search by typing in the specific model, such as 'Apple iMac' or 'Mac Pro' to get a narrow set of results. From here, you can narrow your results even further by specifying the exact version, such as the Mac Pro that uses the 6 core Intel Xeon processor, or the iMac that has 1TB of hard drive storage.
Conclusion
Apple desktops are some of the best in the business and computer users who love to play games, watch movies, or store a complete library of digital family photos love the features the Apple line offers. High quality backed up by a long lasting warranty and superior performance is Apple's calling card, and judging from its legions of devoted fans the company has proven its longevity. When it comes to finding the perfect Apple desktop on eBay, consumers need to evaluate their needs before selecting the right model. Processing speed is one way to measure which computer is better than the other, but keep in mind that computers with faster processors cost more than others. Memory size is another important factor, especially in a desktop that is going to be a storage behemoth. Evaluating all of these features helps the consumer make the right decision in which Apple desktop is a good fit for their lifestyle.