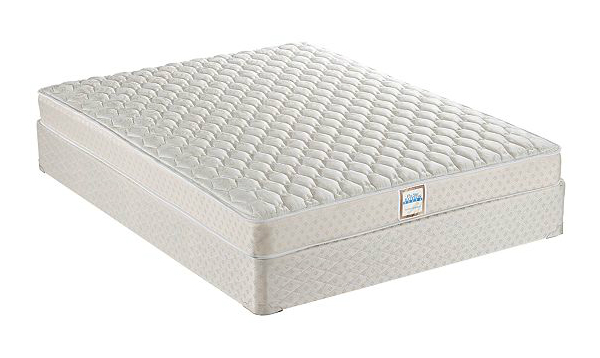 Choosing the correct mattress allows for a peaceful night's sleep, and proper rest is an essential component to feeling well-rested throughout the day. The wrong mattress can cause neck kinks, back problems, and a restless night of no sleep, so it is important to choose the best mattress for you.
People have different sleeping preferences, so the appropriate mattress firmness can vary from person to person; user preferences should be a consideration when shopping for a new one. There are a variety of different mattress types to choose from, including memory foam, natural latex, open spring, and pocket spring mattresses. Some of the most popular mattress brands are Sealy, Silentnight, and Rest Assured. Each mattress comes with important details to keep in mind. This guide will discuss these details, and in the process will cover several types of mattresses, explore a variety of brands, and talk about different important mattresses features. It also provides an introduction to typical mattress sizes, and discusses such topics as how to select a firmness, and how to care for the mattress. It also explains how and where to buy a great mattress at an affordable price.
Different Types of Mattresses
There are a variety of different mattress types to choose from. Each comes in several shapes and sizes. The table below lists each mattress type, and discusses the various features and benefits of each.
Mattress Type

Features

Benefits

Open Spring Mattress

Most common mattress

Typically inexpensive

A wire hardens the edge of the mattress, keeping it firm and retaining mattress shape

Natural Latex

Hypo-allergenic; flexible and forms to shape of the body

Essential for people who have allergies

Provides body support

Pocket Spring Mattress

Individual small springs are housed in individual pockets, allowing the springs to work independently; good for weight variance between individuals sleeping in bed

Side is stitched for strong edges

Memory-Foam Mattress

Body heat softens the foam, allowing the mattress to mould to the user's body; assists with keeping proper alignment

Helps relieve pains and aches
Selecting a type of mattress is just the first step. The next step is to consider how firm the mattress needs to be. After that, buyers must choose a size and brand. The sections below discuss these steps in depth.
Comfort Levels by Body Weight
Different levels of mattress firmness provide different comfort levels to people of different weights. It is recommended that people weighing up to 10 stones should choose a soft to firm level of comfort. Individuals weighing 10-15 stones have a variety of options for comfort level, but the recommended ranges are comfort levels between medium to extra firm. For individuals weighing over 15 stones, the recommended comfort levels are firm or extra firm.
| Weight | Recommended Comfort Level |
| --- | --- |
| Up to 10 stones | Soft to firm |
| 10-15 stones | Medium to extra firm |
| Over 15 stones | Firm or extra firm |
Selecting the proper firmness can be the difference between a restful night's sleep and no sleep at all.
Varying Mattresses Sizes
It is important to understand what mattress sizes are available, in order to choose the most appropriate size for the user. There are six different sizes of mattress. These are as follows:
Small single
Single
Small double
Double
King, and
Superking
The small single bed is approximately 75 x 190cm, while the single is 90 x 190cm. Double mattresses are the mid-range size, with the small double being 120 x 190cm, and the double being 135 x 190cm. The king sized mattresses are the largest mattress selection and expand in both width and length. The king-size is 150 x 200cm, while the super king-size mattress is the largest mattress there is, with dimensions of 180 x 200cm. Although buyers may desire a larger mattress for comfort reasons, it is important to measure the space of the room and factor in the size of the mattress before buying. Not only must the bed fit within the available space, but it should also match the bedroom stylistically. There should also be enough space in the room to flip and rotate the mattress easily.
Mattress Brands
There are a variety of mattress brands to choose from. Three popular mattress brands are Sealy, Silentnight and Rest Assured. Sealy mattresses are known for their quality, comfort, and durability. Silentnight mattresses are popular because they offer memory foam options that many people like. Rest Assured mattresses are quality beds with a unique style. Choosing a mattress brand is a matter of personal preference, so in-depth research may be necessary. The above mattress are popular, and offer a wide variety of models to choose from; however, there are also many other mattress brands available.
Mattress Features
Mattress selection doesn't end with the comfort level or type of mattress.When shopping for a mattress, there are a variety of options to choose between, and several things to know. Depending on the living situation, some features may or may not be necessary. The sections below discuss several considerations buyers should be aware of.
Mattress Odours
When a mattress is first purchased new, it typically has an array of chemical odours. Some mattresses have a more powerful, distinct smell than others. It is a good idea to allow the mattress to air out for about a week before using it.
Mattress Handles
Some mattresses come with handles. Handles assist with rotating the mattress periodically. It used to be recommended that mattresses be flipped every six months. However, many modern mattresses do not need to be flipped at all. Nevertheless, it is still a good idea to rotate mattresses head to foot so that they wear evenly.
Mattress Density
Mattress density refers to the number and quality of springs. When selecting a mattress, the a higher number of springs does not automatically equate to a better, denser mattress. The quality of the spring is more important than the number the mattress contains. The quality and quantity of the mattress density impact the firmness and comfort level of the mattress.
Mattress Finishes
There are a variety of mattress finishes, including diamond stitching and tufting. Diamond stitching is where the cover is stitched to the inner filling creating diamond patterns in the bed. Tufting makes the mattress appear dimpled, since it uses tufts attached to deep tapes in the mattress.
Mattress Covers
Some mattresses come with a mattress cover while others do not. If the mattress does not come with a mattress cover, one can be purchased separately. Mattress covers add more comfort, and keep the mattress clean. A mattress cover is much easier to clean than is an entire mattress.
Care of Mattresses
Once the mattress has been purchased, follow the brand's instructions for care. Care instructions do vary between brands and mattresses, which makes it important to find out care instructions for the specific mattress purchased.
How to Buy a Mattress on eBay
Mattresses are available in bricks-and-mortar stores, as well as online. eBay has a variety of mattresses available, and there are a lot of ways to browse the mattress selection on eBay. Start out on the homepage and type a mattress description into the search box. Search terms may include mattress type, size, or brand, depending on which factors are important to you. eBay wwill return a variety of search results based on your specifications. For a broad search, type in non-specific terms, and browse through a great many listings of different types, sizes, or brands. For a more targeted search, use more specific terms. You can then narrow down the results by choosing filter selections from the sidebar, if necessary.
Be sure to look at the detailed item descriptions, and factor all the details of the mattress into your purchase decision. Make a list of the factors that are most important to you in a mattress, and double check that list against listing descriptions. Also review seller information and feedback to ensure you are comfortable with that seller. Previous buyers leave feedback about each seller, to indicate whether they were satisfied with the transaction. Sellers with a lot of positive feedback are a better choice than those with a great deal of negative responses on their profiles.
Conclusion
Buying a mattress is a long-term decision. Mattresses are often expensive, and typically last over ten years, so choosing the right one is important to long-term sleep comfort. There are a variety of mattress factors to consider when shopping, including mattress type, comfort level, size, brand, and any extra features you may prefer. Different mattress types include natural latex, pocket spring, open spring, and memory foam. Each mattress serves a particular purpose. Mattress sizes include the small single, single, small double, double, king, and super king. Depending on the use of the mattress and the space and size of the room, a smaller mattress may be necessary. Comfort level, or firmness of a mattress, is also important. Typically, individuals who weigh more require a heavier mattress. There are quite a few different details that an individual can choose from, including handles, mattress covers, and density. Care of a mattress is also important for the lifespan of the mattress. Refer to the brand's care instructions to find how to best maintain your new mattress, to extend its usable life as long as possible.