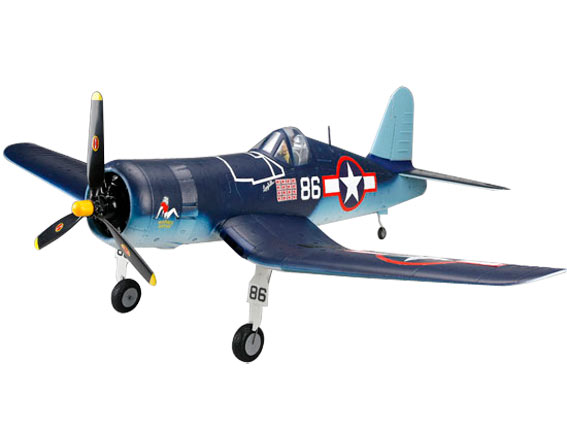 Radio control aeroplanes are smaller scale model replicas of the aircraft flown around the world. There are many different varieties of radio control aeroplanes and because of this; it may be difficult to decide which model to go for.
This guide aims to explain the different decisions one has to go through in order for the purchase of a plane that matches to the specific buyers needs.
Radio Control Aeroplane Experience
The model of radio control aeroplane that should be purchased is largely based on the level of experience of flying radio-controlled aircraft that the buyer has. There are radio control planes available for all levels of flyer but some models should only be used once a certain degree of experience has been required.
Beginner RC Aeroplanes
Buyers looking to purchase an RC aeroplane should settle with smaller scale models. There are aircraft available that are made with beginners in mind. RC Models such as 'park flyers' and indoor planes are all available for purchase.
It is widely noted that as an amateur flyer it may be best purchase what is known as a glider.This is because they are smaller in size and are electrically powered. Not only does this make them easier to fly, there is less chance of damage being caused by the plane. Noise and fume problems are also exempt from gliders. Beginner planes tend to have a 2-channel receiver control, which means that there is less to worry about for the pilot.
Intermediate RC Aeroplanes
For those who feel they have mastered the initial steps in flying radio controlled aircraft, there are a number of models available for those who do not quite feel up to the task of flying at a more advanced level. These can be found as electric or nitro fuel based planes.
Planes that are flown at this level can have up to 3-channel receiver controls, meaning that the pilot is in control of the altitude, yawl, and pitch of the plane. In terms of range, planes designed for intermediate level flyers have a further range of flight, which can be a test of a pilot's skills. Whilst they are slightly bigger in size and a little bit more complex in their flying process, they still retain a certain feeling of still being a toy.
Advanced RC Aeroplanes
The flying of radio control aeroplanes is considered to be a skill that comes with years of practice. Hobbyists who have lots of experience behind them fly planes that are as close to the real thing as possible. These are generally petrol-fuelled planes but the improvements in electric powered planes mean that experts fly aircraft of all power sources.
Advanced pilots fly planes of a much bigger to those who are beginners. They also tend to use 4-channel receiver controls, meaning that whilst flying, flyers have to control altitude, yawl, pitch and the throttle. Pilots of this standard also enjoy building their own planes from scratch. Large-scale model kits are available from the likes of eBay for those who wish to do so.
Radio Controlled Aeroplane Power Sources
There are three main power sources used in the flight of radio control aircraft. It is the power source that should also be a deciding factor as to which model RC plane is purchased. Explained below are the advantages and disadvantages of these three power sources, in order to help in the making of a decision:
Petrol:
Some radio control model aircraft run on petroleum gasoline. This type of power source provides an authentic re-enactment of the flight of a real aircraft. Because of the simple fact that a radio control aeroplane is merely a scaled down replica of an actual aircraft, the RC planes run in exactly the same manner as their bigger compatriots. Petrol can be fairly expensive for a hobbyist to buy regularly and planes that use this gas can be noisy whilst being flown.
Planes of this nature also need constant maintenance. Engines need to be cleaned after every flight to ensure performance stays at a high level. Oil also needs to be regularly checked and changed. On the other hand, petrol run planes offer realistic representations of actual plane flight, with extremely high speeds being able to be reached.
What is more, petrol planes run a lot longer than the likes of electric RC aircraft, meaning that the flyer does not have to keep changing batteries or recharging them. There are a number of petrol planes available, as well as RC plane fuel sources, on sites such as eBay, at reasonable prices.
Nitro:
Nitro planes are fairly similar to those aircraft that run on petroleum gasoline. Whilst beginners can learn to fly on Nitro RC aircraft, they require a high level of attention and care. This means that they are flown a lot by hobbyists who are dedicated to not only flying radio control planes but also by those who enjoy committing serious amounts of time to the maintenance and engineering of the aeroplane. In terms of flying a nitro plane, the experience is truer to that of an everyday bi-plane. They can reach high speeds fast, are generally quite light and because of the nature of the fuel, can stay in the air for long periods of time.
Disadvantages to nitro-fuelled planes include the same noise pollution problems that exist with petrol planes. Also, it can be expensive and time consuming using nitro RC planes. Engines need to be habitually cleaned and oil needs regular checking and changing.
Nitro planes tend to be recommended to those who already have a basic understanding of gas model engineering so as to ensure proper maintenance and safety measures are upheld.
Electric:
Electrically powered radio control planes area popular choice amongst pilots for a number of reasons. First of all, they can be used indoors as well as outdoors. This causes less hassle for the pilot in finding an area that is suitable for the flight of RC aircraft.
The reason that they can be flown indoors is that they are a lot easier to control than gas powered planes. Even if a flyer did want to take their electric plane outside, this would not be a problem. They are considerably less noisy than their gas-using counterparts whilst still being able to reach fairly high speeds and due to recent technological advancements, some models can fly at performance levels considerably close to those who use gas as power.
Electric models are also cheaper to purchase and are considerably less time consuming when it comes to their maintenance. Whilst they do need looking after, the only thing that needs changing regularly is the battery. Because they are battery-run, electric planes do tend to stay in the air for a lot less time than gas powered planes.
This, however, leads to a lot less financial commitment to the regular buying of petroleum or nitro gasoline. Whilst electric planes are flown by a whole range of skill levels, they are strongly recommended to beginners who wish to get used to the ins and outs and radio control plane flying before stepping up a level to gas planes.
Radio Control Aeroplane Building Kits
The world of radio control aeroplanes is also split into another two sections. There are both ready to fly planes available, as well as those that can be built from scratch. Here is a table explaining both:
| RC Aeroplane | Description |
| --- | --- |
| Ready-to-run | These planes, often used by beginners and intermediate pilots, require no input from the buyer in their assembly. Whilst batteries may need inserting or petrol tanks may need filling, there are no building or engineering concerns on the buyer's behalf. Ready-to-run models often come in the form of electric RC planes. |
| Assembly Required | Assembly required RC planes are generally for those who wish to commit a lot of time to the building, designing and engineering of their own personalised aircraft. Often, assembly required radio control aeroplane kits come in the form of balsa wood and the flyer is required to cut out the separate shapes themselves. This can be a lengthy and delicate process so when buying assembly required plane kits make to have the relevant experience, knowledge and tools. |
Buying Radio Control Aeroplanes Online
When buying a radio control aeroplane online and deciding which model to get, one should always make use of the variety of resources available on the Internet that can help with the decision.
Much like most model and RC vehicles, there are forums and blogs devoted to the use of radio control aeroplanes. Use these to find out any questions that may exist concerning price or brand recommendations and if necessary, asking questions may be a useful exercise in getting to know more about a specific model or power source.
Online RC plane retailers also regularly have Frequently Asked Question sections. These may also help in the search for knowledge about a particular part of the radio control world.
Conclusion
The buying of a radio control aeroplane is a very subjective process. In terms of which model should be bought, it is completely up to the buyer. The decision as to which model should be purchased is based on experience level, power source and model kit specifications.
For example, if one were a beginner with only enough time to fly an RC plane, then an electric, ready-to-run plane would be best suited. If a dedicated hobbyist was to purchase an RC plane, an assembly required, petroleum gas aircraft might be the wisest choice. Either way, the choosing of a model radio control aeroplane needn't be a complicated procedure.