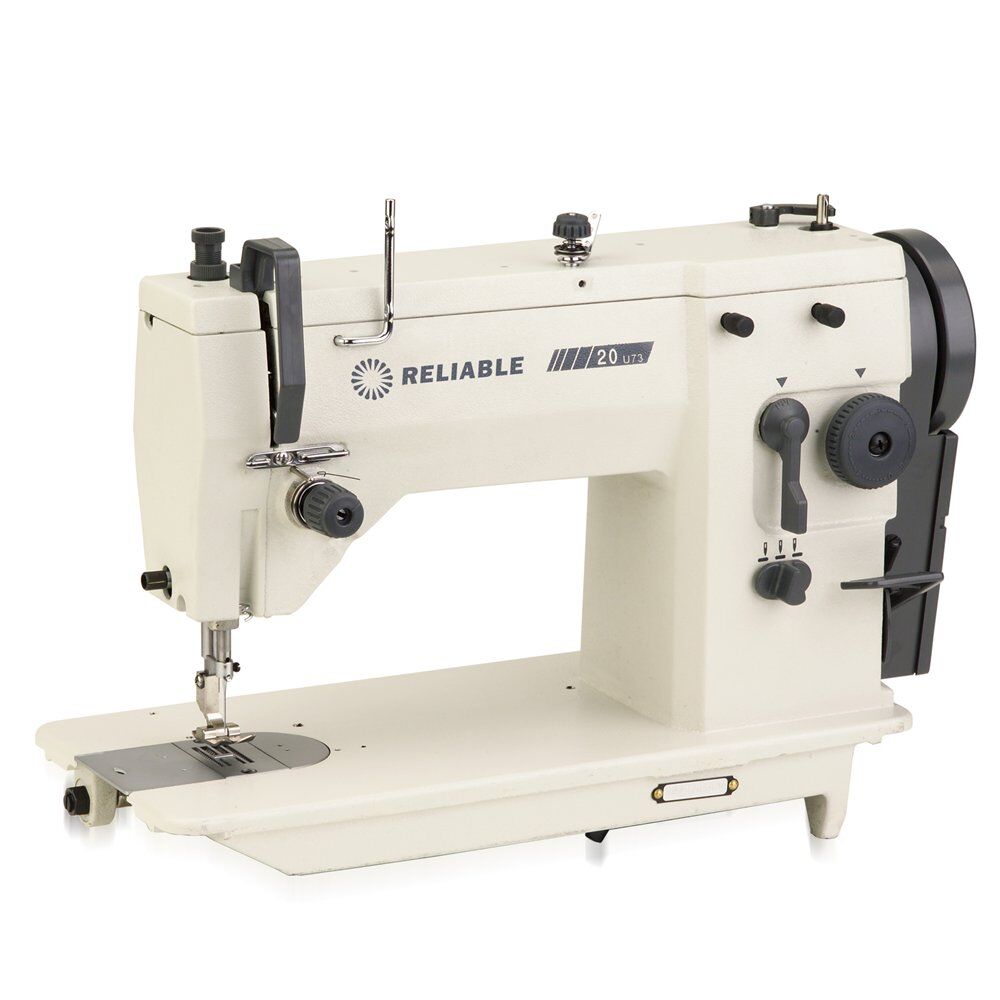 Learning how to make your own clothes and soft home furnishings, such as cushions and curtains, is an excellent way to save money while giving your creativity free rein. Whether you are learning how to sew or using a sewing machine in your business, choosing the right machine for your needs and budget is crucial. Sewing machines come in a variety of models, from very simple machines that can cover the basics to advanced computerised models for fancy decorative work.
Before you start shopping, learn about the types of sewing machines available and which features to look for. The features chosen should be appropriate to the type of fabrics that you intend to sew and the type of sewing that you want to do. Finally, understanding which types of machines and features are suited to your needs or skill level allows you to make the right buying choice. Sewing machines are available from sewing supply shops, department stores, catalogues, craft shops, and online, from sites like eBay.
Types of Sewing Machine
Sewing machines have come a long way since the production of the first mechanical models that were operated by turning a hand wheel. While a handful of these machines are still available, they are seldom seen as they are difficult to use and require one-handed operation. Most of these machines create a lock or chain stitch. The table below lists the most common types of modern sewing machines with a short description.
Type of Sewing Machine

Description

Motor in the body drives the needle in the top part of machine and controls the components

Controlled via a foot pedal

Pressure on the pedal changes speed

Usually offers varying speeds

Range of stitch types and sizes selected by a dial

Faster and more accurate than mechanical models

Common and versatile

Suitable for most home users

Like an electronic machine with added features

Computer chip controls tension, length, and width of stitching

Operated via touch pad and computer screen

Can add programs

Previous work specifications can be stored

May include embroidery designs

Suitable for more advanced users

Used to finish seams

Trims while sewing

Can be used to stitch rolled hems and gatherings

Cannot be used instead of a sewing machine

Useful as a second machine to save time and create a professional finish

Suitable for simple projects like making curtains or hemming

Specialised

Performs a single process

Suited to specific projects

Blind hemming, quilting, embroidery

Not good for basic sewing tasks

May be useful as a second machine
Electronic sewing machines are the best option for most users. These machines come with a range of functions, from affordable models with only the basics to expensive machines with a multitude of features. Choosing the right features for you depends on your needs and budget.
Features of Sewing Machines
Several factors should be taken into account when choosing a sewing machine. These factors include the weight of the machine, the fabric used, the size of the sewing bed, and whether the machine features an auto threader.
Weight of a Sewing Machine
Firstly, the weight should suit your needs. If you are attending sewing classes, consider a lightweight portable machine. Similarly, if you do not have a dedicated sewing area and the machine needs to be moved frequently, choose a lighter model. If you have an area set aside for sewing and the machine will not be moved, then weight is not an important consideration. However, bear in mind that sewing heavier fabrics requires a heavier machine.
Fabrics for a Sewing Machine
Most electronic machines handle mid weight fabrics and cotton effortlessly. If you intend to work with a range of fabrics or want to make curtains and items using heavier fabrics, take this into account when choosing a machine. Thick fabrics require a longer stitch than thin ones, so ensure that the machine offers variable stitch lengths that are long enough for the materials that you use. If you often use delicate fabrics look for a machine with a Teflon coated foot, adjustable foot pressure, and the ability to use a fine needle.
Sewing Bed Size and Auto-Threading for a Sewing Machine
For making curtains, choose a machine with a large sewing bed or extension table as this makes it easier to work with large pieces of fabric. If you have difficulty threading needles, look for a machine with an auto-thread function.
How to Find the Right Sewing Machine for You
Although extra features are always nice to have, it does not makes sense to buy a top of the range machine if you simply want one to do basic sewing tasks. However, buying a cheaper machine without the functions that you need may leave you frustrated at a later stage: more features cannot be added to standard electronic machines. Before buying a sewing machine, make a list of the fabric types that you intend to use most often, the type of sewing you will do, and evaluate your skill level. Take into account what you may want to do in the future, especially if you are still learning.
Sewing Machines for Beginners and Occasional Users
If you are a beginner, only use the machine for simple tasks, or do not sew often, then choose an electronic sewing machine. Select the features and stitch types that suit your current and future needs. Beginners should look for sewing machines that offer different foot attachments for greater versatility. Consider a machine with a zipper foot, buttonhole foot, and a foot for delicate fabrics. The machine should offer a variety of stitches and stitch lengths, but decorative stitches may not be required unless this is something in particular that you are working towards. If you are attending sewing classes, look for a machine with accessories that can be added as you progress.
Sewing Machines for Intermediate Users
If you use your sewing machine quite often, then consider a mid range model. The more complex the items that you will create, the more features you should consider for your machine. List what frustrates you about other machines you have worked with for a clear idea of the features that the new machine should have. If you sew garments with sleeves or pockets, ensure that the machine has a free arm.
Consider investing in an overlocker or look for a machine with an overlock stitch for neater hems and seams. Remember to keep the thickness of the fabrics that you want to use in mind, opting for a sturdier machine for heavier fabrics and choosing a machine with a Teflon coated foot for delicates. Take note of the foot attachments that the machine can use and ensure that it is able to do everything that you need it to do. If you sew often, but are inexperienced, consider improving by using an electronic machine and upgrading to a computerised model at a later stage.
Sewing Machines for Advanced Users
If you sew often and enjoy complex tasks, consider investing in a computerised sewing machine, if your budget allows. With a computerised model, you can create garments using a huge selection of stitches. In addition, tension and stitch length is preprogrammed, eliminating the need for you to try to find the right settings. These machines also come with a variety of preprogrammed embroidery patterns and can create multicoloured designs with the minimum amount of effort. They can be set to work with more than one colour thread at a time and the existing programs can be updated if you have access to a computer.
If you use a sewing machine for business purposes, then buy the best model that your budget allows. Make sure that the machine can handle all of the fabrics that you sew and performs all of the functions that you need to make sewing as easy as possible.
Buying a Sewing Machine on eBay
Finding which sewing machine is right for you on eBay is simple. Type a phrase, such as "computerised Singer sewing machine", into the search field provided on each page to see the items available from eBay sellers. Choose the most appropriate item characteristics to refine your search. Alternatively, use the advanced search function to see more or fewer search results.
Before You Buy on eBay
Before buying on eBay, learn about the item and the seller. Click on an individual listing to go to the item listing page. Here you can find all the information that you need to make an informed buying decision, including the full item description, buying options, payment methods, postage and packaging costs, and the seller's feedback information. Always read the full item description before buying an item. If you have any questions about a listing, get in touch with the seller by clicking the "Ask a question" link.
eBay makes it easy for buyers to get to know the seller. Feedback allows you to see what other buyers think of a particular seller's products and customer service and lets you make up your mind about the seller before buying.
Conclusion
A sewing machine can save you a great deal of time and effort if you buy the right one. Although a number of types of sewing machine are available, the two most popular options are electronic and computerised. Electronic sewing machines are available with a range of features and models that can suit users from beginners to advanced. Computerised machines are more suited to the needs of advanced users. Before buying a sewing machine, list your needs, the type of sewing that you are planning to do, and evaluate your skill level. Knowing exactly what you need makes it easier to assess the options available and choose the right sewing machine for you.
Beginners and those who do not sew often should opt for more basic electronic machines; intermediate users should opt for mid range electronic machines or lower end computerised models; and advanced users should consider computerised or high-end electronic machines. Professional users benefit greatly from computerised sewing machines and should invest in the best models that they can afford. eBay sellers offer a wide variety of sewing machines suited to every skill level and requirement.