Curved or straight blades
Although you can do everything groomers need to do with straight shears, curved blades can really help with topknots, faces, ears, feet, and rumps.
Turned upside down, they can help you set angulation, tuck-ups and terrier underchests.
A small 5 inch cuver shear (for example RnK Gin Wani BALLTIP Shear) makes defining Schnauzer eyebrows a snap. They are also the best tool for scissoring around bichon eyes and the cuffs of small poodle legs.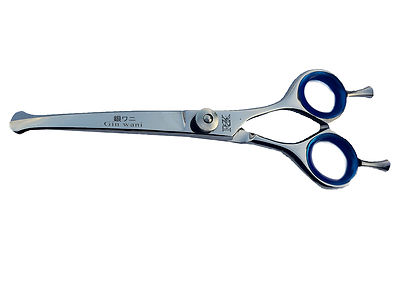 Large 8.5 inch cuverd shears (such as RnK Umi No Taki Tiatnium Curved) are great for trimming rear skirts on Golden Retriever, collie mix, and other undercoated type dogs.