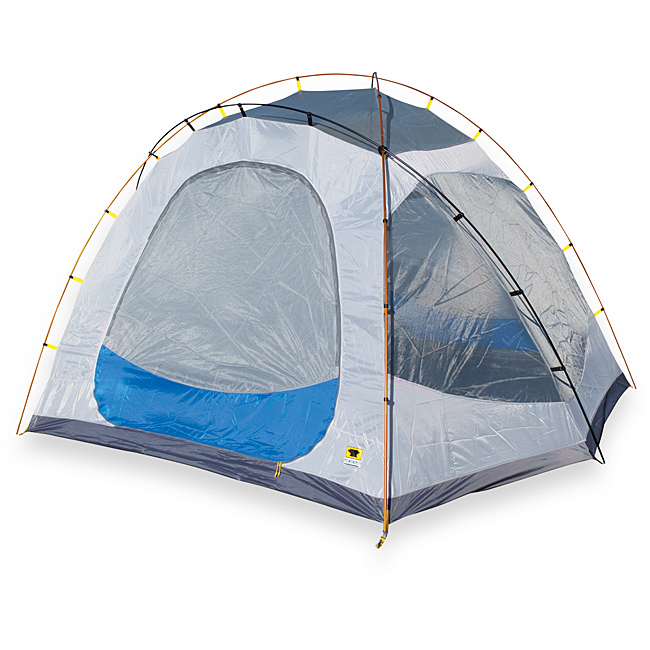 Camping is an activity enjoyed by many people; from families to couples, groups of friends and single persons, camping suits all ages and is an incredibly versatile and affordable activity. Camping as an outdoor activity is a wonderful way to see the outside world and explore new areas of the country, whether walking, biking, sightseeing or simply relaxing.
Many different tents are available in a variety of shapes, materials, brands and models and can be found easily on eBay. The shape of tent required will depend on the intended purpose of the camping trip, and on certain factors such as insect and waterproofing capabilities, headroom, weight and of course budget.
Choosing the Right Tent
A good tent is suited to particular needs which will vary from person to person. In order to gauge the best type of tent to choose, it can be beneficial to understand a little about the construction of tents and how they work.
The main purpose of a tent is to create a space for living which can effectively deter rain and bad weather. To achieve this, a range of designs and tent shapes are available on the market, all of which have varying methods of waterproofing a tent and allowing vapours to breathe. The human body produces vapour from breathing and sweat, and the design of a tent must allow water from the elements to be kept out whilst allowing our own moisture to evaporate instead of turning to condensation.
Due to the need for effective waterproof ventilation, tent design often uses double skins; as such, an inner tent is made from breathable material such as cotton and a waterproof ground sheet which is then covered by an outer layer, or "flysheet" made of waterproof material. A gap at the bottom of the flysheet allows for ventilation whilst deterring the wind and rain from the living area.
In order to minimise condensation from the inner sleeping area, the inner and outer tent shells need to be kept apart from each other using tent poles and guy ropes, which stretch from the outer of the tent down to the ground and are anchored in with pegs.
Some modern tent designs use a single skin model, so do not have an inner tent; in order for this design to remain waterproof they are made from high quality technical substrates such as Gore-Tex or Event membranes, and are used for specialist trips and by experts.
Tent Size
Tents are usually described by the number of persons who can sleep in them; this can either be using the term "berth" or "men", so a "2-men" or "2 berth" tent can sleep 2 people, a "4 berth" tent can sleep 4 people and so on.
Although a tent berth gives an indication of size, it may also be necessary to consider the amount of luggage and extra equipment needed whilst staying in the tent. Backpacks and equipment for cooking, biking, hiking may mean that more space is needed. Some tents come with porch areas which are covered by a fly sheet, and this will affect the shape and size of the tent. Porch areas may be useful for storage, especially so if the ground sheet covers this area.
Many small tents do not allow enough room to stand up in; this is advantageous as they will be small and easily portable in size, but may be a consideration for anyone with mobility problems or persons who may need to spend a lot of time in the tent as it may be uncomfortable.
Free Standing Tents
Some tents are freestanding and will stand on their own when pegged down and with the poles in place. Other tent varieties need guy ropes to maintain the shape.
Choosing between a freestanding tent or one which requires guy ropes is a factor to consider when deciding on a tent shape. Guy ropes can be easily tripped over during the night, and take up more room on the campsite area; if maximum tent space is required to maximise inner living space, a freestanding tent may be worth considering.
Common Tent Shapes
A-Frame Tents

A-frame tents have a central ridge pole.
This traditional two legged frame is found at the outer ends of the tent, whilst the fabric skin forms a triangular space.
A- frame tents have good head-room in the middle.
The steep sides from the triangular shape means that water and snow drain well.
The rigid tent poles mean that A-frame tents can be very heavy, making them unsuitable for backpacking and light travel.
This classic tent shape is becoming less and less popular due to the relatively poor weight to strength ratio.

Dome/Wedge tents

Dome tents are perhaps the most common shape of tent.
They are constructed from 2 or more curved poles which intersect to give a round or square covered area.
Dome tents are particularly popular for walkers, hikers and backpackers as they are very light and strong and can be easily carried in baggage without being too heavy.
Some models are freestanding.

Geodesic Tents

Geodesic tents are similar in shape and structure to dome tents and are a type of modified dome tent.
They have additional poles to provide extra rigidity.
Geodesic tents are often less spacious, but can be very strong in bad weather.
They are usually free standing.

Tunnel Tents

Tunnel tents are also called hoop tents.
One, two or three 'hoops' form a tube shaped tent with curved walls.
Tunnel tents have relatively large volume to ground surface ratio..
Tunnel tents are strong since they divide pressure over the full length of the hoops (in the same way as an arched bridge works).
Curved walls give much more internal volume than the traditional A-frame tent shape.
Tunnel tents are very stable.

Single Pole Tents

Single pole tents are also known as "Avian" or 'Pyramid" tents.
These tents are the most lightweight and as such as often favoured by backpackers.
There is not much inside living room space because the pole is always in the way.
They are best used for a quick shelter in light weather conditions.

Large Frame Tents

Large frame tents are suitable for bigger groups of campers.
They often have several internal chambers areas for sleeping.
Large frame tents are very heavy.
They are less suitable for hikers and backpackers due to their size and weight.

Pyramid Tent

Also known as a cone or teepee tent, a pyramid tent is very basic in design.
They can usually accommodate one to three persons.
Pyramid tents are made with a single layer of waterproof fabric with a single pole in the centre.
The simple design means they are easy to set up.
Pyramid tents are often the choice of hikers and backpackers as they are very light and compact; the central pole can often double as a hiking stick.
A teepee tent is usually floorless.
This variety of tent has a high entrance and sloping sides, which allows for a higher head room than many other types of lightweight tent.
The downside to these tents is that they do not withstand adverse weather conditions well.
They do not provide secure defence against mosquitoes and insects.
Choosing a Tent Shape
When choosing a tent, several factors will determine the selection process:
The correct size for number of persons will impact on the shape required.
Whether the tent needs to be carried in a backpack.
Whether standing head room, extra storage areas or inner compartments are required.
The range of likely weather conditions of the camping trips.
When researching which tent is suitable, it can be extremely beneficial to it can be look around and see what's available. It is always useful to see a tent before buying a similar shape if at all possible; even if you plan to buy it online, having a look in your local outdoor or camping shop can prove very helpful in making a selection.
Also conduct online research by reading reviews and feedback on certain makes and models to check the size and shape is correct for the purpose required.
New or Second Hand
eBay offers a wide variety of sellers and tents of many different shapes available for purchase. There is a vast range of both brand new and pre-used tents, and many are in excellent condition allowing for a real opportunity to snap up a bargain.
When Buying a Used Tent:
Check the photos of the item carefully.
Feel free to ask the seller questions if further information or clarification is needed.
Check for any areas of damaged fabric or stitching, or for any missing parts.
A seller may choose to sell a tent for for a number of reasons, and it is often possible to bid on items that are in very good condition which are used and available at a reduced cost.
How to Buy a Tent on eBay
eBay has a huge range of sellers offering thousands of camping and outdoors products such as tents. It is easy to shop for a required item whilst benefitting from the flexible payment options available by buying on eBay.
To search for tents in a particular shape, type in specific search terms into the search box provided on every page.
Type in specific searches such as "dome tent", "tunnel tent", or a particular shape required, and available listings that match the criteria will appear.
Check reviews of sellers and their activity when considering a bid, and check reviews of the product where possible by other tent owners to get a balanced viewpoint of a particular product.
When searching through listings, carefully review all the data. Make sure the item matches the product required. Look over the photographs a couple times, and feel free to ask the Sellera question. When ready to buy, either place a Bid, Buy it Now, or put down a Best Offer. Buying with PayPal will ensure the transaction will go smoothly. eBay users are protected by the Buyer Protection Program.
Conclusion
Tents are available in a variety of shapes, sizes, and brands; different shapes are suitable for different purposes which should be considered when making a choice.
A range of new and secondhand tents are available on eBay and can be searched for and browsed easily using specific search terms.