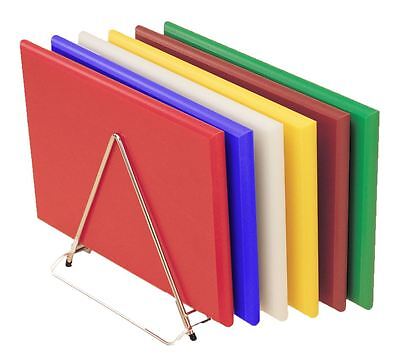 Why High Density?
There are two main types of plastic chopping board, low density (LDPE) and high density (HDPE).

An LDPE chopping board is softer and therefore bends and bows when washed. It also score very easily which increases the surface are and gives bacteria more space to grow.

An HDPE chopping board is far stronger and is therefore far less likely to bow. It is also more resistant to knife marks meaning that the surface area remains small which enables all bacteria to be easily reached when being cleaned.

HDPE chopping boards are far more hygienic than LDPE and last far longer. These are the boards which all the top chefs use and are recommended by The Environmental Health Agency.

Which Colour?
Each colour coded chopping board has its own specific use to help prevent cross contamination. Below is a guide to show you which board to use when preparing food.

Green - Salad preparation
Red - Raw meat
Yellow - Cooked meat
Blue - Fish
Brown - Vegetable
White - Dairy

Which Thickness?
The thicker the chopping board the longer it will last. You should always buy the thickest chopping board that your budget allows.

If you expect your chopping board to be used and washed multiple times per day then you should buy a thick chopping board as it will last longer and is built for heavy usage. A thicker chopping board will score less and therefore have less surface area for bacteria to harbour.

If you only expect to use your chopping board periodically then a thinner chopping board will more than likely be adequate.