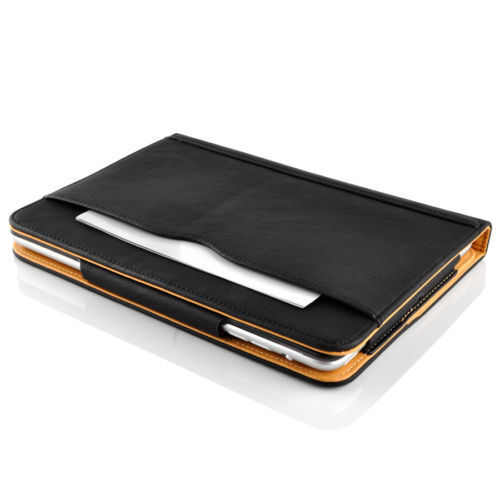 Smartphones and laptops have lots of great features that make them fun and useful. However, it is the tablet devices that are now stealing all of the attention. With their compact size, long battery life, stylish look, and a wide range of capabilities, it is no wonder that they have won the popularity contest over phones and computers. Granted, there were small laptops available for quite awhile before the release of the iPad in 2010, but few computers have touch screens and the ones that do, are a hassle to use. In addition to this, even the smallest laptops are still not as compact and easy to carry around as the tablets are.
The tablets combine the great aspects of the Smartphones and laptops. They have the same easy-to-navigate interfaces, touch screens, and operating systems as the mobile phones, with the speed, memory, and larger screens of laptops.
These sophisticated little devices are expensive to invest in, but their benefits make the purchase well worth it. Because of their higher price, it is a good idea to get the maximum potential out of them by getting some compatible accessories.. Not only can accessories add to the fun of the tablet, but they can also protect it, making it last longer and safeguarding the investment.
Types of iPad, Tablet, and eBook Protective Accessories
Purchasing an iPad, android tablet, or eBook reader is not as simple as going to the shop and picking out the best looking one. They are complex and costly, meaning that the majority of people spend quite a bit of time researching the features, capabilities, and price ranges of each one.
However, the effort seems to stop after the tablet has been purchased, but it still needs to be maintained and there are thousands of accessories that can keep the devices clean and running well for years to come.
iPad, Tablet, and eBook Cases
Cases for tablets come in all sorts of varieties and serve a number of purposes. Most importantly, they protect the devices from damage. It is highly recommended that everyone shop for a protective case for their tablets. Simply carrying the devices from one place to another runs the risk of them being dropped. The more people travel with their tablets, the higher the risks are, especially when other people are around that could accidently step on or sit on it.
For those who mostly keep their tablets inside the house, a soft cover my be all that is necessary. These covers protect the devices from minor scratches and falls. However, a hard cover is ideal for those who take their tablets outside on a regular basis.
The next most important role of tablet cases is keeping the devices clean. Dust, dirt, crumbs, and anything else that the devices are exposed to can scratch the surface as well as enter in through the connection ports, causing damage. Being inside a case limits its exposure to dirt and helps maintain the integrity of the device. For those who carry their tablets in purses or bags, it is especially important to get a cover that keeps the device safe from everything that congregates in the confined area.
Types of iPad, Tablet, and eBook Cases
Cases are by far the most produced accessories for tablets which gives people a huge selection to choose from. They come in all sorts of materials, shapes, colours, and even with various features. The covers may can have a plastic front so that the screen is exposed, they may look like a mini leather brief case, or they could look cute, fun, and feminine. No matter what styles and features people prefer, there is sure to be a perfect case for them.
| | |
| --- | --- |
| Type of iPads, Tablets, and eBooks Cases | Description |
| Carrying Case | Like laptop bags, these are small bags with carrying handles on them; can be ideal for those who travel a lot |
| Closed Pocket Case | Pocket cases are like folders that the tablets slip into; closed pocket cases have flaps that close and secure the device inside |
| Keyboard Case | Since tablets can be difficult to type on with a finger, external keyboards can come in handy. These cases have a built in keyboards that folds up inside when the case is closed; however, the keyboards are very small and difficult to use |
| Magnet Locking Case | These cases have a flap that closes magnetically and they are easy to use as well as secure; comes on many different styles of cases. |
| Sleeve Case | Sleeve cases, also called pocket cases, have an unsecured opening that the tablet slides in and out of; usually these only come in soft, stretchy materials |
| Solar Case | These cases have a solar panel on their exterior that collects energy from the sun and uses it to power the tablet; great for those who use their devices outdoors |
| Stand Case | Stand cases are made with stiff materials and unfold in a way that allows them to transform into a stand that holds the tablet up; they come in handy for reading and watching videos |
| Wallet Case | These resemble large wallets that hold the tablet as well as extra cards and notes |
| Waterproof Sleeve Case | Waterproof cases keep the tablet safe from moisture damage and can still be operated through the plastic casing |
| Zip Locking Case | These keep the tablets safe from dust and dirt the best because they have a zip that goes all the way around the case |
Keep in mind that cases are designed to fit a specific tablet. All of the tablets vary in size so accessories have to be specifically made for them.
iPad, Tablet, and eBook Screen Protectors
Screen protectors are a thin layer of sticky plastic that covers up the tablet's screen without hindering the touch command features. They protect the glass from scratches, smudges, and dirt. Their protection from scratches is minimal, but it is still advisable to use them.
iPad, Tablet, and eBook Vehicle Mounts
These are used to mount a tablet onto the back of a vehicle seat so that those riding in the back can watch videos. It is a great way to keep kids and guests entertained on long drives. Although these tablet mounts are not a necessity to own, they do help prevent the devices from be dropped by the people holding them or thrown in the event of an accident.
iPad, Tablet, and eBook External Speakers
One of the complaints that tablets sometimes get is that their speakers are not loud enough. Since one of their biggest attractions for shoppers is the ability to stream videos, this becomes problematic. Because of the low volume, users tend to turn their speakers all the way up which could eventually blow them out.
Instead of doing this, shoppers can get some external speakers that connect to the tablet through Bluetooth or a cable. They are capable of being louder and more clear, thus preventing a speaker blow-out. The external speakers are also small so they are not cumbersome to carry around. They range in price depending on the quality. Music enthusiasts who want the best sound quality could end up spending a lot of money, while those who just want to be able to hear better do not have to invest much at all.
Shop for iPad Tablet, and eBook Accessories on eBay
With the huge selection of accessories for tablets and eBook readers, it can be overwhelming choosing which model to get. Shops are limited on how much they stock, and their prices often are not very competitive. Instead, people can shop online at websites like eBay where there are thousands more items to look through and buyers have the ability to customise their searches to locate exactly what they want.
eBay makes this easy by providing a search bar that shoppers can use to find what they need. All you have to do is type in the product name and then click the search button. For example, enter something such as "iPad cover&" or " Kindle screen protector&". After you do this, eBay populates a list of the products. Begin browsing through them and adding the ones you like to your eBay Watch List. This way you can access them later if you lose track of them.
Conclusion
No matter how new, sophisticated, or expensive tablets are, they can all benefit from adding extra accessories. Things like keyboards, a stylus, speakers, and vehicle mounts gives the tablet even more uses. However, these accessories are not quite as necessary as the ones that work to keep the device protected such as a cover and screen protector. Whether people get more fun gadgets for their tablet or not, it is important that they still invest in their device's future by making it last longer.
Tablet cases offer the most protection for tablets possible. They block out dirt, grime, and other harmful things, they prevent scratches, being crushed, or damaged from an impact, and as a bonus, they can even add a designer flair to the device.
Screen protectors are very inexpensive and invisible once they are installed on the tablet. These are an affordable way to ensure that the glass screen stays in good condition and dirt doesn't get behind the screen.