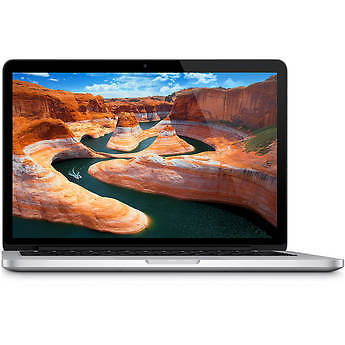 Apple laptops are rated highly for customer satisfaction. These reliable computers are a favourite among businesses all over the world. Since they are easy to use and are versatile, they are suited for any type of business. Because of the cost of Apple laptops, many people tend to go for the cheaper PC option; however, there are several benefits to consider before deciding against an Apple laptop altogether. By taking the time to consider all that Apple laptops have to offer, shoppers learn that these devices are the perfect computers for businesses of all sizes. With an advanced operating system and accessibility to thousands of business-related apps, Apple laptops are ideal for businesses big and small. With several models to choose from, buyers are sure to find Apple laptops that meet the needs of their particular businesses. No matter what a person's business needs are, he or she can find everything they need on eBay at prices that are extremely competitive.
Apple Laptops vs. PCs
People who are not computer savvy may not understand the difference between Apple laptops and PCs. Though there are many brands of computers available, Apple computers and PCs are the two main types that shoppers find in the marketplace. The main difference between Apple laptops and PCs is that Apple is a single company that produces a range of devices. PCs, on the other hand, are manufactured by many different companies. This means that there is a wider variety of computers to choose from when looking at PCs. These PCs come in all sizes, shapes and colours. They all offer different programs and have different capabilities. Apple laptops are usually much more expensive than their PC counterparts. Many people may wonder why someone would ever choose an Apple laptop over a PC, but there are many benefits to owning one. For instance, Apple often ranks higher in terms of user satisfaction when compared to PCs. Likewise, the capabilities of Apple products make them better suited for all types of businesses.
Operating System
The operating system on an Apple computer is one of the biggest draws of these laptops. Apple laptops use the OS X operating system, which is constantly being updated to meet the demands of personal and business users alike. OS X is the most advanced operating system for a computer available, and offers a wide range of functions to make it versatile enough for all types of users. In terms of business use, OS X offers compatibility between Macs and PCs, superior virus protection, and functionality that enhances communication.
Compatibility Between Mac and PC
Some business owners never make the switch from their old PC laptops to an Apple laptop because they are worried that it may be hard to transfer files and data from a different operating system. While this may have been a problem in the past, it is no longer a difficult task. Business owners can seamlessly transfer and backup all of their old data from a PC laptop as well as connect to other PCs and printers on the same network.
Protection Against Viruses
While an Apple laptop is not completely immune to viruses and other malicious code, it requires much less protection against viruses than a PC would. Most viruses are designed to attack PCs because there are so many more PCs in use than Apple computers. Additionally, app sandboxing, a component of OS X, isolates the apps on your computer from the other data. This means that malicious apps designed by third parties cannot access the sensitive information on the computer.
Communication
Communication is one of the most important aspects of any business. It is important that all employees are able to communicate with each other so that the day-to-day operations continue to run smoothly. Apple laptops make it easy to connect with other people using Apple products, including laptops, desktops, iPhones, and iPads, through the iMessage application. All conversations are secured and kept private with end-to-end encryption.
Sharing files is also easy with the OS X operating system. With the share feature, people can send files and data through mail and messages quickly and easily. Additionally, these files can be shared with anyone using either an Apple or a PC laptop. With OS X, it is easier to keep track of what is sent to whom and when.
Apps for Businesses
Another big difference between Apple laptops and PCs is the large number of apps available for Apple devices. Apps are downloaded from the App Store, and millions of free and paid apps are available online. With apps, there is no need to wait for a program to download and install. Likewise, users do not run the risk of forgetting where the programme was saved on the computer. Instead apps are downloaded and installed on the computer in a short amount of time, and they can even be set to update automatically so there is no need to download the latest versions and uninstall the old one.
Apps for All Fields
Apple laptops are not suited for any one particular field. Businesses of all types can benefit from Apple laptops. Apps have been designed for just about any field of work. There are apps for graphic design, video editing, bookkeeping, music, making charts and presentations, and much more.
Productivity
Business apps on Apple laptops can help boost productivity in the marketplace. With the calendar, messages, and notes apps, it is easy for workers to stay on task. Additionally, these apps can be shared with all people in the workplace so that everyone can work together and keep up with projects and tasks.
Apple Laptop Comparison
When shopping for an Apple laptop, shoppers can see that there are three different types of Apple laptops available. The above features are found on all Apple laptops regardless of the model. The hard drive, processing speed, and memory do vary between the different types of laptops. Additionally, these features change depending on the age of the Apple laptop. The table below describes some of the general characteristics of the three types of laptops, allowing for easy comparison.
| Feature | MacBook Air | MacBook Pro | MacBook Pro With Retina Display |
| --- | --- | --- | --- |
| Size (thickness) | 0.3-1.7 cm | 2.41 cm | 1.8 cm |
| Weight | 1.08-1.35 kg | 2.06-2.56 kg | 1.62-2.02 kg |
| Screen Size | 11- or 13-inch | 13- or 15-inch | 13- or 15-inch |
| Battery Life | 5 hours | 7 hours | 7 hours |
| Display | LED backlit glossy widescreen | LED backlit glossy widescreen (high resolution and anti-glare available) | LED backlit glossy widescreen with Retina Display |
| CD/DVD Drive (SuperDrive) | No | Yes | No |
The MacBook Air is the least expensive option as far as Apple laptops are concerned. It is the smallest and most basic model available. Businesses that need a lightweight option for computers would do well with this type of laptop. The Retina Display on the MacBook Pro is a high definition display with almost no pixelation. While this type of display is not really necessary for business that use computers for bookkeeping and record keeping, the clear display is ideal for business who work in graphics and photography.
How to Find an Apple Laptop on eBay
Once you have decided that an Apple laptop is a good fit for your business, you can begin looking for a laptop (or several laptops) on eBay. With easy-to-use features, you can quickly search for and compare different models to find just the one that meets the needs of your business. Since the laptops are all listed by private sellers, you can find both new and used models for prices that are lower than you can get anywhere else.
Conclusion
The two main types of computers found in stores are Apples and PCs. When it is time to buy a new computer for a business, people have to choose between the two. When shopping based on price alone, many people choose PCs. While they may be more cost effective, they are not always the best choice. Apple laptops offer a lot of functionality that PCs do not. Because they are versatile, easy to use, and compatible with PCs, Apple laptops are the perfect choice for businesses.
Before making a choice, shoppers should take the time to learn about all of the features and benefits that Apple products have to offer. With a powerful operating system, thousands of apps to choose from, and different models to meet individual needs, Apple laptops are one of the best choices. Their reliability and customer satisfaction ratings speak for themselves. Once a shopper has decided that an Apple laptop is right for his or her business, the shopper can find new and used models across all price ranges on eBay.