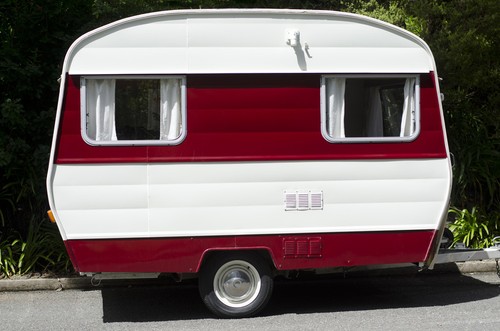 With so many restaurants, eateries, and food companies in existence, it can be hard for a business to stay ahead of the competition. Advertising can only go so far, and getting the message out to as many people as possible can be a difficult task. Catering trailers are for more than just private events, and many restaurants are expanding their businesses by adding catering trailers. These trailers have several advantages and offer a unique and cost-effective way to reach more customers and surpass competitors. Before deciding for or against one of these trailers for a business, food companies should take the time to evaluate the advantages and disadvantages so that they fully understand why catering trailers are a good investment. When shopping for a catering trailer, businesses should consider all of the features and characteristics in order to find a catering trailer that best meets the needs of the company. Whether the plan is to serve food prepared on site or from another location, eBay has hundreds of listings for catering trailers to choose from.
Benefits of Catering Trailers
A mobile catering business provides many benefits to food companies. People who are in the food industry should consider these benefits when looking to expand their businesses or bring in new customers. Some of the main benefits of catering trailers include relatively low startup costs, less competition, and better exposure for the business.
Low Risk
Purchasing a catering trailer offers lower risk when compared to leasing a space for a restaurant. The food company owns the food trailer, so monthly rental fees for a space disappear. This means that the company does not have to operate the catering food truck every day. If the truck does not work well in one location, then the business can move the trailer to another site. This ensures that the food company does not have to risk choosing a location for a restaurant that does not attract enough customers.
Low Investment
Some people may see catering trailers as an unaffordable expense, especially for a restaurant or food company that is just starting out. When taking into consideration the cost of leasing and renovating a building for a fixed location, a catering trailer is actually the more affordable option. Additionally, business owners can get lower prices on used catering trailers.
Less Competition
Food companies that have mobile catering trucks can surpass the competition by offering service in different parts of the city. While many competitors are limited to one location in one part of town, a mobile catering trailer allows the food company to offer their food all over the city.
Better Exposure
Mobile catering trailers offer better exposure for a business than other traditional forms of advertising. The food company's logo is prominently displayed on the side of the trailer. When the trailer is driving around town, everyone on the road sees the advertisement. Additionally, the catering trailer allows the business to reach customers in other parts of town who may not have known about the food company otherwise. This is also a good investment because unlike television, radio, and print advertisements, there is no need to pay regular fees to keep the advertisements running. Once the trailer has the graphics for the company logo printed or painted on, there are no recurring fees to keep the advertisement displayed.
Catering Trailer Options
When shopping for a catering trailer, the shopper should consider several options for food preparation and storage. It is important for the business owners to consider all of these options so that they have everything they need to prepare and serve the food. Some of the main features available for a catering trailer are listed in the table below.
| Feature | Purpose |
| --- | --- |
| | Used for rinsing utensils and washing small amounts of dishes |
| | Small stoves or grills for cooking food on site |
| | Used to quickly heat up food or keep it warm |
| | Heats up tap water when warm or hot water is needed |
| | Stores food at cool temperatures to prevent it from spoiling |
Some catering trailers are equipped with the bare minimum, which means there are no appliances for cooking or heating food. These are ideal for food companies who do not serve hot foods. These companies may be able to use ice and coolers to keep food cold, but do not have access to a heat source or running water, which are necessary for food preparation. In these instances, the food must be prepared at another site and then transported and sold from the catering trailer.
New vs. Used Catering Trailers
Businesses who are considering investing in a catering trailer to expand their services need to take the time to determine if they want to invest in a new or used trailer. There are advantages and disadvantages to each, so it is a point that needs to be considered carefully. The factors that must be considered are the customisation options, price, and condition.
Customisation
Customisation is important when purchasing equipment for a specific business. Each business requires its own setup and various pieces of equipment. When shopping for a new trailer, businesses can often choose which appliances and features to include as well as where they would like each item to be placed. When shopping for a used catering trailer, businesses do not have this option. They are limited to the features and options already installed. They can add or remove these items as needed, but making changes means additional costs on top of the trailer itself.
Price
The price is perhaps the most attractive aspect of a used catering trailer. A used trailer, like other vehicles and equipment, is priced significantly lower than its new counterpart. A catering trailer that has been used for a few years prior can cost about half as much as a new one. This lowers the cost of the initial investment, and makes it affordable to those food companies working with a limited budget. In contrast, the appliances in a used catering trailer may need more repairs and may need to be replaced sooner than new ones. In the end, the cost could end up being the same or more.
Condition
Shoppers must consider the condition of a used trailer before purchasing one. Used catering trailers are expected to show minimal signs of wear and tear. However, the catering trailer should not be in poor condition. All appliances and features should be in working condition. At the same time, the price of the trailer should reflect its condition. A shoppers may find what seems like a good deal on a trailer only to find that it needs several repairs and upgrades before it is in usable condition. Shoppers should expect to pay more for new trailers and used trailers in excellent condition than those that show significant signs of use.
How to Find a Catering Trailer on eBay
If you think that a catering trailer is what you need to expand your food business and attract more customers, then consider shopping for one on eBay. This online marketplace has many options to choose from, offered by sellers from all across the UK. With the large selection, you are sure to find a new or used trailer that meets the needs of your company and matches your budget. Searching for catering trailers is simple as well. Perform a basic search using keywords that describe the trailer you need. Then narrow down the listings by selecting the features and options that you want your catering trailer to include.
Delivery Options
You may think that buying something as large as a catering trailer online at a site like eBay is impractical. This is likely because you do not want to think about the costs associated with having a trailer delivered to you. eBay makes it easy to find sellers who are close to you. Simply enter your postcode to find sellers in your immediate area. Once you find the trailer you want, you can purchase it, and then meet the seller in person to pick it up yourself.
Conclusion
Catering trailers allow food companies to move from location to location and attract several customers they may not have been able to reach otherwise. Rather than being limited to one location in one part of town, catering trailers can move all over town to allow a business to receive exposure at some of the biggest events throughout the year. Additionally, with prominently displayed logos, companies can ensure that their business is receiving maximum visibility in the marketplace.
Before investing in a catering trailer, it is important that shoppers know what they are looking for. In order for the trailer to be a good investment, it needs to have all of the appliances and features that the business needs to prepare and serve the food. With careful planning and shopping, businesses can find a catering trailer that meets their needs and fits within their budgets. No matter what those needs are or what price range the business owner can afford, he or she is sure to find the right catering trailer on eBay.