Diary of a Wimpy Kid is one of the most relatable, funny and touching children's stories to hit the bookshelves in the past decade.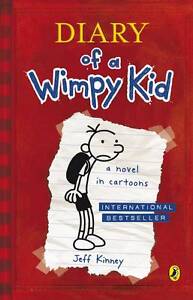 Contents
The Story Behind the Diary of a Wimpy Kid
Diary of a Wimpy Kid Books
The Diary of a Wimpy Kid Film
The Diary of a Wimpy Kid Collections and Sets

Created by Jeff Kinney, the book was actually published online before it was brought out as a hardback in 2007. Now known to be one of the best-selling children's books, Diary of a Wimpy Kid has also been turned into a film and there are various pieces of merchandise you can buy for fans of the series.

The Story Behind the Diary of a Wimpy Kid
Diary of a Wimpy Kid was actually written for adult audiences. The creators thought it would appeal to people in the same way 'The Wonder Years' did. However, they were surprised to learn that it was the kids who loved the characters more.
It was originally published online in 2004 and it contained 217 pages. By 2007, the website had more than 20 million views. It was then that the hard book was released after numerous requests for publication. The story however was something that Jeff had worked on since 1998.
The story itself tells the tale of Greg Heffley's first day at middle school. It's basically all of the funny things that happen to him as he tries to adjust to his new surroundings. All kids can relate to starting a new school. Not only does Greg not fit in at school, but he also has trouble fitting into his local neighbourhood.
It's his creative ways at handling the problems he faces that brings humour to the story. The book is Greg's diary of everything that happens to him.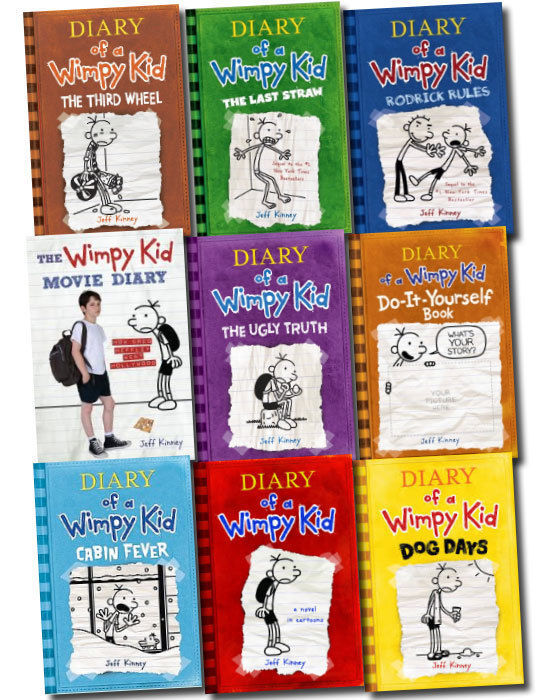 Diary of a Wimpy Kid Books
There are eight books in the Diary of a Wimpy Kid series and two additional one-off books. You can find them in over 41 different languages. So far there have been 75 million copies sold worldwide and the books show no sign of losing popularity.

The first one introduces Greg and his sidekick Rowley starting out at a brand new school. They start off on equal footing, but Rowley soon starts to become more popular. Greg thinks he can use this to his advantage. It's a funny book with sometimes hilarious outcomes as you witness the blossoming friendship between the two boys.



Rodrick Rules
The second in the series 'Rodrick Rules' focuses on the beginning of a new school year. Greg is trying to put last year's events behind him. However, thanks to his big brother Rodrick, this isn't so easy to do. Follow Greg as he tries to keep his reputation in tact despite his brother's interference.




The Last Straw
The third book in the series 'The Last Straw' follows Greg as his dad tries to make him tougher. He plans a lot of manly activities but Greg manages to wheedle his way out of them. However, when his dad brings up military camp, Greg realises he has to come up with something really good to get out of it.

Dog Days
Dog Days is the fourth in the series and this time it features Greg's mother as she tries to make their summer full of family togetherness. There's a new addition to the family and it's certainly a trying summer for Greg!
These are just some of the tales your child will love reading about. Jeff does an excellent job creating humorous situations. The books can be bought online for less than £5 each. You can also buy the boxset which could save you even more money.
The Diary of a Wimpy Kid Film
In 2010, the Diary of a Wimpy Kid film hit the big screen. Thor Freudenthal was the director and the film was designed as a semi-teen comedy. There were actually several films created including the follow up 'Diary of a Wimpy Kid: Rodrick Rules' in 2011 and 'Diary of a Wimpy Kid - Dog Days' in 2012.
Dog Days is definitely one of the most popular in the series. You can buy the films in standard definition or on Blu Ray.
The Diary of a Wimpy Kid Collections and Sets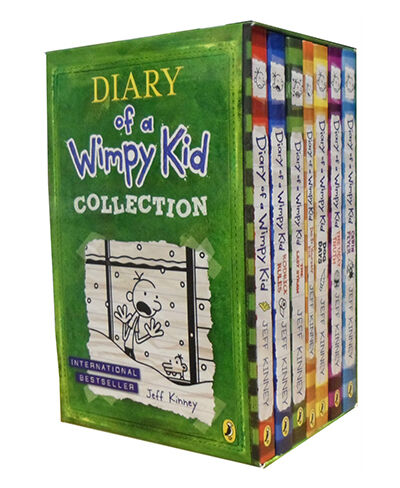 There are many different pieces of merchandise you can get your hands on. From mugs to novelty figures; there's something for all fans of the series. Investing in the DVD and book sets is a good idea for true fans of the series.
Overall Diary of a Wimpy Kid is a perfect series for kids. If your child hasn't read or seen the films, now is the time to educate them. They will definitely thank you for introducing this lovable, funny character into their lives.
It can help if you create fun facts to keep your children interested in the story. For example, it was Greg's mum's idea for him to keep a diary, not his. You could even suggest your own children keep a diary.