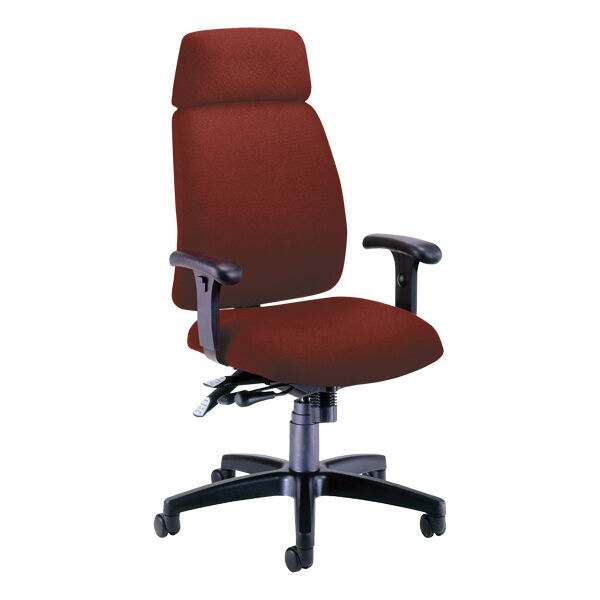 People who work in offices can be very picky about the office chairs that they use. Employees who have to sit behind a desk for several hours out of each day prefer to have comfortable seats, though not all employers provide the best chairs. While employers want to keep their costs down, they should take the time to consider the benefits of investing in high quality office chairs for their employees. Quality office chairs are not frivolous expenses, but rather have several health benefits for the employees, as well as benefits for the company overall. When looking for ways to boost productivity, employer should take the time to consider why office chairs are a wise investment. Before making a purchase, employers should take the time to consider all of the different types of office chairs as well as the various features that they have to offer. For the best prices and best selection, shoppers should consider browsing the listings for office chairs available on eBay.
Benefits of Office Chairs for Employees
The employees who sit in office chairs are the ones who see the immediate benefits. Not only are better quality chairs more comfortable, but they also offer health benefits to the people who sit in them. Such benefits include improve back support and posture.
Back Support
Ergonomically-designed chairs offer a higher level of back support than chairs that have straight or hard backs. This support keeps the back from becoming tired and sore. With proper support, employees experience less pain and fewer problems with their backs. More support also means there is less fidgeting and needing to move around to find a more comfortable position.
Improved Posture
Posture is improved with an office chair that provides ample support to the back, head, and neck. People who sit in these chairs experience less fatigue and and proper posture strengthens abdominal muscles. Improved posture means that the employee stands and sits up straight. Less slouching means that the back does not get tired after sitting for long periods of time.
Lowers the Risk of Carpal Tunnel Syndrome
Carpal tunnel syndrome is a condition that results from repetitive motion in the fingers and hands. This condition presents itself as pain or tingling in the fingers, hands, wrists, and elbows, and is due to pressure on the medial nerve in the wrist. Carpal tunnel syndrome is caused by sitting in a office chair that does not allow the worker to sit at the proper height. A diagnosis of carpal tunnel syndrome means that the worker may need to take time off of work and require other accommodations in order to complete the same job. Having the proper chair from the start could eliminate this problem before it requires medical intervention.
Impact of Office Chairs in the Workplace
The benefits that employees see from office chairs are then passed on to the workplace. Because the employees have improved health and comfort, they are better able to perform on the job. For this reason, office chairs are an investment in employees and the workplace as a whole. Some of the benefits include increased efficiency and productivity. Improved occupational health also reduces the number of sick days.
Higher Efficiency and Productivity
A comfortable chair relaxes the employee, which means that he is better able to concentrate on the task at hand. Without the constant distraction of discomfort or pain caused by a poorly-designed or poorly-constructed office chair, the worker can focus all of his attention on his work. This means that he works more efficiently since he is not taking short breaks to readjust his position. By the end of the day, the worker is able to accomplish more work in the same amount of time. This benefits the company he works for because the company achieves higher productivity overall in the same work day.
Fewer Sick Days
One of the biggest reasons that workers call in sick to work is because of back and neck pain. If a worker goes home in pain and wakes up in pain, he is not likely to want to go to work and sit for another day in an uncomfortable chair. When employees take days off of work, the company loses a worker and productivity falls.
What to Look for in an Office Chair
The shopper must consider several factors when looking for an office chair. The cheapest office chair is not always the best choice and chairs that are not designed for use with a desk are also not the best choice. Employers should look for office chairs that are comfortable, provide support, and suit employees' needs. When looking for office chairs to use in the workplace, employers need to consider both the type of office chairs they need as well as the features that various chairs offer.
Types of Office Chairs
Not all office chairs are the same and they are not all used for the same purposes. For this reason, employers should consider the various types and choose the one that best works in their office space. The chart below lists and describes the different types of office chairs that employers should consider.
| Chair Type | Description |
| --- | --- |
| | Has extra padding in the seat and a high back for ample support; many have head and neck rests as well |
| | Has mesh seats for extra air circulation; prevents the body from becoming sweaty after hours of being seated at a desk |
| | Comes with casters and swivels; allows the employee to adjust the seat according to the user's height and weight |
| | Made from leather for a soft and luxurious feel; expensive initial investment, but much more durable than other types of chairs |
| | Designed to promote good posture; provide utmost support and comfort for the worker |
| | Multipurpose chairs designed for people who are sitting for a short period of time |
| | Padded seats with wheels and casters; designed to provide comfort for long periods of sitting down; not ideal for everyday use in front of a computer |
| | Inexpensive and versatile chairs made of hard plastic and fabric with light cushioning; designed for easy storage when not in use and for short periods of sitting |
Each type of chair has its unique benefits. The chairs should be chosen based on how they need to be used. While stackable chairs may be the least expensive, they are not the best choice for employees who need to sit behind a desk for several hours each day. Instead, stackable chairs should only be used for special meetings that occur once in awhile. Other types of task chairs are better suited for workers who need to sit for most of their working day.
Features to Look for in Office Chairs
Each type of office chair comes with a variety of features. These features affect how the chair is used as well as how comfortable it is. Additionally, the features affect the price of the chair. When shopping for office chairs, employers should weigh the features of the chairs against the prices. While some features are nice to have, they are not all necessary for increasing comfort and productivity of the workers. Some features to look include adjustable height, wheels, armrests, swivel, tilt, lumbar support, and a wide seat.
How to Buy Office Chairs on eBay
If you are looking for a wide selection at affordable prices, then eBay is the place to go to to find office chairs. On eBay, sellers from all over the UK can list new and used office chairs so that you can browse and buy them. With thousands of listings to choose from, you are sure to find the office chairs that meet the needs for your workplace and employees. The key to finding the best deals is knowing how to use the search features on eBay.
Searching for Office Chairs
Use the basic and advanced search features to find the office chairs that you need. Enter keywords to describe the type of office chair you are looking for into the search bar. For example, a search for 'ergonomic office chair' returns all results that contain those keywords. Be sure to perform a specific search so that you receive a focused set of search results. From here, you can select various options, such as the price and condition, to narrow down the results even more.
Conclusion
Happy and healthy employees are crucial to maintaining productivity and efficiency in a company. Their comfort and health are important things to consider when setting up a work environment. For employees who work in an office and sit behind a desk, these aspects can be addressed by using high quality office chairs. By choosing chairs that are designed for certain tasks and addressing areas of ergonomics and comfort, employees enjoy their jobs more and are able to focus on their duties. Additionally, they have fewer aches and pains, and they do not need to take as many sick days off of work. When this is spread out over all employees, the company can boost its productivity and efficiency. While spending a large amount of money on office furniture may seem like a frivolous expense, employers find that if they make this investment, it pays for itself in the end. When shopping on a budget or looking for something in particular, shoppers can find all of the office chairs they need on eBay.