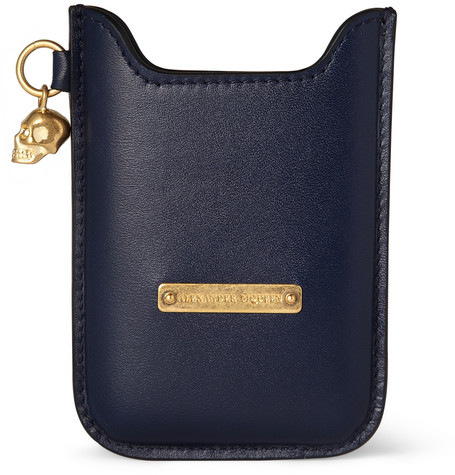 For the ultimate in style and luxury, leather mobile phone covers are hard to beat. Conveying a smart and elegant appearance, leather covers are ideal for the professional who networks frequently as well as the personal user.
Choosing Leather Mobile Phone Covers
The two primary reasons for choosing a leather mobile phone cover are for their classic appearance and durability. When it comes to appearance, few other materials conjure up the same sense of refined and effortless style as leather. There are many different types of leather, in terms of thickness, suppleness, colour and finish, and covers for mobile phones may be more understated or overstated, but nearly all are designed with elegance in mind. The second reason is durability. Leather is renowned among materials for its ability to withstand wear and tear and stand up to various types of damage. While this varies to some extent depending on the type of leather, most have excellent resistance to damage such as scratching, tearing, and fraying, as well as damage caused by oils and other liquids. Leather also retains its shape, colour, and any patterning well. All this makes leather a long lasting material. Leather is, however, one of the more expensive materials to use in mobile phone covers. There are some very pricey designer leather covers on the market, and these are sought after for their beauty and quality as well as their status. Most leather covers are somewhat more reasonably priced, and these are a great investment for those who want the classic appearance of leather without spending a fortune. Further down the price range are synthetic leather covers. These are arguably of poorer quality compared to natural leather covers.
Types of Leather Used in Mobile Phone Covers
The various types of leather used in mobile phone covers range from slimmer, soft and supple leathers to thicker and more rigid forms. Which is preferred is a matter of personal preference, but each has its advantages and disadvantages. Slimmer leathers slip more easily into a pocket, but may also be more easily scratched. Thicker leathers may be more long lasting, but can be quite bulky in form. The quality level of leather also varies, as outlined in the table below. Different parts of the grain used in different types of leather, and there are four basic grades known as full grain, top grain, corrected grain and split leather. There are also specialist types of leather, for example, napa leather and suede.
| | |
| --- | --- |
| Full grain leather | Full grain leather is the highest quality of leather. The hides have not been treated to remove imperfections and are sold in their pure, natural state. Full grain leather has the highest strength and durability and it ages well. It is the most expensive type. |
| Top grain leather | Top grain leather is the next highest quality. Part of the grain is removed and it is thinner and more flexible than full grain leather. This has several advantages for its use in mobile phone covers. Sanding to the surface and additional treatment can result in a more plastic feel, but these processes also give top grain leather enhanced stain resistance. It is cheaper than full grain. |
| Corrected grain leather | Corrected grain leather is a lower quality of leather. Imperfections in the natural leather are sanded off or otherwise removed, and then the leather is "corrected" by the addition of artificial grains. Corrected grain leather is often dyed or decorated which helps to hide evidence of this process and any remaining imperfections. It is cheaper than top grain leather. |
| Split leather | Split leather is made from the part of the hide left after removing the top grain. This can be split several times as required. Split leather is not as strong or durable as other types. |
| Napa leather | Napa leather is a beautifully soft and supple type of full grain leather. It is tanned using chromium sulphate, a process which gives the leather its distinctive pliability as well as good resistance to losing shape. |
| Suede | Suede is made from the underside of the hide, the part used to make split leather. It has been abraded to create a soft, fuzzy texture known as a nap. Its soft qualities are prized, but suede is less durable than full grain leather or other types, and it can stain and discolour easily due to its open pores. |
| Synthetic leather | There are many more synthetic leather covers for mobile phones on the market than genuine natural leather covers, and there are some good reasons for this. Synthetic leather has many of the benefits of leather but typically costs far less. However, although it shares some of natural leather's toughness, it is generally somewhat less robust and does not have the same beautiful and unique quality that makes real leather so desirable. |
| Synthetic suede | Various types of material are used to make synthetic suede, including combinations of polyester microfibre, polyurethane polyester and other fabrics. Advantages over suede are better resistance to stains and discolouring, as well as fraying or tearing. |
Designs of Leather Mobile Phone Cover
Leather mobile phone covers come in a range of designs, from executive style wallet cases with room for cards, cash and other items to ultra-thin flip cases and fitted cases or skins. Other cases are simple sleeves or pouches. Wallet cases combine the functions of phone and wallet and are a stylish and impressive accessory in their own right. Slimline covers are simple and contemporary in style, available in a wide range of colours. Unlike fitted covers, pouches are designed simply to store and transport phones safely, but the phone needs to be removed when in use. The various designs are available in different types and grades of leather, from expensive full grain leather to soft napa leather and suede.
Find Leather Mobile Phone Covers on eBay
All types of leather mobile phone cover can be easily located for sale on eBay. To find listings, navigate from the eBay homepage to the Mobile Phones & Communication page using the left hand side tabs. There is then an option for Cases & Covers. This page contains numerous further options. To search for leather covers, scroll down to Material and select Leather. Further options which can be specified include the type of cover, compatible model, colour and design. Under Type the categories include Wallet/Flip Case, Fitted Cases/Skins and Pouches/Sleeves. It is a good idea to select the particular phone model to filter out unsuitable covers. Another, more direct, way to search for leather mobile phone covers is to use the search bar at the top of the page. When using this search method, include both the design of cover required and the particular model of phone. For example, try typing in terms such as "Blackberry leather wallet case" or "iPhone 5 suede cover". Listings can be refined by factors such as colour and finish using the tabs afterwards if required.
Conclusion
Leather covers have a classic sense of style and a durability that surpasses other types of mobile phone cover. Pure leather cases offer superb protection against damage caused by knocking the phone and also provide protection against elements such as dust and moisture. There are certain features that should be considered when it comes to quality, one of the most important of which is the grade of leather. Natural leather is generally considered superior to synthetic leather when it comes to both aesthetics and durability. Leather covers are available in various designs to suit all requirements.