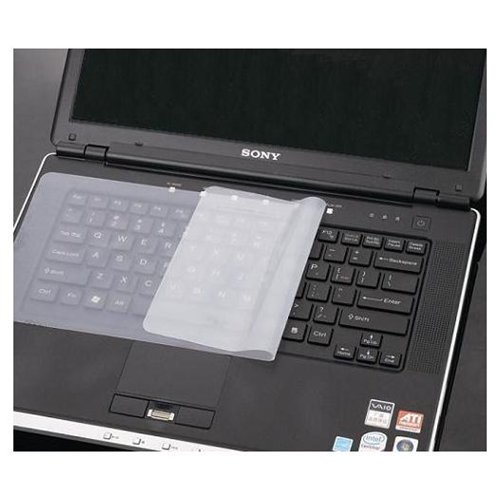 The keyboard on a laptop or computer is perhaps the most heavily used bit of hardware. The keyboard has two dozen keys that are used to spell out words, numbers, and perform other functions on the computer. Without a functioning keyboard, using a computer is extremely difficult. For this reason, it is important to protect the keyboard from accidents, damage, and normal wear and tear. A person can do this by investing in a laptop keyboard protector.. While some people do not want to spend the extra money on this accessory, it always proves to be something of a money-saving product in the end. Rather than having to spend money on replacing a keyboard or spending time away from the laptop while it is being repaired, a user can invest in a laptop keyboard protector to save them him or her from the frustrating downtime. Before making a purchase, shoppers should evaluate their needs and the benefits of the product, then choose keyboard protectors that suit their needs. To find a large selection of keyboard protectors and covers that are easy to compare, shoppers should consider looking at listings on eBay..
Evaluating the Need for a Laptop Keyboard Protector
A laptop keyboard protector has many benefits, which will be discussed later, but before running out to buy one, shoppers should take the time to evaluate their needs. Doing so also ensures that a user can fully understand the benefits of using one with his or her keyboard. Typically the two considerations that users need to keep in mind are how much they use their keyboards and the cost of buying a keyboard protector.
Amount of Use
Most laptop keyboards are constructed from plastic, and some are sturdier than others, depending on the brand. People who use their laptops quite often put a lot of stress on their keyboards, which make them more likely to break. If this were to happen, those users would be unable to use the laptop until the repairs are made. Being without the laptop can be extremely costly for people who need their computers for work. Thus, people who use their keyboards a lot should consider investing in keyboard protectors for their laptops.
Cost
Some people see the cost of a keyboard protector as an additional fee that they do not wish to pay. After all, a user may spent a considerable sum of money on the laptop itself. However, users should note that the cost of replacing or repairing a laptop keyboard is much greater than the cost of purchasing some sort of protective cover for the keyboard.
Benefits of Laptop Keyboard Protectors
Those who are still not convinced that a laptop keyboard protector is a worthwhile investment should take the time to evaluate the benefits of investing in one. These protectors not only offer protection, but also allow users to customise the appearance of the computer. With just a small investment, users see a number of benefits immediately.
Protection From Spills
People who eat or drink near their laptops risk spilling liquids and food onto the keyboard. Additionally, an uncovered keyboard is susceptible to dust build-up. All of these things can damage the moving parts of the keyboard and prevent keys from working as they should. When this happens, productivity is slowed and users are forced to work with unreliable computers until their keyboards can be replaced.
Protection From Wear and Tear
The keyboard and the touchpad of a laptop are the two most important input devices on a computer. Thus, they bear the brunt of the stress placed on the laptop. Because keyboards are made from plastic, keys may crack, pop off, or wear down from use. Additionally, the keys may become discoloured. This is heightened when the laptop is exposed to changes in atmospheric conditions or used in direct sunlight. A keyboard protector slows down this inevitable wear and tear so that it is not as noticeable.
Appearance
Lastly, a laptop keyboard protector is used to customise the appearance of a laptop. These protectors are made from a variety of materials and come in a wide range of colours and designs to suit anyone's taste. Rather than having to look at the dull grey, black, or white colours often used on laptops, shoppers can choose their favourite colours instead. Additionally, some laptop protectors have matching laptop skins and other accessories for a fully-customised look.
Types of Laptop Keyboard Protectors
Many types of laptop keyboard protectors exist. While each type has the same basic function, they all have different textures and appearances to them. Shoppers should take the time to consider each one and determine which keyboard protector is the most comfortable. The main types of laptop keyboard protectors are listed and described in the table below.
| Type | Description |
| --- | --- |
| Bag | Covers the entire laptop when not in use; protects the keyboard and laptop from dust and debris |
| Protective Cover | Clear plastic that is moulded to fit over each key; keyboard can be used with the cover for constant protection |
| Protective Skin | Flexible silicone cover that fits over each key; adheres to the keyboard so that it always remains in place |
| Sticker | Key-sized stickers that are placed on each key individually |
The protective cover and the protective skin are the two types of covers that offer maximum protection for the laptop keyboard at all times. They cover not only the keys, but also the spaces between the keys. This prevents dust, dirt, spills, and other debris from getting between and under each key. Stickers protect only the tops of the keys from wearing out. Depending on how well users protect their laptops, stickers may be sufficient; however, they do not provide protection in case of an accidental spill. All of the listed options are available in a multitude of colours and designs.
Choosing a Laptop Keyboard Protector
Once a laptop user has decided that a keyboard protector is a good choice for him or her, the user must carefully choose the right protector. While it is tempting to choose the least expensive option or the most attractive design, these are only secondary aspects to consider. Shoppers must be sure that they have chosen a protector that works for their particular laptop and functions as needed before considering cost and appearance.
Compatibility
Different laptops have differently shaped keys and different layouts for their keyboards. Because of this, laptop keyboard protectors are not one-size-fits-all. This means that a shopper needs to find one that is compatible with the model laptop he or she is using. When shopping, buyers can often search or sort laptop keyboard protectors by the brand of laptop they have or based on a product line. For example, shoppers can search for all Apple laptop keyboard protectors or simply MacBook Pro keyboard protectors..
Features
As with any other product, some laptop keyboard protectors have features that go above and beyond basic protection. Shoppers can find protectors that are waterproof, dustproof, anti-bacterial, and thermostable. These selections may offer a larger amount of protection, but shoppers should keep in mind that the more features a product has, the more expensive it is.
How to Find a Laptop Keyboard Cover on eBay
If you have decided that you are ready to invest in a keyboard cover for your laptop, then you will find that the widest selection of products and prices can be found on eBay.. People from all over the UK can list their protective covers for sale, so you are not limited to the small selection in your area. Once you buy the cover, it is delivered right to your home. To ensure a successful search, you should know what you are looking for and how to search for it effectively.
Searching for a Laptop Keyboard Cover
To get started with your search for a laptop keyboard cover, enter keywords to describe the item you are looking for. For example, if you have an HP laptop then enter 'HP laptop keyboard cover&' into the search bar to get started. Once the initial results are returned to you, narrow down the listings by selecting different options, such as colour, condition, features, and more, until you have a manageable number of listings to sort. Review item descriptions and view pictures before making a decision.
Conclusion
Protecting the keyboard on a laptop is one of the simplest things people can do to extend the life of their computer. As a plastic cover that fits over the keyboard, a protector can be very affordable. Installing a protective keyboard cover safeguards against spills, dust, and debris from damaging the keys. Additionally, the keyboard reduces the amount of wear and tear that the keys receive. Another benefit of this tool is that the cover allows users to customise the appearance of their laptops. Users can choose the colours and styles that best match their personalities. Additionally, since they are relatively inexpensive, people can change their keyboard protectors as often as they see fit. Before making a purchase, it is wise for shoppers to take a moment to evaluate all of the benefits. Doing so ensures that a buyer selects a product that best suits his or her needs. No matter what kind of cover shoppers are looking for, they can find a large selection of keyboard covers on eBay..