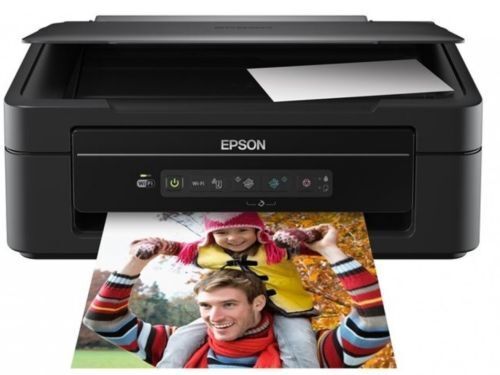 Wi-Fi does not really stand for "wireless fidelity", as some people have been led to believe. While this technology does allow wireless exchange of data over computer networks, Wi-Fi is actually a trademark registered by the Wi-Fi Alliance, a trade association formed to promote the use of WLAN, or wireless LAN, technology. This body certifies products that conform to given interoperability standards. This technology has grown significantly in the recent past, and is no longer limited to computers. Now, users can find Wi-Fi enabled mobile phones, home entertainment systems, and not to forget, printers. The main idea behind using Wi-Fi enabled printers, as with other Wi-Fi devices, is simply connectivity.
Buyers have various options to choose from when buying Wi-Fi enabled printers, which includes choosing between inkjet printers, laser printers, and all-in-one printers. In addition, the features that come with home and office printers also vary considerably, and consequently, knowing what to look for becomes pertinent. Where to look is also something that requires buyers' attention, and while turning to physical shops is always an option, the online world, comprising of sites like eBay, is known to offer better, and sometimes cheaper, alternatives.
Why Invest in Wi-Fi Enabled Printers?
Use of the Universal Serial Bus, or USB, technology to connect to printers is now commonplace, and some computers, especially those that support network printing, connect using an RJ-45 connector along with an Ethernet cable. Wireless printers , in the past, have made use of Infrared and Bluetooth, and although the use of Wi-Fi technology is a more recent innovation, it is one that increases the range of wireless operability considerably.
Homes, offices, and home offices that are Wi-Fi enabled can definitely benefit by investing in Wi-Fi enabled printers, and the most visible benefit is the minimisation of cables. Wi-Fi enabled printers fall under the wireless printer category, making use of the Wi-Fi technology, allowing you to access the printer from up to 60 m away, which can be increased even further if you use multiple overlapping access points.
In addition, a Wi-Fi printer can be used by multiple devices, which can include a desktop computer, a laptop, and even a smartphone or a Wi-Fi enabled camera. Another benefit when it comes to buying Wi-Fi enabled printers is that buyers still have the option to turn to different kinds of printer technologies on offer.
Different Types of Wi-Fi Enabled Printers
The three basic alternatives you have to choose from include inkjet printers, laser printers, and thermal printers, although your choice also extends to all-in-one printers, workgroup printers, and label printers.
Inkjet Printers
Inkjet printers make use of ink droplets in the printing process, and the number of cartridges these printers carry varies from printer to printer, and while one printer may carry two cartridges, one for different colours and one for black, another may carry an individual cartridge for every basic colour. Inkjet printers are good for regular document printing, and can be used to print lots of photos as well. However, the printing speed of most inkjet printers is not great, with black and white prints averaging in between five to 10 pages per minute, and colour pages are printed even slower. Replacing inkjet cartridges is fairly easy.
Laser Printers
Laser printers work rather well when it comes to printing plain text documents, making them an ideal solution for fast, high-volume printing. Their cartridges last considerably longer than most inkjet cartridges, which means they do not have to be replaced as often. Laser printers work by transferring powdered ink, that is, toner, onto paper, and they can average in between 12 to 20 black-and-white text pages per minute. A good black-and-white Wi-Fi enabled laser printer should cost as much as a mid-priced Wi-Fi enabled inkjet printer, although operating the laser printer is cheaper in the long run.
Colour laser printers, as with inkjets, print slower than their black-and-white counterparts, and their cost typically matches those of better inkjet variants. In addition, colour laser printers can be quite bulky, and are not your best bet when it comes to printing photos.
All-in-One Printers
Certain Wi-Fi enabled printers, both inkjet and laser, come with the ability to scan, copy, and fax, and these are commonly referred to as all-in-one printers . The primary reason behind the increase in demand for these machines, given their multi-functionality, is the fact that they help save on space in homes and offices, alike. While all-in-one printers were quite expensive when they first came into being, their prices have seen a substantial drop since then. Not only can you expect to come by some rather affordable all-in-one printers now, you should know that their versatility has also increased with the passing of time, and the inclusion of Wi-Fi connectivity in these printers is an example of this very evolution.
Most all-in-one printers can be classified under three broad categories: general purpose, office duty, and photo-oriented, and the one you choose should take into account your individual requirements. Both laser and inkjet all-in-one printers come in flatbed designs, and looking for these is suggested because these allow you to copy and scan books and photos, which is something that is not really possible with sheet-feed variants.
Other Alternatives to Go the Wi-Fi Printing Route
If you already have a printer that you feel is good enough, there are things you can do to make it Wi-Fi enabled, which includes investing in a Wi-Fi print server or a Wi-Fi router.
Wi-Fi Print Server
A Wi-Fi print server allows you to convert your normal printer, which comes with a USB port, into a Wi-Fi enabled printer. All that is required is that you plug the Wi-Fi print server into the printer using the USB port. Most good Wi-Fi print servers come with rather easy-to-setup programming that takes no more than a few minutes. With a Wi-Fi print server installed, you do not have to keep a computer on when you want to print, and more than one printer can be used with one Wi-Fi print server. In addition, since a Wi-Fi print server eliminates the need for a computer, the printer can be placed just about anywhere.
Wi-Fi Router
Wi-Fi routers, or wireless routers, are connected to printers using USB cables or those that connect USB ports to Ethernet ports. A Wi-Fi router, quite like a Wi-Fi print server, can help make your printer wireless, and you can use it with multiple Wi-Fi enabled devices. However, unlike a Wi-Fi print server, it requires that at least one computer be connected to the router and switched on, which controls the router in question.
Buying Wi-Fi Enabled Printers on eBay
If you have decided that you want to invest in a Wi-Fi enabled printer, turning to eBay is a good idea, because of the array of options with which this site presents you, irrespective of whether you are looking for a black-and-white printer or a colour printer. The choice, for starters, comprises of Wi-Fi enabled printers that run on different technologies, which include inkjet, laser, as well as thermal printers. The choice also extends to single-purpose printers, all-in-one printers, label printers, and workgroup printers . When it comes to choosing between brands, you've got options like Epson, Canon, Kodak, HP, and Brother.
If you are looking at saving some money, you may want to go through the manufacturer refurbished, seller refurbished, and used Wi-Fi enabled printers for sale on eBay. While the first two are relatively safe options, if you are thinking about buying a used printer, you should try to find out as much about it as possible before you buy it, and if the seller is located locally, you may want to consider a physical inspection, that is, if the seller allows it. How much you are required to pay in the form of postage and packaging varies from seller to seller, and this is one aspect that definitely needs your attention.
Conclusion
The technology used in printers continues to evolve, and in today's world, just about every major printer manufacturer offers Wi-Fi enabled printers. Not only do these printers vary in the printing technology on which they rely, with inkjet and laser printers being the most commonly used alternatives, they can vary greatly in pricing, too. As a buyer, you should know that the faster the printer, the more it typically costs, and print quality also plays a significant role in the price of any printer.
Establishing just how the new printer is to be used should help decide which way to go, and what you should also know is that different printers are designed to suit home and office use. Those designed for office use are able to handle high volumes, and also cost more. If you feel that the various functions in an all-in-one printer can be put to good use, then considering one is certainly not out of place, but if your basic requirement is printing, you may be better off looking for a printer that just prints.
Given that more and more devices are now going the Wi-Fi way, opting to invest in a Wi-Fi enabled printer does make sense. Not only does it liberate you from additional wires, it also gives you the ability to print using just about any Wi-Fi enabled device.