Olive Oil Soap
Pure Olive Oil soap has been used for centuries to moisturize, Smooth & nourish the skin.
Savon D'Alep has been made in Aleppo by the Zanabili family for hundreds of years. In fact, the Zanabili family is as old as the soap manufacturing tradition and the soap making craft has been passed from generation to generation.
The Zanabili factory was built around 320 years ago as a Khan (Inn) and was transformed to a soap factory about 120 years ago.
Olive Oil has been used to make Soap in the Levant (also known as the ancient kingdom of Ebla) for 2000 years - and possibly a lot longer.
How Olive Oil Soap is made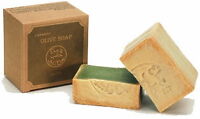 Zanabili Soap is still hand made in the traditional way, exclusively from olive oil, laurel leafs oil, and sodium hydroxide ( extracted from sea salt ). It contains no animal fat, colouring materials, perfume, acid, antioxidant, chemical or synthetic derivative.
Aleppo Zanabili soap is made in the cauldron then dried for several months in large blocks. In a skilled process, olive oil is converted to soap (saponified) and then bay leaf extract is added and the product is spread out to solidify before being cut by hand, by traditional methods, into rectangular bars and individually stamped. Its final colour comes directly from the proportion of laurel oil.
Aleppo Olive Oil & Bay Leaf Soaps are a 100% natural products.
Treat your skin. Try Aleppo Olive Oil Moisturizing soap today.