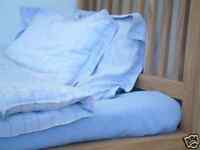 This guide gives you couple of reasons why it's worth to try bedlinen made of pure linen fabric.
Flax provides seed of great nutritional importance. It is a replaceable resource that has little impact on water quality compared to all other fibers. Linen is the symbol of true elegance. It is practical, ages beautifully, becoming softer with use. It is the healing fiber that promotes relaxation... breathing according to the body and the season.
It is no accident that all sheets and duvets are called bedlinen as Linen is the original and the best cloth to aid a restful and peaceful sleep. Linen sheets are the epitome of coolness and there is nothing to match the way they feel, thanks to linen's temperature-regulating properties. Linen breathes, just like skin. It can absorb up to 20% of its own weight in moisture, while still feeling dry to the touch. It feels as light as a feather on the body. In hot weather, it absorbs moisture and excessive heat, in cool weather it retains body heat. The perfect pampering product, linen is so healthy. It is anti-static, anallergic and can help soften and preserve the skin, due to its natural pH balance.
Caring for it is easy as it washes beautifully – each wash increases its natural luminosity and softness. If the wrinkles bother you a damp iron will remove them but we encourage you to luxuriate in them as a mark of the linen's provenance, what matters most is how it feels and how well You sleep...
Ebay is a good place to buy high quality pure linen sheets and duvets at much better price than on the high street.
LinenMe shop
is a good place to start as if you don't find what you need in the shop bespoke set will be made for You!