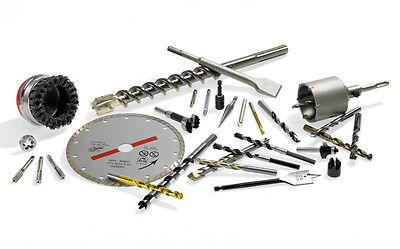 This is a very good question and one very often asked and not always easy to get an answer to. The following is intended to help improve understanding and reduce mistakes, but cannot give the exact solution to every situation.
Sometimes things can be simple. Certain power tool accessories are usable only on exactly the right tool, good examples of this being router bits fitting only on a router or diamond cutting blades and cup wire brushes being designed for, and working correctly, only on angle grinders. For the rest there is a need to carefully identify and assess both the fit and suitability. In other words not just "can it?" but "should it?" and "are they designed to work together?"
Primary examples of this are circular saw blades, all do a very similar task in cutting wood, but diameters and bore sizes vary. Diameter has to be correct for the specific machine, simply get precisely the same dimensions as originally supplied. Bores are often laser cut for precise fit to ensure the tool works safely to maximum efficiency. An exact match of blade to flange is essential although there are saw bush reducers or washers that can be used.
Be careful - they might fit but still not be right choice. Ensure the appropriate saw blade is intended for either trim saw or for mitre and chop saws or indeed for circular bench and table saws. Do not forget to also check your choice is actually for the material or stock to be cut. You may want to have a look at our buying guide on matching the accessory to the material for more information.
Common Power Tool Accessories
These examples below will give you a good idea of exactly what you should be checking for when choosing any accessories for your power tool.
Circular Saw Blades:
Check the diameter & bore suit the circular saw/chopsaw.
Check the tooth angle is correct for type of saw, i.e. positive hook for circular saws/bench saws or negative hook for chopsaws/mitre saws.
Check the tooth geometry is correct for material, e.g. alternate top bevel (ATB) for wood or triple chip for aluminium & plastics.
Check the RPM of your machine does not exceed the maximum RPM of the blade.
Check number of teeth to determine the type of finish you will get.
Drill Bits:
Check the shank to determine which types of drill it will fit, e.g. standard round or hex for standard keyed & keyless chucks, SDS Plus & SDS Max for SDS direct fitting hammer drills.
Check the diameter of the drill bit matches the hole size required.
Check the "working length" not the overall length is sufficient to drill the depth of hole required.
Check the drill bit is suitable for the material, e.g. auger bit for wood only.
Diamond Cores:
Check diameter & length are correct for the job.
Check the diamond segment has the suitable "bond" for the material.
Check the core thread is compatible with your drill adaptors.
Check your drilling machine has a slipping clutch in case of snagging & has the power to drive that size of core.
Diamond Blades:
Check the diameter & bore are correct for you size of angle grinder.
Check the diamond segment has the suitable "bond" for the material.
Check the diamond segment for the type of finish & material, i.e. segmented, continuous rim & wave turbo.
Wire Brushes:
Check the thread size suits your angle grinder or bore size suits your bench grinder.
Check the RPM of the wire brush does not exceed your machine (this will also determine the size of wire brush you can use).
Check if knotted or crimped design for different applications.
Router Cutters:
Check shank size is correct for routing machine.
Check length or radius is correct for application.
Check straight bit check if it is suitable for plunge cutting if necessary.
Screwdrivers Bits:
Check drive is correct for screw.
Check screwdriver bit hardness is optimal for application, i.e. harder bits for woodscrews, softer bits for fastening screws & impact drivers.
Check coating if requiring more grip (diamond coated), longer life (titanium & carbon coated), reduces breakages (bi-torsion).
Jig Saw & Reciprocating Saw Blades:
Check shank for correct fitting.
Check the blade material is correct for type of material, i.e. carbon steel, HSS, Bi-Metal.
Check the tooth angle is correct for material, e.g. down cutting for worktops.
Check number of teeth to determine the type of finish you will get.
Abrasives:
Check the length & width are correct for the machine.
Check the grain type is correct for the material being sanded.
Check the grit is correct for the finish you require.