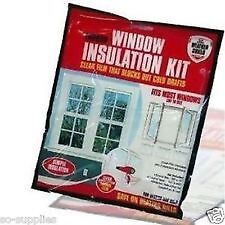 Easy Window Insulation
If only I knew about this years ago!!
This window film is very impressive
Years ago, I lived with sash windows, and the heating bills were phenomenal. Now I live in a different property with sash windows, and I wasn't looking forward to the winter!
My friend told me about this, and I couldn't believe it was THAT easy, and THAT effective. It so is!
The packs come in various sizes, so you can always find what you want, whether it be for a small window or a huge window.
The tape is double sided, and very easy to use. Just peel one side off and stick to your window frame. Then all you need to do is measure the window, and cut the correct sized piece from the sheet. The plastic is strong and easy to cut, and it doesn't stick to itself if it folds over.
You start by pulling the plastic taught and sticking at the top, then bit by bit, work your way down the window.
Finish by checking the seal around the edge, and using a hairdryer to 'shrink fit' it.
It's barely noticeable. It stops condensation, therefore the wooden frames don't rot, and it will save you so much money on your heating bill.
I will absolutely be using this product again.