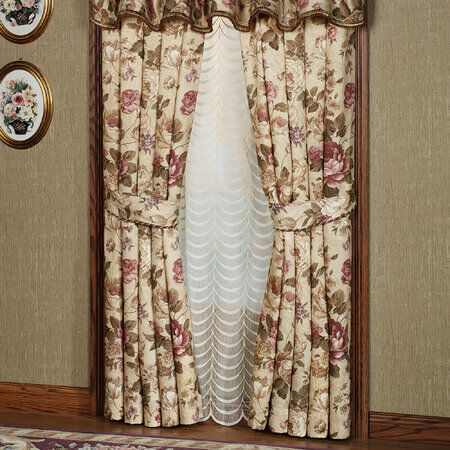 Curtains are pieces of material hung in front of windows for insulation and to stop light from entering a room. Historic evidence shows that people have been using curtains for thousands of years, and they can be found in houses all across the world. Curtain manufacturers use specific fabrics and linings for winter and summer,, and using the right set during the right season can be very beneficial.
The fabrics and linings used in winter and summer curtains can be expensive, so searching for these items on eBay is a great idea. The site has a large selection at unbeatable prices, and buyers can browse through new and used curtains. The following guide shall examine the various fabrics and what they are used for, and how to find a suitable pair of curtains on eBay.
Winter vs. Summer Curtains
There are hundreds of types of fabrics that are used in curtain making, and the main way to differentiate between summer and winter curtains is by the lining. Choosing the correct lining is vital and some time should be spent thinking about which would be most suitable. The weight and thickness of the curtain fabric will directly influence what type of lining should accompany it.
Types of Fabric
Below are some of the most commonly used fabrics in curtain manufacturing today.
| | |
| --- | --- |
| Cotton | Curtains using cotton as the main fabric tend to be inexpensive, and the versatility of this material means it can be weaved to achieve different effects and patterns. Cotton is very easy to clean but can hang awkwardly if it is unlined. |
| Linen | Linen curtains are very popular and this material can be woven into both heavy and light weaves. Linen curtains are not as expensive as silk and wool curtains, but do cost more than cotton curtains. Unlined linen curtains can wrinkle in humid weather. |
| Silk | Silk is easily the most expensive fabric option. This type of material is very luxurious and can be woven into an assortment of patterns and styles. If using silk curtains during summer months, make sure to line the curtain first as directly sunlight can rot it. |
| Wool | Also an expensive fabric option, woollen curtains are very good at insulating and are therefore more suitable for use in winter months. Wool is also quite absorbent, so using this material in a humid environment is a bad idea. However, wool is easily dyed and can come in a large range of colours and patterns. |
| Synthetic | Synthetic fabrics such as polyester and nylon are very popular as they can be used in a variety of environments and are suitable for use during both summer and winter. These fabrics are inexpensive and durable, but their plastic feel might turn some off. |
Types of Lining
| | |
| --- | --- |
| Unlined Curtains | If the curtain fabric is medium to heavy in weight and thickness, then the curtains can remain unlined.. Unlined curtains are very suitable for the summer months, and will keep a room cool while protecting it from sunlight. Unlined curtains allow for good air circulation, which helps the temperature to remain low. However, unless using a heavy fabric like wool, these will not keep a room warm during winter months. Depending on the fabric some unlined curtains can be easy to clean and washed at home. |
| Lined Curtains | Lining the curtains is a wise idea, as this will help insulate the room and block out sunlight. The lining will also protect the colours and patterns of the curtain, and help to keep the fabric from fading. The lining will add weight, helping the curtains to hang more naturally from the pole. Lined cotton, silk, polyester and nylon curtains are suitable for summer, lined wool and linen are ideal for winter. |
| Blackout Lining | Curtains with blackout lining are very good at keeping sunlight out, and can help maintain a bedroom's coolness during summer months. They are not so suitable for winter months but can still be used, as they will help with insulating. |
| Thermal Lining | This type of lining is excellent at insulating and keeping draughts out. This is the ideal type of lining to use during winter months, but in the summer it can cause the temperature in a room to rise. Using thermal lined curtains in the winter can help keep heating bills down and in turn save money. The extra weight will also help the curtains to hang more naturally. |
| Polycotton Lining | A combination of polyester and cotton, these will help keep a room cool in the summer. Although they do offer some insulation, it is not to the same extent as the thermal lining and these are not advised for use during winter months. |
Curtain Heading
It's important to take note of the curtain heading when browsing for a pair. The curtain heading refers to how it is hung so make sure the curtains will be compatible with what's at home.
| | |
| --- | --- |
| Tape Top | The most common type of heading, this option involves a band of fabric threaded with string that is then attached to the top of the curtain. Small hooks are attached to the heading and in turn to the curtain pole. |
| Tab Top | A loop of fabric is stitched into the top of the curtain, and this is then hung from the curtain hole. Curtains that have a tab top heading can only be used with a curtain pole. |
| Eyelet Top | Eyelet top curtains have a number of small edged holes running along the top of them. These are then attached to small loops, which then hang off the curtain pole. |
Caring for Your Curtains
Buyers should regularly clean their curtains to keep the fabric fresh and fit for purpose. The following is a guide on how to care for your curtains:
The curtains should be vacuumed every two weeks using an upholstery nozzle. If one is not available simply detach the vacuum head so only the hose remains. Vacuuming the curtains while they are still attached to the curtain pole will help prevent dust and dirt from building up in the fabric.
Always follow the cleaning instructions written on the label. The majority of curtains need to be dry cleaned, as washing them will cause excessive shrinkage and can damage the fabric. Allow for 3% shrinkage after the first dry cleaning session. Cotton curtains can be washed and dried at home.
Coffee, wine, ink and other spills should be immediately cleaned using a damp cloth. Gently dab the cloth against the curtain, and do not rub or soak as this could further stain the fabric.
Buying Winter and Summer Curtains on eBay
Before beginning a search, have a look at the room the curtains will be hung in. The size of the windows will obviously influence what curtains are bought, but the size of the room should also play a part in this. Big rooms need very light curtains in the summer to allow air to circulate, and very heavy curtains in the winter to insulate and keep out draughts. With an idea of what fabrics and linings would suit best, head to eBay to being browsing.
On the eBay homepage, click on the Shop By Category followed by the See All Categories link. Once on the Categories page scroll down to the Home, Furniture and DIY title and click on the Curtains and Blinds link.
This will load the Curtains listings page and from here either type Winter Curtains or Summer Curtains into the search bar and press enter.
Enter as much information into the search bar as possible, as this will refine the search and speed the process up. Enter the fabric material, the type of lining and the size of the curtains needed.
The filters table on the left can also be used to speed things up. Filters include the Room, Colour and the Material.
Buyers can also choose to search for new or used curtains. Used curtains will be a lot less expensive, but beware of damaged or faulty items. Always read the description box on the item page, as this is where the seller will put additional information e.g. the condition of the curtains. Visually inspect any photographs and use the Ask A Question feature to request more photographs or information.
Searching Tips
Buyers experiencing difficulty locating a specific fabric or lining should try searching on the eBay Stores. These stores are run by experienced sellers, and often contain items not listed on the main website.
The Wish List feature can be used to inform other eBay users about specific fabrics or linings that are not currently listed on the site. This can improve a buyer's chances of obtaining them.
All buyers should quickly read over the seller's history before placing a bid. This information is located on the top right hand side of the item page. Sellers who have high percentages of negative feedback should be avoided.
Contact Customer Support for help using the site, and the Resolution Centre for assistance when dealing with sellers.
Conclusion
Winter and summer curtain fabrics do not refer to the actual material used in manufacturing alone, but also what a curtain is lined with. There are a number of different fabrics used in weaving, and it's possible to get combinations of one or more. Buyers should spend some time researching into the fabric, and what lining will work best with it. Remember, light but strong fabric and linings for the summer months, and heavy and thick fabrics and linings for the winter months.
There are plenty of winter and summer curtains available to buy on eBay, so be prepared to spend some time browsing. The site offers prices lower than those found in stores, and it is a quick and easy way to get exactly what is desired.